Group of People at Party That Ended in Fatal Stampede Test Positive for Coronavirus
Fifteen people tested positive for the new coronavirus after attending a party in Peru's Lima province, which ended in a fatal stampede over the weekend.
The party took place at a Los Olivos nightclub on Saturday, according to the Peruvian Interior Ministry. The nightclub, Thomas Restobar, operated against national public health regulations that set daily curfews and prohibit large gatherings to reduce transmission of the coronavirus. Neighbors called local law enforcement to the venue, and its violation led the National Police to arrest at least 22 people in attendance.
Health authorities administered COVID-19 diagnostic tests to the group of individuals taken into custody on Saturday. On Sunday night, Peru's Ministry of Health confirmed 15 of the 22 people detained tested positive for the viral respiratory syndrome. The Health Ministry noted that a private clinic screened a smaller group admitted there after the nightclub raid, and those individuals tested negative for COVID-19.
The ministry said it will continue corresponding with those who received positive test results to ensure they self-isolate for the necessary period of time.
Dr. Claudio Ramírez Atencio, general director of the Health Ministry's Directorate of Integrated Health Networks Lima Norte, said police, medical personnel and prosecutors who interacted with the party's attendees will also undergo COVID-19 testing over the next few days. Individuals living in the area that surrounds Thomas Restobar will also receive tests, Atencio added.
Government officials estimated about 120 people were present at the club when police raided the venue around 9 p.m. local time on Saturday. Their arrival prompted attendees to rush toward the nightclub's "only entrance door, " the Interior Ministry said in a statement released Sunday. People became trapped between the door and a staircase inside the building during the stampede, resulting in 13 deaths and three additional injuries.
Peruvian President Martín Vizcarra extended the country's COVID-19 mitigation orders on August 12. The regulations called for a continuation of Peru's nightly curfew, which requires residents of areas that are not under quarantine to remain in their homes from 10 p.m. until 4 a.m. In areas where quarantine mandates remain in effect, the nightly curfew begins at 8 p.m. Quarantine mandates currently apply to 19 national regions.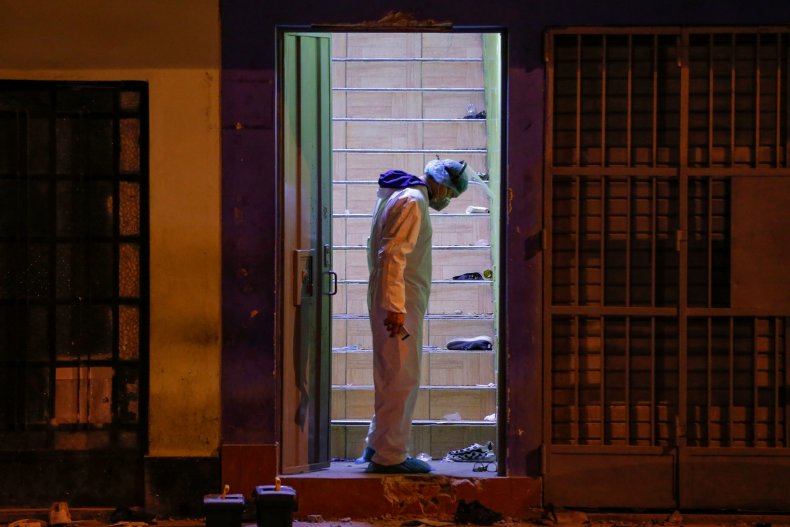 Peru has confirmed one of the world's most significant incidences of COVID-19, behind the United States, Brazil, India, Russia and South Africa in terms of total cases confirmed. More than 594,300 have tested positive for the virus across Peru as of Monday, August 24, according to Johns Hopkins University's data. About 27,600 of those who contracted the illness in Peru died as a result.
Similar to numerous countries that saw outbreak resurgences over the summer, Peru reported a spike in COVID-19 cases in July. The uptick informed health and government officials' decision to extend mitigation protocols.
Newsweek reached out to Peru's Ministry of Health for additional comments but did not receive a reply in time for publication.