Group That Raised Millions To Build Border Wall Begins Construction In New Mexico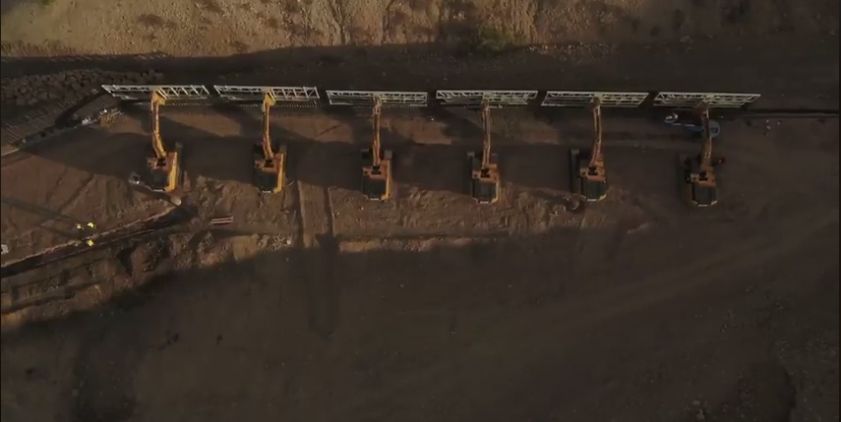 A private group that has raised over $22 million to construct a wall along the U.S.-Mexico border announced the completion of their first section on Memorial Day.
We Build The Wall began a Go Fund Me fundraiser in December 2018, just days before the U.S. government shut down for over a month while President Donald Trump and Democrats went head to head regarding a proposed $5 billion needed to construct additional barriers along the southern border.
Trump eventually was allotted $1.375 billion that would allow for additional sections of wall or to replace sections in need of repair along the El Paso, Texas section of the border, one of the busiest areas for immigrants who cross into the United States both legally and illegally.
We Build The Wall, which is headed up by Air Force veteran Brian Kolfage, announced that the first section of the wall had been completed in three days near the Texas-New Mexico border with a post to their Facebook page on Monday.
Former Trump adviser Steven Bannon, who chairs the advisory committee for the group, told CNN that the wall had connected two sections of existing fencing that stretched for 21 miles.
"Border Patrol told us it's the No. 1 most important miles to close. The tough terrain always left it off the government list, and that's what we focus on — private land that is not in the program and take the toughest first," Bannon said.
Kris Kobach, Kansas' former secretary of state and another person involved with the group, told Fox News' Fox & Friends that the Army Corps of Engineers had previously declared that the terrain where the construction occurred was impossible to build on.
"This is the first time any private organization has built border wall on private land," Kobach told Fox News.
While Bannon said the wall was one mile in length, Kobach said it was a half-mile while Kolfage listed the construction as just under a mile.
"Buckle up, we're just getting started! If we can get this much done in three days, imagine what's about to be accomplished," the group posted on its Facebook page.
On his verified Facebook page, Kolfage wrote, "We have wall #2 lined up but need donations! Make this go viral," and shared a short video of construction of the wall.
Kolfage's group had previously come under fire as people who donated grew frustrated with a lack of updates and questioned if the wall would ever materialize. At the time, Kolfage wrote that the lack of information was to protect the group's efforts from lawsuits.
"There is no update because we are remaining silent for a very good reason," Kolfage wrote on his Facebook page. "You all will have the best present very soon. Remember powerful people want to stop our progress, so to not tip anyone off we are radio silent! The (American Civil Liberties Union) would file a lawsuit to impede our wall success if they knew where and when. But when I guaranteed we'd build the wall I meant it, and we are working with many congressman and senators to help us mitigate these issues from the left-wing attack groups. We are in the homestretch and it's on a need to know basis."
The news of the group completing the section of the wall comes days after Trump was blocked by a federal judge from using funds from the Department of Defense to construct sections of the wall. Trump initially signed an executive order to declare a national emergency in order to obtain funds for the wall.
"The position that when Congress declines the Executive's request to appropriate funds, the Executive nonetheless may simply find a way to spend those funds 'without Congress' does not square with fundamental separation of powers principles dating back to the earliest days of our Republic," Judge Haywood Gilliam of the Northern District of California wrote in a 56-page ruling.
Trump reacted to the news by posting on Twitter Saturday, saying, "Another activist Obama appointed judge has just ruled against us on a section of the Southern Wall that is already under construction. This is a ruling against Border Security and in favor of crime, drugs and human trafficking. We are asking for an expedited appeal!"