Group Wearing Ukrainian Flag Reportedly Pray At Western Wall in Viral Photo
An image that depicts people wrapped in the Ukrainian flag reportedly praying at the Western Wall in Jerusalem has gone viral after circulating on social media.
This image, shared on Twitter and on Reddit, shows just one reaction from a group of people to the ongoing Russian military invasion into Ukraine, which was ordered by President Vladimir Putin in February.
Newsweek previously reported that people around the world have shown their solidarity with Ukraine through protests following the invasion.
When Georgian Prime Minister Irakli Garibashvili said he would not join international sanctions on Russia, demonstrators called for his resignation.
Protesters in London sought leaders to take further action.
Those who took part in anti-war protests in cities throughout Russia, including Moscow, Saint Petersburg and Nizhny, were detained.
The viral image shows a group of people with a Ukrainian flag draped on each of their shoulders as they lean against what was said to be Jerusalem's Western Wall—a sacred site for prayer and pilgrimage.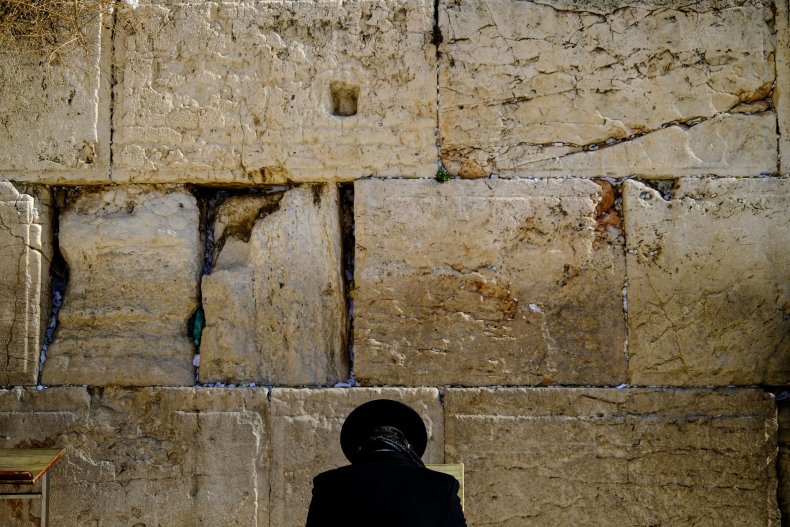 Their heads are bent down and some of the people who are lined up against the wall have reached their hand out to it, touching it.
It is unclear when this particular image was taken.
A release issued by the Western Wall Heritage Foundation noted that hundreds of people participated in a prayer service at the Western Wall Plaza on February 27 "for the welfare of the Jews of Ukraine."
Shared on Reddit where it received more than 18,000 votes, the image—titled "Seen at the Wailing Wall, Jerusalem—resonated with viewers.
"This does not surprise me as I am sure there are many Ukrainian Jews living in Israel," u/asIsadtomyfriend commented.
One commenter also pointed out that Ukrainian President Volodymyr Zelensky is Jewish himself.
"And a lot of Jews have Ukrainian history on the diaspora timeline in their families," u/EagleDre wrote.
One commenter discussed what the significance of image could mean as they recalled their own experience touching the Western Wall for the first time.
"This is the place of Jewish suffering," u/Gravity_flip wrote. "And they brought with them a symbol of another horrible tragedy going on. They're putting these events as comparable...And that is HUGE."
While some commenters called the image "ironic" and wondered if the people photographed also prayed for Palestinians, others responded to these statements.
"1. Not every Jewish person agrees with those acts 2. People are neither good nor evil, but a mix of various actions and intents," u/zedthehead wrote as a response to one such comment. "These people can be awful in some ways and awesome in others...Just like every other population/individual on earth."
Another commenter, u/Colgate_and_OJ agreed with the sentiment.
"Everything is a spectrum," they wrote. "There is no black and white."
To follow more updated information, readers can visit Newsweek's live blog.