Groups At Two Universities Push For Chick-fil-A To Be Removed From Campuses Due To Anti-LGBTQ+ Policies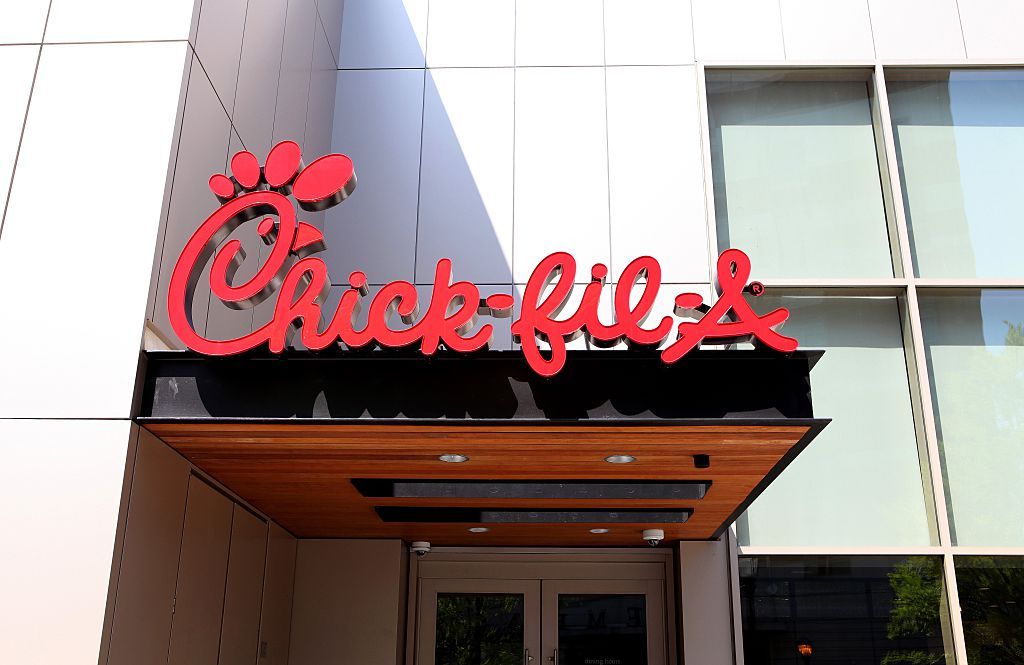 Two universities have taken steps to remove fast-food chain Chick-fil-A from their campuses, but administration at one has denied the request, saying that removal would be a form of censorship.
Some at California Polytechnic State University in San Luis Obispo, California and at Trinity University in San Antonio, Texas have pushed for the decision in recent weeks, with individuals at both campuses saying that Chick-fil-A's company policies are at odds with the messages of inclusion at the universities.
Chick-fil-A has routinely come under fire for the restaurant chain's donations, via its Chick-fil-A Foundation, to anti-LGBTQ organizations like the Salvation Army and the Fellowship of Christian Athletes, a group that the company donated over $1.6 million to in 2017. The company's CEO, Dan Cathy, has also spoken out against same-sex marriage.
"We're inviting God's judgment on our nation when we shake our fist at him and say we know better than you as to what constitutes a marriage. And I pray God's mercy on our generation that has such a prideful, arrogant attitude that thinks we have the audacity to redefine what marriage is all about," Cathy said in 2012 during an appearance on The Ken Coleman Show.
The company has long been identified by its Christian viewpoint, including locations being closed on Sunday and traditional hymns being played over the sound system inside the restaurants.
At Cal Poly, the Academic Senate voted to push the chain from its campus, offering a resolution that was presented to the university's president Jeffrey Armstrong.
"[Cal Poly's] values statement includes language that identifies LGBTQ as a classification of individuals that we want to embrace in our diversity and inclusion model," Thomas Gutierrez, the Academic Senate's vice-chair told KCBX. "Then you have an organization that regularly and publicly shows up in the national news in great tension with this...so if you have a mission statement that indicates that you value inclusivity and diversity, then you should be making your business decisions based on that."
The Gay and Lesbian Alliance of the Central Coast, as well as five other organizations supporting LGBTQ community members, also urged the university to remove Chick-fil-A with a letter addressed to the Cal Poly community.
"We believe continuing to contract with Chick-fil-A sends a contradictory message about where Cal Poly stands with regard to diversity and inclusion, and we urge President Armstrong to reconsider whether it is in the best interest of students and greater community," the letter read in part.
However, university spokesman Matt Lazier told The Tribune that Armstrong has no plans to enforce the Academic Senate's vote.
"While university administration passionately disagrees with the values of some of the organizations the president of Chick-fil-A has chosen to make personal donations to, we do not believe in responding to intolerance with intolerance," Lazier said. "Inclusion means upholding the rights of others to have different perspectives and ensuring there is space in our community for differing viewpoints and ideologies, even those that may be in direct conflict with our own."
At Trinity University, the move has been led by student groups who have followed the lead of the San Antonio International Airport and the San Antonio City Council. The airport decided not to allow Chick-fil-A to open a restaurant, a move which the city council upheld both in an original vote and a vote to reconsider the issue.
Trinity University's Student Government Association Senate adopted a resolution last week which calls for the fast-food chain to be removed. Chick-fil-A does not have a permanent location at Trinity University but instead offers a selection of menu items once every couple of weeks at the campus' food court, the San Antonio Express-News reports.
"Trinity is a university that emphasizes its commitment to diversity and inclusion. Having Chick-fil-A in the rotation conflicts with those values. Trinity's values of diversity and inclusion and Chick-fil-A's values regarding the LGBT+ community are mutually exclusive," the resolution says.
However, not all students support the resolution. According to the Express-News, the university's Young Conservatives group organized a social event at an off-campus Chick-fil-A and are hoping to see the San Antonio airport and the city council reconsider the ban for the restaurant.
The return of Chick-fil-A to the airport would be "a symbolic presence and a reaffirmation of the First Amendment," Young Conservatives president Isaiah Mitchell told the Express-News. Mitchell added that since Trinity University is a private institution, he recognizes that it is within the school's rights to remove the fast food chain.
Trinity University currently has a contract with Aramark, which introduced Chick-fil-A to the food selections at the campus food court less than a year ago. The contract with Aramark lasts five years, the News-Express said.
Tess Coody-Anders, Trinity University's Vice President for Strategic Communications, told the News-Express that Aramark is considering the recommendation from the student Senate while the company considers what food will be offered during the upcoming school year. The university will have the final decision on if Chick-fil-A and any other brands remain on campus.
"It's our tradition and responsibility to foster open, free dialogue about issues of importance to our students. We're proud of our students' willingness to engage in difficult conversations and to amplify the voices of those who are often underrepresented and overlooked," Coody-Anders said in a statement.