One morning in the mid-1970s, a cocaine-addled George Carlin wakes up and thinks the sun is exploding. "I shake Brenda awake: 'Get Kelly up! The sun has exploded! We have eight minutes to live!'" Carlin told Tony Hendra for his autobiography Last Words. "I was certain it had exploded and we had eight minutes for the shock wave to get here, which would then be the end of the world."
Kelly Carlin, George's daughter, was 11 at the time, but more than 40 years later she still remembers well those panicked minutes. Looking for a second opinion, George calls longtime friend Joe Belardino, who is five hours away in Sacramento. "I sat on the edge of my parents' bed tensely listening as Dad hurriedly explained to Joe what was going on," Kelly writes in her memoir, A Carlin Home Companion: Growing Up With George, which goes on sale September 15. "With a look of hope on his face, Dad covered the mouthpiece and said, 'He's checking.'"
Joe ultimately confirmed the false alarm—"No, it looks okay up here"—and the story of the exploding sun becomes Carlin family legend, the kind of funny-in-hindsight anecdote that belies how terrifying it would be to have a parent shake you awake with warnings of an imminent doomsday scenario.
Now 52, author/performer/podcaster/therapist Kelly is immediately identifiable as a Carlin, if not facially then certainly in demeanor. "I have the only fucking cab driver in New York who goes the speed limit on the highway!" she emails me a few minutes after we're set to meet one afternoon in August. Later, over pastries and tea, Carlin says she sees herself as a cross between Lucille Ball and [author and spiritual leader] Marianne Williamson. "I want to let people know that they can have some joy in their life, but I also want to be irreverent and be able to say the word cunt," she says, laughing.
A Carlin Home Companion, which covers Kelly's childhood through her struggle with cocaine addiction, the end of her first serious relationship and her mother's and father's deaths, was more than 15 years in the making. The book's origin can be traced to 1999, when Kelly created a solo show called Driven to Distraction that touched on her chaotic upbringing and the loss of her mother to liver cancer in 1997. Despite her excitement about the show, Kelly performed it only three times, in part because of George's tacit disapproval. During a therapy session outlined in A Carlin Home Companion, he told Kelly he felt "deeply betrayed" by the show. "I am an artist, and you are an artist, and I would never ask you to change a single word of it," George said. "But I can't be there to watch it. It would just be too hard for me."
In 2006, after pressing Pause on her performing life to attend graduate school, Kelly wrote the outline and first few chapters of a tentative memoir, but put that on hold too after George balked. "I put it on the shelf out of respect for him, and knowing that he probably didn't have a lot of time left," Kelly says. "He was suffering from heart failure at that point, and I didn't want to bring any discomfort into his life."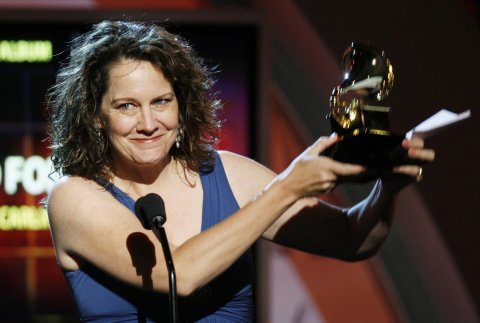 After George's death in 2008, Kelly left her memoir on the back burner until comedian Lewis Black asked her to perform a new spoken-word show on a weeklong Caribbean cruise with Black and seven other comedians. That show, coupled with her earlier material, anecdotes from Last Words and other untold stories, formed the foundation of A Carlin Home Companion, the first draft of which Kelly finished in nine months.
"I'm grateful for the time it took because I found my bliss: I'm a writer," she says. "I love sitting in my house; I love finding the right words, the right sentences. And it brought me closer to my dad because that was his joy too. I was like, Oh—this is the Carlin in me."
Much of Kelly's memoir will be fascinating to George Carlin fans, who are afforded a rare glimpse behind the scenes of his meteoric rise, and how it affected his worldview and family life. Kelly has a breezy and conspiratorial way of writing, and reading her stories feels like sharing a long conversation over too many bottles of wine. Naturally, there's also an inherent drama to the fast-paced lifestyle of a teenager whose father is famous, and then beloved, and ultimately a household name. By her 19th birthday, Kelly has run from the cops, schmoozed with Sammy Davis Jr., watched George perform at Carnegie Hall and had disappointing sex with Leif Garrett in Farrah Fawcett's house.
But the most interesting element of A Carlin Home Companion is what Kelly describes to me as "the dance you do as the daughter with a dad." That includes her consistent yearning to experience George outside of his fame, and her sometimes forceful emphasis on finding her own identity away from his substantial shadow. As a child, Kelly struggles with George's long absences, and refers to herself as "invisible": not in his eyes, but in anyone else's when he's around. She lives to make her father laugh—calling it a "conduit straight to nirvana"—and capitalizes on his cocaine binges by spending them together, listening to music or embarking on his latest organization project. (Kelly writes: "My dad believed all was right in the world when, and only when, there was a list, a pile, a folder, or a Ziploc bag to contain the chaos of his life.")
In the years since George's death, Kelly has made peace with her childhood, and with being the voice of her father's legacy. A Carlin Home Companion feels like an embodiment of that resolution, merged with the story Kelly started telling in 1999 and 2006. "Every single person I know who's seen my show or read my book of course sees [George] as more human, and is more enchanted by him," she says. "The book is about giving people permission to know that we're all broken, and that even George Carlin, their hero, that if he's human, then we're all human."
But it's equally clear that A Carlin Home Companion is closure for Kelly, on her role as Carlin ambassador, and on her sometimes complicated relationship with her father. She has a number of new projects on her bucket list—among them a second book and a talk show for women that "is not full of fashion and cooking segments"—and it seems unlikely that any of them will focus on George. "One of the hesitations I had about writing this book was that I don't want to be a one-trick pony," Kelly says. "Writing-wise, I knew I had to write this first; it's my origin story. But I'm excited because now I get to do the real work I'm here to do."