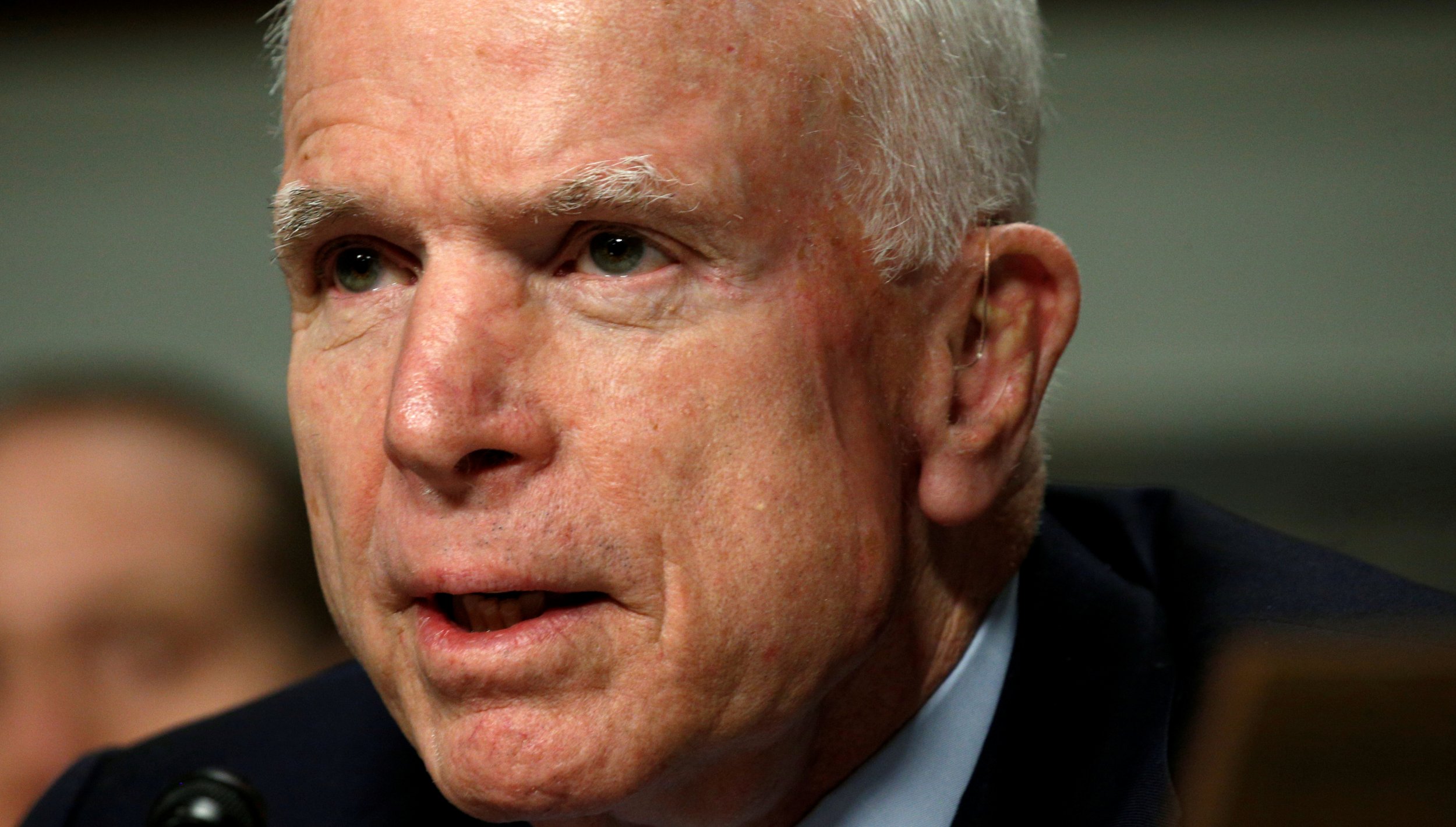 Arizona Senator John McCain's surgery for a blood clot above his eye has delayed a vote on the GOP's health care bill until next week. Yet it's not certain he will be back by then to support the bill, as his condition may be more serious than thought.
McCain underwent a "minimally invasive" surgery at the Mayo Clinic Hospital in Phoenix last Friday to remove a 5-centimeter blood clot above his left eye, according to a statement by the Mayo Clinic. It was discovered during his annual health exam.
Doctors advised McCain to take the week off and rest at home. However, such operations usually require longer recovery times, according to neurosurgeons.
The 80-year-old senator is resting and "is in good condition," the statement said. Doctors also noted that the clot is being examined and that a report will be issued in the next several days. When that report comes back, "further care will be discussed between doctors and the family," the statement said. Those reports will determine how long McCain is away from the Senate as the Republicans struggle to pass their health legislation.
Anyone can get a blood clot, and ones in major blood arteries can cause a stroke or heart attack. However, those with cancer and older people are at greater risk of getting a clot. Doctors frequently conduct cancer tests after a clot. Although they usually come up negative, McCain has suffered in the past from melanoma, a skin cancer that can spread to the brain and elsewhere.
Even if the tests come back negative, McCain's surgery involved a craniotomy. This meant opening the skull and making an incision above his eye to get at the clot close to his brain. The procedure could keep him away from Washington for longer, neurosurgeons told The New York Times.
Related: The U.S. health care system has been rated the worst (by far) among high-income nations
The recovery time for such a procedure "is usually a few weeks," Dr. Nrupen Baxi, an assistant professor of neurosurgery at New York City's Albert Einstein College of Medicine, told the Times. More often than not, a blood clot "in this area would be a very concerning issue," he said.
Blood clots in that region of the head usually aren't found during routine exams, Baxi said. "Usually, a blood clot like this is discovered when patients have symptoms, whether it's a seizure or headaches or weakness or speech difficulties," he said. "Generally, it's not found on a routine physical because doctors would not know to look for it."
During his questioning of former FBI Director James Comey in early June, McCain's line of thought seemed disjointed and left Comey "a little confused." McCain blamed it on staying up late to watch a baseball game, but members of the public expressed concern online.
The Republicans will need McCain back in the Senate next week if they hope to put their plan to repeal and replace Obamacare to a vote.
McCain predicted last week that the vote would fail because there was already a lot of opposition to it in the Senate. The bill stalled before the Independence Day recess after several senators said they couldn't vote for it.
Last week, Senate Majority Leader Mitch McConnell delayed the start of the summer Senate recess so Republicans could work on the bill. The Senate is divided 52-48 between Republicans and Democrats, and McConnell can't lose more than two GOP votes.
The Republican health care plan remains deeply unpopular among Americans. A poll released Sunday shows only 24 percent of Americans support the bill, while 50 percent prefer Obamacare.
McCain's fellow Arizona senator, Jeff Flake, and other senators have said they hope to see the Republican back at work soon. He "is the most tenacious and resilient man I know," Flake said on Twitter.