The Growing Evidence that China's Aggression has Backfired | Opinion
On the eve of Taiwan's October 10 national holiday, China's embassy in India sent a letter to Indian media warning them not to call Taiwan a country nor Taiwan's leader Tsai Ing-wen president "so as not to send the wrong signals to the general public." Beijing insists that Taiwan is one of its provinces and China's leader Xi Jinping never rules out taking it by force.
However, Beijing's stern warnings backfired. Many Indians, including members of the ruling Bharatiya Janata Party, posted on social media in support of Taiwan using hashtags such as #TaiwanIsACountry and #TaiwanNationalDay. A spokesman for India's Ministry of External Affairs criticized the Chinese embassy's move as interfering with press freedom in India. He told Beijing that India's press was "free to report on any issue it deems fit."
These defiant responses should surprise no one—anti-China sentiment in India has been on the rise since the initial coronavirus outbreak, but especially after the two countries' deadly border dispute incident on June 15th, which resulted in the death of 20 Indian soldiers. In retaliation for those deaths, the Indian government banned more than 100 Chinese apps, including TikTok and WeChat.
But India is not the only country that is willing to push back on China. At the beginning of this year, Chinese telecom giant Huawei was set to dominate Europe's 5G market, despite warnings from the United States regarding the security risk the firm poses. However, this week, two Belgian telecom companies picked Nokia to build the country's 5G network. This decision came after France said that it favors a European 5G provider and the United Kingdom banned Huawei from its 5G market in the summer. Several non-European nations, including the United States, Australia and New Zealand issued similar bans on Huawei. Beijing had hoped Huawei would seal China's dominance in 5G markets worldwide. Nations around the world rejecting the company is a serious setback for Beijing.
Besides pushing back on China's technological ambitions, more countries are willing to call China out for its human rights violations. Last week, UN ambassadors from 39 countries, including the United States and Germany, issued a joint statement expressing their grave concern over Beijing's human rights violations against Uyghur Muslims, Tibetans and other ethnic minorities, as well as increasing political oppression in Hong Kong. The statement urges China to respect human rights for all Chinese people, especially ethnic minorities, and demands Beijing "allow immediate, meaningful and unfettered access to Xinjiang for independent observers including the UN High Commissioner for Human Rights."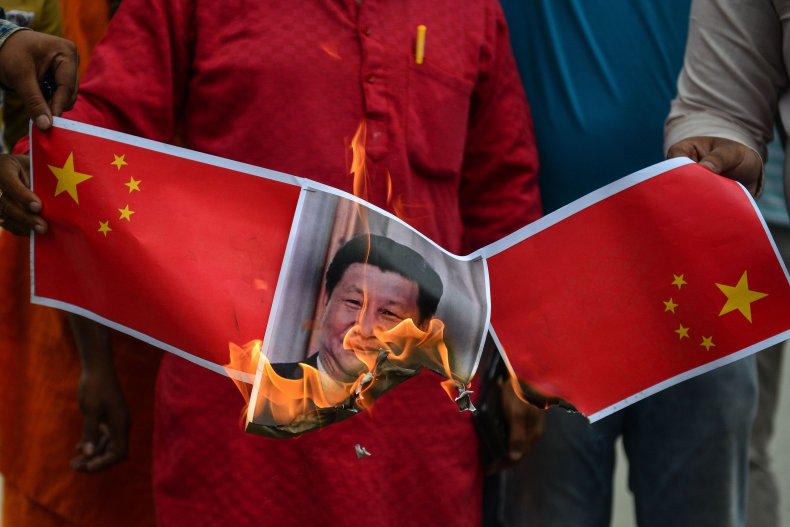 A similar statement drafted by the United Kingdom in 2019 received support from only 23 countries. Clearly, there is growing international outrage over Beijing's mistreatment of its ethnic minorities and crackdown on the Hong Kong democracy movement.
No doubt the primary catalyst for this global backlash against China is the coronavirus pandemic, which put more than one billion people in some form of lockdown, sent the global economy into a downward spiral, caused millions to become unemployed, infected close to 38 million people and claimed the lives of 1 million people worldwide.
As Beijing's mishandling of the outbreak—especially its intentional delay and cover-up in the early weeks—became more widely known, the regime's international credibility and reputation has suffered. Despite Beijing's aggressive public relations campaign, a new 14-country Pew survey shows that public opinion on China has reached a historic low. The majority of people surveyed say China mishandled the COVID-19 outbreak. They also expressed low confidence that Xi will "do the right thing regarding world affairs."
China even felt the backlash from Africa, where it has spent many years and vast resources to build infrastructure, export products and grow its geopolitical influence. China is the largest lender to African nations and holds about 20 percent of all African debt, much of it because of its ambitious "One Belt and One Road" infrastructure building program. The coronavirus pandemic has devastated the continent's economy.
China initially won good will from people in Africa by offering debt relief and donating personal protective equipment. However, when reports showed that some of the made-in-China PPE was faulty, outrage erupted. Then came the report that China had instituted discriminatory measures against Africans living in the country, including "evicting Africans from their homes and apartments, forcing Africans to sleep on the ground without shelter, and using physical force to compel Africans to adhere to government orders." These reports and videos fueled public fury against China. #ChinaMustExplain trended on social media in Africa. The editorial board of Kenya's leading media outlet wrote: "Kenya and the rest of Africa feel deeply betrayed by China."
The pandemic has been a wake-up call for many. Leaders and citizens around the world finally realized that a government that ruthlessly suppresses free press, freedom of expression and freedom of religion of its own people will inevitably bring harm outside its borders. Beijing has no one but itself to blame for its tarnished reputation and increasing international backlash.
Helen Raleigh is the author of Backlash: How China's Aggression Has Backfired. She is an American entrepreneur, writer, speaker, and a Fellow at the Centennial Institute. Follow her on Twitter: @HRaleighspeaks.
The views expressed in this article are the writer's own.