Donald Trump's Tweets: Growing Majority of Americans Disapprove of President's Outbursts, New Poll Finds
A growing majority of voters think President Donald Trump's Twitter feed, with its more than 50 million followers, is harmful to the United States.
The new POLITICO/Morning Consult poll found 62% of voters classify Trump's tweets as "a bad thing" while 20% said it was "a good thing." These numbers show a slight shift in opinion about Trump's use of Twitter from last June, when 59% of voters said the tweets were a bad thing while 23% said they were a good thing.
The poll also found voters divided over whether Trump's tweets will help Democrats up for reelection in November, and 21% said they don't expect the tweets to have a large impact Democratic congressional races.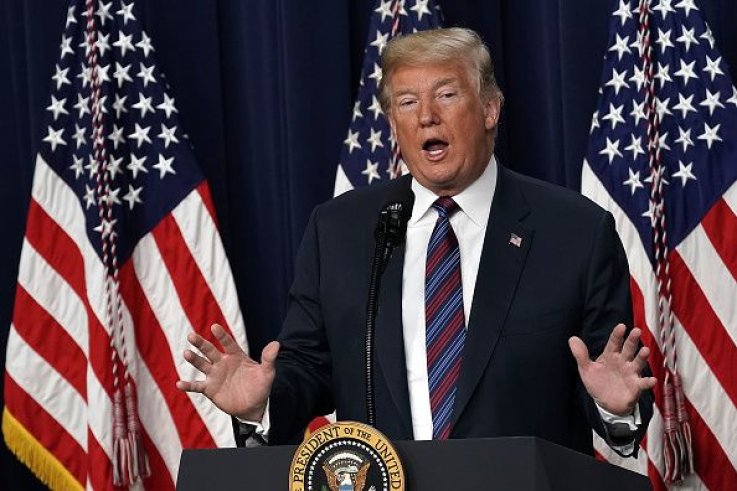 While 58% of Republicans said Trump uses Twitter too much, Kyle Dropp, Morning Consult's chief research officer who helped conduct the poll, added the results show little evidence Trump's tweets will cost him the GOP base."Although Republican voters agree President Trump's use of Twitter is excessive, they do not necessarily think it's damaging his agenda," he said.
The poll also found Trump's overall approval rating at 43%, with a 52% majority disapproving of the job Trump is doing as president. Recent polls have found similar results with Economist/YouGov and Gallup reporting Trump's approval at 39% and 40%, respectively.
Trump has put an emphasis on polling numbers during his first 16 months in office, especially when he likes the results. One tweet from April reads, "TRUMP APPROVAL HITS 50%," citing a Rasmussen poll.
In a different tweet in March Trump dismissed polls that gave him low approval ratings, writing "Rasmussen and others have my approval ratings at around 50%, which is higher than Obama, and yet the political pundits love saying my approval ratings are 'somewhat low.' They know they are lying when they say it. Turn off the show - FAKE NEWS!"
According to The Washington Post, Rasmussen Reports polls are "consistently friendlier to Trump than most other polls" because of their method of only talking to "likely voters," instead of a larger demographic.
The POLITICO/ Morning Consult poll was conducted from May 23-29, surveying 1,995 registered voters. The margin of error is plus or minus 2 percentage points.
Donald Trump's Tweets: Growing Majority of Americans Disapprove of President's Outbursts, New Poll Finds | U.S.