Who Is Grumpy Cat's Owner? Tabatha Bundesen Was a Waitress Before Pet Became a Viral Sensation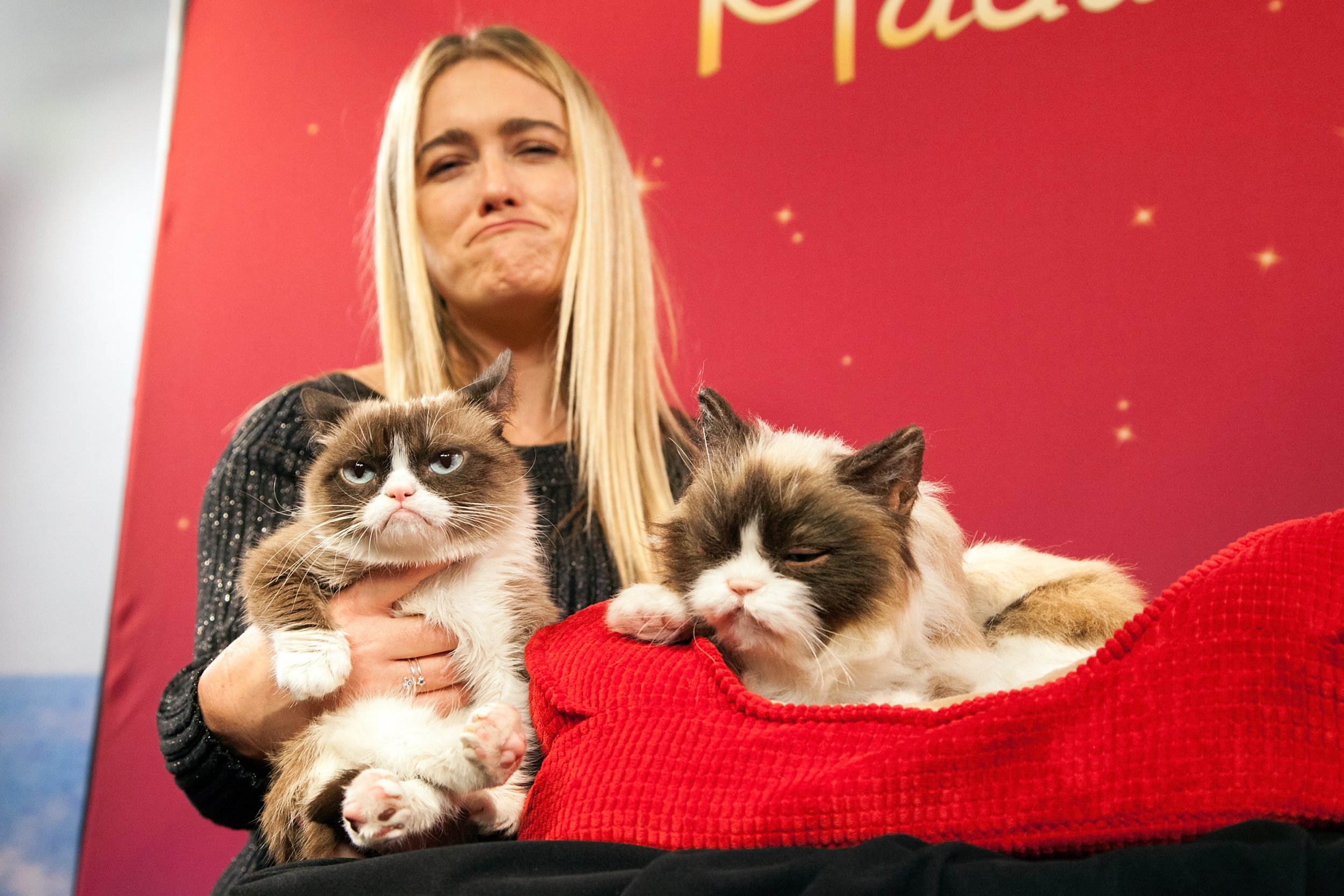 Grumpy Cat, the internet's favorite sourpuss pet, died on Tuesday. The furry feline, whose real name was Tardar Sauce, died following complications from a urinary tract infection, the cat's owners announced in a statement on Friday.
It was Grumpy Cat's signature grim expression that made her a meme-able icon, after her owner Tabatha Bundesen's brother shared a photo of the cat on Reddit in September 2012. Within 48 hours, the photo earned more than 1 million views on Imgur and Grumpy Cat's face became a pop-culture staple.
Grumpy Cat's instant popularity proved to be more than just a viral moment. Over her lifetime, the cat reportedly raked in hundreds of millions of dollars from her many appearances and business opportunities. Bundesen was working as a waitress at local Red Lobster in her Arizona hometown when Grumpy Cat first made waves online, and the cat's fame allowed her to quit her day job and maintain the cat's busy schedule.
"I was able to quit my job as a waitress within days of her first appearance on social media and the phone simply hasn't stopped ringing since," Bundesen said in a 2014 interview with The Telegraph.
Bundesen has since established Grumpy Cat Limited, which produces a number of products like t-shirts, sweaters, coffee mugs, phone cases, calendars and more items plastered with the beloved cat's face. The cat has also made dozens of appearances on shows like Today, Good Morning America and American Idol. She also was the star of a Honey Nut Cheerios commercial, and in 2014 Grumpy Cat became the face of Nestle's Friskies, according to CNN Money.
Although Grumpy Cat's net worth has not been revealed, Bundesen was speculated to have made millions from her pet. There were previous reports the cat was worth some $99 million in 2014, but Bundesen shot down those rumors initially spread by British tabloid The Daily Express.
Bundesen notably won a settlement worth more than $710,000 in 2018 after a beverage company produced a line of "Grumpy Cat Roasted Coffee," which was a breach of the original contract that only licensed the cat's image to be used for a line of iced coffees dubbed "Grumpy Cat Grumppuccino," Washington Post reported.
Bundesen was by her cat's side when it died on Tuesday. The statement announcing the famous feline's death noted Grumpy Cat was at home and in Bundesen's arms when she "passed away peacefully" on Tuesday morning.
Grumpy Cat had more than 2.5 million Instagram and 1.5 million Twitter followers.