Grumpy Cat Death: Was Grumpy Cat a Girl? What Kind of Cat Was Tardar Sauce?
The internet sensation known as Grumpy Cat, whose real name was Tardar Sauce, passed away on Tuesday and it's possible there will never be another like her, as it's unclear what kind of cat she was.
Grumpy Cat became known for her signature frown after her owner posted a photo of her on the social media platform Reddit in 2012. Then, came a few YouTube videos, hundreds, if not thousands of memes, internet fame, a couple book deals, apparel and as they say, the rest is history. Unfortunately, after years in the spotlight, Grumpy Cat passed away at the age of seven.
"Besides being our baby and a cherished member of the family, Grumpy Cat has helped millions of people smile all around the world–even when times were tough," her family announced on Friday. "Her spirit will continue to live on through her fans everywhere."
Grumpy Cat's unique appearance made her into one of America's favorite felines, but it's unclear what breeds were responsible for her traits. Admittedly, Grumpy Cat's family was unsure what kind of cat she was, although she looked nothing like either her mother or father.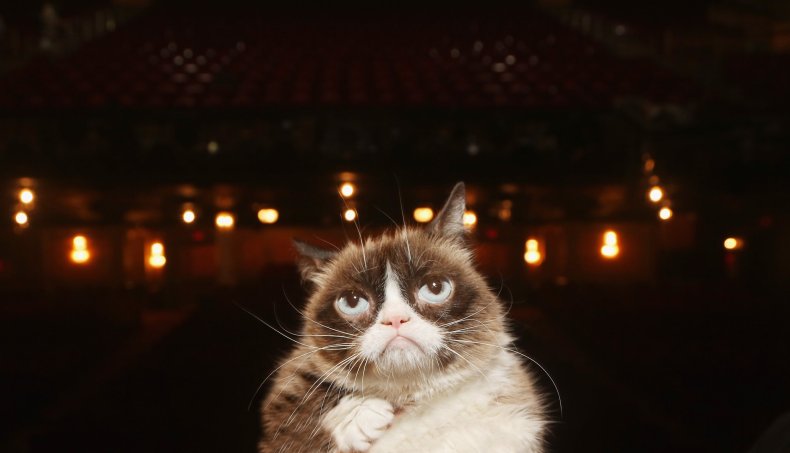 Christened Tardar Sauce, her mother was a Calico domestic shorthair cat named Callie and her father had grey and white strips.
"Though I suppose there could be a different father, promiscuous cats you know," Grumpy Cat's website stated.
Grumpy Cat was definitely a mixed breed and her family noted that she looked like she may have had some Persian, Ragdoll or Snowshoe in her. The family didn't breed Grumpy Cat so unfortunately, her lineage ended with her.
Known for her grumpy expression, Tardar Sauce wasn't permanently perturbed in real life. Her family wrote on her website that she was a "super cute and cuddly kitty" and thoroughly enjoyed being held and rubbed.
Aside from the photo sets, which occurred about once a week according to her website, she was a normal cat. She played, hid and even loved to hide behind the curtains. Before becoming famous, she was a member of the family, and that's how she remained first and foremost until she died.
Complications from a urinary tract infection proved too tough for Grumpy Cat to overcome and she passed away in the arms of her mother, Tabatha. The loss of the beloved feline left her family "unimaginably heartbroken."
Following her death, Grumpy Cat's fans posted images of her on Twitter, as well as, some of their favorite memes and videos to express their sadness at the news.