Democrats Lose Patience With GSA's Biden Transition Delay, Demand Answers
Democrats have demanded answers over the ongoing delay of a crucial document allowing Joe Biden's team access to federal resources to help facilitate the transition of power, amid concerns this hurdle could hamper his incoming administration.
Ordinarily, once a presidential election winner has been determined the General Services Administration (GSA) sends a letter enabling them to utilize further federal support as they look to move into power.
However, amid President Donald Trump's continued rejection of the election outcome—with Biden having been declared the winner by major networks—GSA Administrator Emily Murphy is yet to sign such documentation.
"An ascertainment has not yet been made. GSA and its Administrator will continue to abide by, and fulfill, all requirements under the law," a spokesperson for the GSA previously told Newsweek.
"The GSA Administrator does not pick the winner in the Presidential election."
Biden has directly bemoaned this delay, suggesting it could delay action such as the rollout of a coronavirus vaccine.
Amid such concerns, several Democrat House committee chairs have written to Murphy calling for her to personally brief them on the situation—labeling this her "ongoing refusal to grant the Biden-Harris Transition Team access to critical services and facilities."
In a joint letter, released by the House Appropriations Committee, they wrote: "We request that you brief us immediately on your ongoing refusal to grant the Biden-Harris Transition Team access to critical services and facilities specified in the Presidential Transition Act of 1963 and millions of dollars in funding that Congress appropriated on October 1, 2020, for transition activities under the Act.
"The results of your briefing will help inform whether we bring you, your Deputy, your Chief of Staff, and your General Counsel to testify at a public hearing."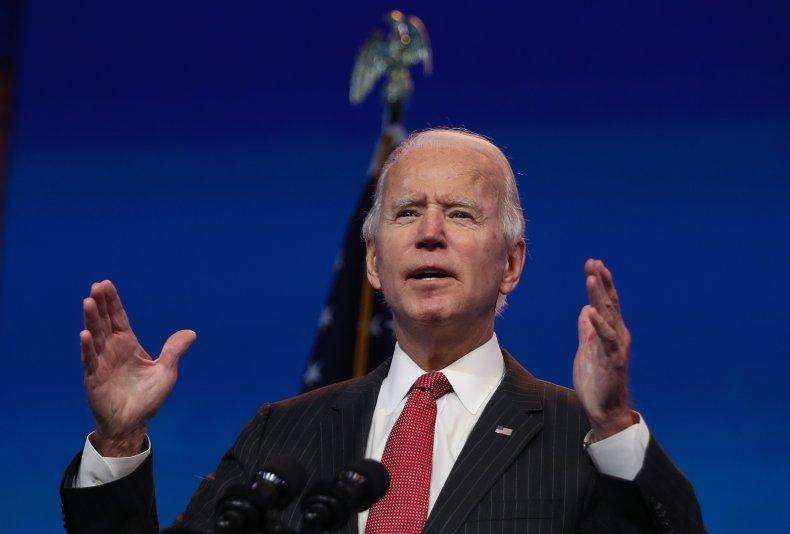 Outlining their displeasure at such access not being provided, they added: "Under the Presidential Transition Act, it is your responsibility as Administrator of the
General Services Administration (GSA) to begin transition activities as soon as you ascertain 'the apparent successful candidates for the office of President and Vice President.'
"President-elect Biden and Vice President-elect Harris have clearly satisfied any good faith reading of this standard."
The letter spoke of "grave effects" of the delay, which it outlined as "undermining the orderly transfer of power, impairing the incoming Administration's ability to respond to the coronavirus pandemic, hampering its ability to address our nation's dire economic crisis, and endangering our national security."
The letter added: "We have been extremely patient, but we can wait no longer."
Murphy has previously faced criticism over the delay, with concerns raised over the repercussions of this. Former security officials have raised concerns over potential national security risks due to information being withheld from Biden.
Biden himself has directly questioned the action of Murphy in not signing off on the transition resources, as he outlined the issue that his team does not have "access to all the information that we need to get from all the various agencies."
In a statement on a recent briefing, Biden and Harris had from national security experts, it spoke of "the lack of GSA ascertainment" and outlined how this "prevents the Transition from meeting with and hearing from current Executive Branch officials, including on pressing matters of national security and foreign policy."
Newsweek has contacted the GSA, the House Appropriations Committee and the Biden transition team for comment.