GSA Tells Biden Transition Can Formally Begin As Trump Vows to Continue Election Lawsuits
General Services Administration (GSA) Administrator Emily Murphy informed President-elect Joe Biden on Monday that she has ascertained that Biden's teams may begin the formal transition for his incoming administration.
Because of Murphy's delay in recognizing Biden as the winner of the election against President Donald Trump, Biden's transition teams were prohibited from receiving federal money, workspace and information. With the GSA's announcement, Biden's transition may begin in earnest.
"As the Administrator of the U.S. General Services Administration, I have the ability under the Presidential Transition Act of 1963, as amended, to make certain post-election resources and services available to assist in the event of a presidential transition," Murphy wrote. "I take this role seriously and, because of recent developments involving legal challenges and certifications of election results, am transmitting this letter today to make those resources and services available to you."
Biden's transition teams will have access to over $6 million in federal funds for transition efforts, along with $1 million for orientation sessions.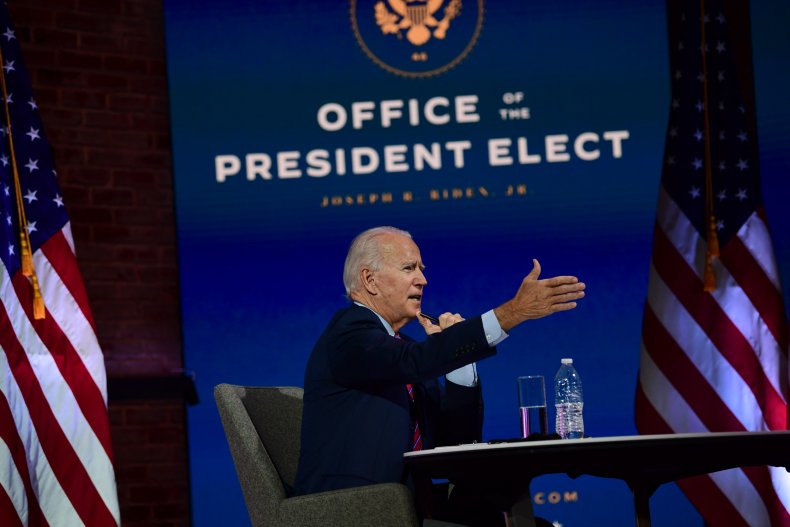 While Trump said he would continue with his legal challenges to Biden's victory, he tweeted Monday that he would comply with the GSA's recommendations.
"I want to thank Emily Murphy at GSA for her steadfast dedication and loyalty to our Country. She has been harassed, threatened, and abused – and I do not want to see this happen to her, her family, or employees of GSA," Trump tweeted. "Our case STRONGLY continues, we will keep up the good...fight, and I believe we will prevail! Nevertheless, in the best interest of our Country, I am recommending that Emily and her team do what needs to be done with regard to initial protocols, and have told my team to do the same."
In a Monday statement sent to Newsweek, the Biden-Harris transition teams called Murphy's decision "a needed step to begin tackling the challenges facing our nation, including getting the pandemic under control and our economy back on track."
"In the days ahead," the statement continued, transition officials will begin meeting with federal officials to discuss the pandemic response, have a full accounting of our national security interests, and gain complete understanding of the Trump administration's efforts to hollow out government agencies."
Some members of the GOP have been encouraging Trump to concede, an action Trump has been reticent to undertake. Former New Jersey Governor Chris Christie told ABC News on Sunday that "elections have consequences, and we cannot continue to act as if something happened here that didn't happen."
Most media outlets have projected a victory for Biden in the presidential election. According to the Associated Press, Biden received 51.1 percent of the popular vote to Trump's 47.2 percent. Along with a majority of the popular vote, Biden received 306 electoral votes to Trump's 232 electoral votes. However, not all votes have been tabulated. Trump has alleged widespread fraud during the election. Several lawsuits were filed by Republicans hoping to prevent ballots from being counted.