'GTA Online' Adds Special Vehicle Circuit Races Featuring Flying Cars and Jetpacks
GTA Online has added Special Vehicle Circuit Races in the latest update. These crazy races take players to new heights (and depths) in vehicles like the Imponte Deluxo, Ocelot Stromberg and Mammoth Thruster.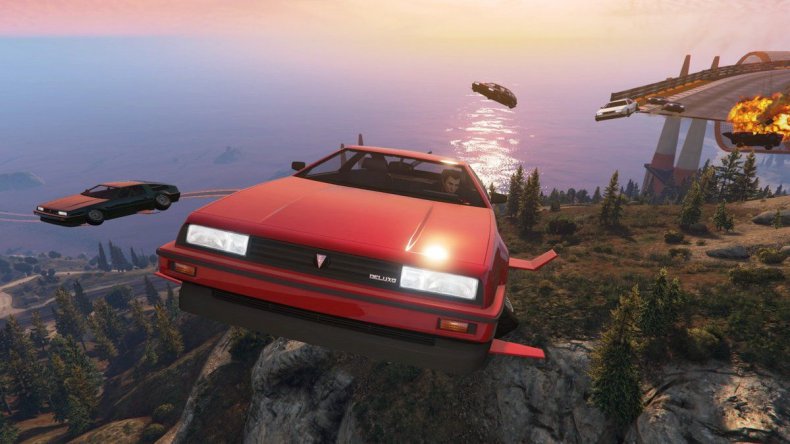 The are a number of Special Vehicle Circuit Races, each focusing on one of the three fancy vehicles. The Imponte Deluxo, the flying vehicle similar to the DeLorean in Back to the Future 2, has four different races: Stadium Flyover, Raton Race, Techno and Cresting. The submarine-like Ocelot Stromberg has three different races: Spindrift, The Kraken and Plunge. Lastly, the Mammoth Thruster jetpack also is featured in three races: Vinewood Air Tours, Chiliad Drop and FlyLo Challenge.
Competing in any of these races earns players double the GTA$ and RP rewards through May 7. Competing in the 20 other Special Vehicle Races for the Blazer Aqua, Rocket Voltic and Ruiner 20000 also pay out with double the rewards.
If you're looking to save money, this week is not the best. There are a seriously limited number of items on sale through May 7, but they are all the special vehicles featured in the new races. The discounted items are as follows:
Mammoth Thruster - 25 percent off
Imponte Deluxo - 25 percent off
Ocelot Stromberg - 25 percent off
Ruiner 2000 - 25 percent off
Blazer Aqua - 25 percent off
Rocket Voltic - 25 percent off
As usual, there is a new premium race and time trial to tackle this week. The premium race is "Downtown Loop" which is locked to Super cars. The time trial is "Fort Zancudo." All participants in a premium race earn triple the RP, and the top three finishers earn GTA$ as well. Beating the par time for the time trial race also pays out in RP and GTA$.
So what do you think? Are you excited to try any of the new Special Vehicle Circuit Races? What do you hope is added in the next update? Let us know your thoughts in the comments section below.