'GTA Online' Cayo Perico Heist Release Time: When Does the Update Come Out?
GTA Online is about to get one of its biggest updates yet, and virtual criminals everywhere are champing at the bit to see what it's all about. Here's a quick recap of everything we know about the Cayo Perico Heist update, including its estimated release time.
When does the GTA Cayo Perico Heist update come out?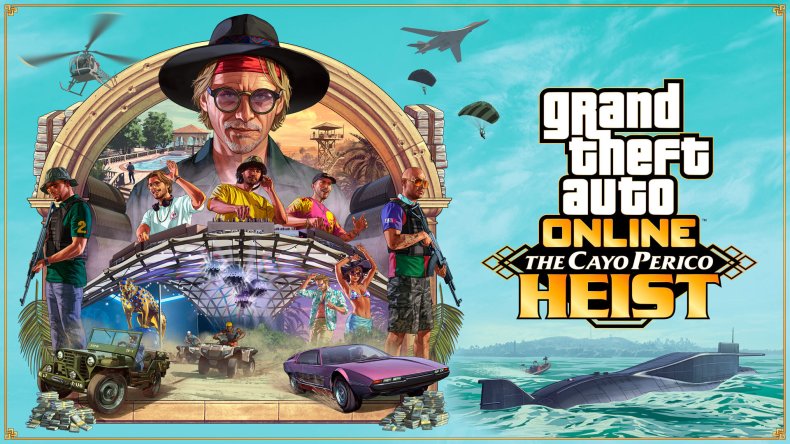 While Rockstar Games hasn't officially announced a release time for the Cayo Perico update, official deployment patterns and longtime fans suggest the patch is expected to release between 4 a.m. and 5 a.m. EST December 15. It's not quite a guarantee, but this window is the best one available. Most major heists have gone live around this time.
What to expect from the Cayo Perico Heist update
Now that you have a solid estimate of when the Cayo Perico update is expected to release, here's a recap of the new content fans can expect to experience when it's available. Rockstar has been pretty tight-lipped with regard to how most of the specific features will work, but this is what we know so far.
The Cayo Perico Heist: The heist itself is the single biggest feature of this new update for GTA Online. It takes place on the secure island of Cayo Perico. In typical fashion, the goal of the heist is to dispatch the guards around the area and take all the goods you can possibly carry. The heist features a new approach to design that allows for both solo and co-op completions.
New vehicles: Alongside the heist, players can expect to pilot new vehicles including sophisticated helicopters, sports cars, armored cars, weaponized jets and more.
Lots of music: Leading up to the opening of the underground Music Locker club, the heist update adds three new radio stations and new mixes totalling 250 tracks.
Music Locker Club (maybe): Rockstar has been a little coy with regard to the new underground club located at Diamond Casino, saying that it's "coming soon," but many fans believe the new public space will go live with Tuesday's patch. It's worth remembering the initial newswire post for Cayo Perico mentions "new social spaces to dance and party in with your friends, and new world-class guest DJs." That sounds a lot like the club will debut on the same day, or very soon after, the update.
Submarine HQ: We're not sure if this will be classified as a vehicle or a property, but crews will have the opportunity to use a massive submarine that's fully kitted out with huge missiles. This could be part of the heist itself, and you might be able to pay a large sum of cash to buy one. Either way, it sounds pretty awesome.
There are obviously many more questions about the Cayo Perico Heist with regard to the specific steps and the payouts one might receive, but this is all we know for now.
Grand Theft Auto Online is available now on PS4, PS3, Xbox One, Xbox 360 and PC. The update is only supported on PS4, Xbox One and PC.
What are you expecting from the Cayo Perico Heist? Will you be downloading this update as soon as it releases? Tell us in the comments section!