'GTA Online' Celebrates July 4 With Return of Independence Day Items
GTA Online is getting into the holiday spirit by bringing back Independence Day-themed vehicles, clothing and weapons. While there aren't any new items to celebrate the holiday this year, the items from previous years are back, and on sale.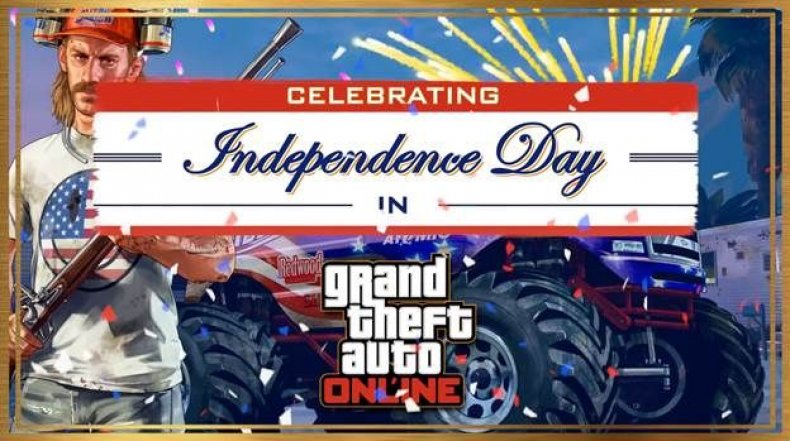 The following items are all available through July 9, and have a 40 percent discount:
Vapid Liberator
Stars n Stripes Facepaint
Independence Day clothing, masks, haircuts and outfits
Western Motorcycle Company Sovereign
Musket
Fireworks launcher and fireworks
Star Spangled Banner Horns
Patriot tire and parachute smoke
MOC liveries
Independence Day Mk II liveries
Other items are discounted as well, outside of the Independence Day celebrations. You can snag discounts on the following items through June 9:
Hangars - 50 percent off
Executive Offices - 50 percent off
Special Cargo Warehouses - 50 percent off
Biker Clubhouses and Businesses - 50 percent off
All Facilities - 40 percent off
Mammoth Avenger and Renovations - 30 percent off
Mobile Operations Center and Renovations - 30 percent off
Vapid GB200 - 30 percent off
Grotti X80 Proto - 30 percent off
Imponte Ruiner 2000 - 30 percent off Buy It Now and Trade Price
If you need some extra cash to get into the holiday spirit, players can earn double the GTA$ and RP rewards by participating in Smuggler's Run, Special Cargo and Biker Sell Missions.
As mentioned last week, Nightclubs are coming to GTA Online. To build excitement for the July launch, Rockstar is giving away free rewards simply for logging on. Last week's rewards, the GTA$300,000 and an orange wireframe bodysuit, are now available to be redeemed, but might take until July 9 to be deposited into your account. There aren't any rewards this week, but the week of July 10 to July 16 has a login bonus which includes a pink wireframe bodysuit and an additional GTA$100,000.
So what do you think? Are you excited to celebrate July 4th in GTA Online? Are you more interested in the upcoming Nightclub launch? Let us know your thoughts in the comments section below.