'GTA Online' Gets in the Halloween Spirit Early With New Hearse
Tuesday is here, which means a new update to GTA Online has arrived. Unlike previous weeks, this update doesn't have much in terms of new content or an updated game mode, but there are two new vehicles to purchase if you're into that kind of thing.
The first vehicle is the Mammoth Patriot. This military-turned-civilian vehicle looks like a classic Hummer, so be thankful you aren't charged for gas in GTA Online. The Patriot is available at Southern San Andreas Super Autos, with multiple customization options available at LS Customs.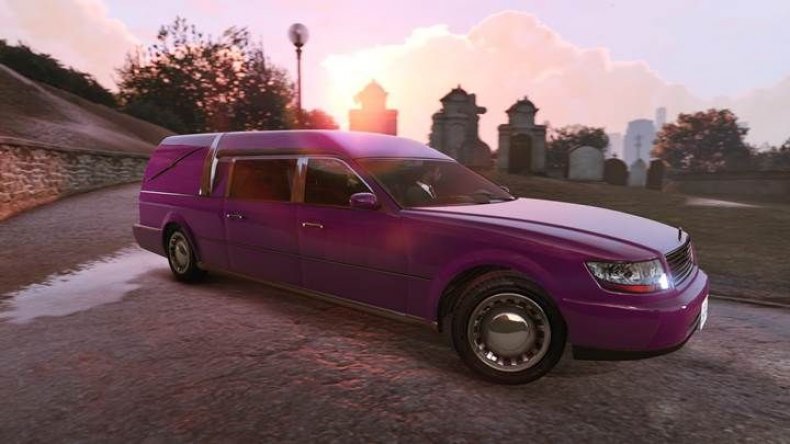 Along with the Patriot, GTA Online is getting into the spooky Halloween spirit a little early with the Chariot Romero Hearse. The hearse is also available from San Andreas Super Autos, but customization options were not confirmed. It might be in poor taste to drive around in a tricked out hearse, but then again, this is GTA Online.
Double GTA$ and RP opportunities are still available for the recently released Running Back (Remix) game mode through Oct. 1, but new opportunities are also available this week. Freemode Business Battles and Terrorbyte Client Jobs are also paying out the double rewards, while champagne is 25 percent off at bars. Nightclub popularity also lasts for twice as long before dropping.
As an added bonus, all who log in from now through Oct. 1 receive a free in-game Omega T-Shirt. The following items are also discounted through Oct. 1 as well:
Nightclubs, add-ons and renovations - 25 percent off
Nightclub and warehouse upgrades - 25 percent off
Nightclub warehouse technicians - 25 percent off
Hangars - 50 percent off
Gunrunning resupplies - 50 percent off
After Hours clothing - 25 percent off
B-11 Strikeforce - 25 percent off
Mammoth Tula - 40 percent off
Buckingham Pyro - 40 percent off
P-996 Lazer - 40 percent off
Pfister Comet SR - 30 percent off
Overflod Tyrant - 30 percent off
Truffade Nero - 35 percent off
HVY APC - 40 percent off
So what do you think? Are you excited about either of the new vehicles in GTA Online? What do you hope is added in the next update? Let us know your thoughts in the comments section below.