'GTA Online' Offers Triple GTA$ and RP Rewards This Weekend
GTA Online is all about owning businesses lately, with the big announcement of player-owned nightclubs coming to Los Santos in a future update. To prepare for the rise of nightlife in GTA Online, this week's update is all about a different side of business: biker missions.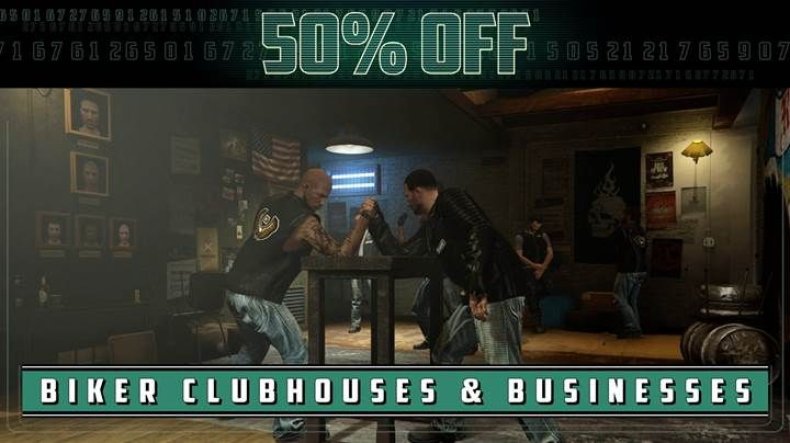 Players can earn double the GTA$ and RP rewards for completing Smuggler's Run, Biker Business and Special Cargo Sell Missions through July 2. There is also a 2X speed boost on Bunker Research and discounts on Biker properties.
If that's not enough, this weekend offers an unprecedented triple payout for GTA$ and RP rewards when playing the Fortnite-style Motor Wars battle royale mode. Motor Wars will pay out double rewards from now until June 29. From June 29 to July 2, the rewards are ramped up to triple the normal payout.
If you're looking to spend your newfound wealth wisely, the following items are on sale through July 2.
Hangars - 50 percent off
Executive Offices - 50 percent off
Special Cargo Warehouses - 50 percent off
Vehicle Cargo Warehouses - 50 percent off
Biker Clubhouses - 50 percent off
Biker Businesses - 50 percent off
Facilities - 40 percent off
Mammoth Avenger, Add-Ons and Renovations - 30 percent off
Mobile Operations Center Cabs, Modules and Renovations - 30 percent off
Vapid GB200 - 30 percent off
Grotti X80 Proto - 30 percent off
Imponte Ruiner 2000 - 30 percent off
Additionally, Rockstar announced Nightclubs will come to GTA Online in July. These businesses can be customized, staffed and promoted to earn extra income while playing. Nightclubs also offer new music from The Black Madonna, Dixon, Tale of Us and Solomun. To promote the new feature, Rockstar is offering some big rewards for players who log into GTA Online between now and July 2 like new clothes and GTA$300,000. Keep logging in every week after that to earn more rewards.
So what do you think? Are you excited to see triple reward bonuses this week? Will you start a nightclub when they are available? Let us know your thoughts in the comments section below.