'GTA Online' Remixes Trading Places Adversary Mode, Adds New Vehicle
GTA Online has another update, this time adding a remixed Adversary Mode along with a new off-road vehicle and fresh opportunities to earn double GTA$ and RP.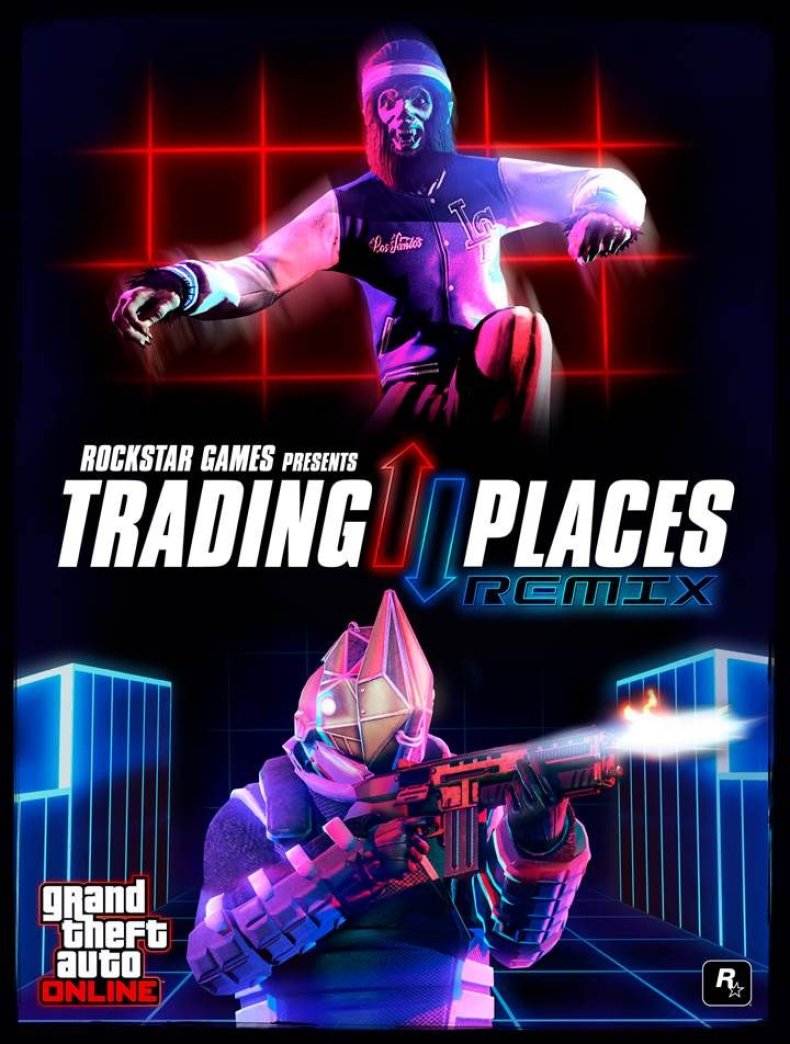 The remixed Adversary Mode in today's update is called Trading Places. In the mode, a team of Juggernauts suit up to face off against a team of Beasts (complete with cloaking and super jump abilities). The Juggernauts have a few tricks as well, including thermal vision and heavy weapons. The team that survives longest in the Juggernaut suits wins.
Playing the new Trading Places remixed game mode, including the bonus Pass the Parcel variation, earns double the GTA$ and RP rewards until Sept 17. Additionally, Business Battles are paying double rewards to victors through Sept 10.
It's also possible to rack up some serious in-game cash simply by logging on. Sign in to play GTA Online once before Sept. 10 to be rewarded with a bonus GTA$250,000. Sign in again every day for a week to be rewarded with an additional bonus of GTA$150,000. Sign in for the full week, and you'll walk away with a cool GTA$1.15 million. As an added bonus, all who sign on are rewarded with an in-game T-shirt and two vehicle liveries.
The Canis Freecrawler also joins GTA Online today. This four-wheel drive off-road vehicle comes packed with heavy suspension and a sense of adventure. The Freecrawler is available now at Legendary Motorsport.
As with every update, a new selection of items are on sale through Sept 10. This week's discounts include:
Dinka Jester Classic – 30 percent off
Mammoth Patriot Stretch – 30 percent off (Buy It Now & Trade Prices)
MTL Pounder Custom – 30 percent off (Buy It Now & Trade Prices)
Pegassi Oppressor – 40 percent off (Buy It Now & Trade Prices)
Entity XXR – 30 percent off
X80 Proto – 40 percent off
Mammoth Hydra – 30 percent off (Buy It Now & Trade Prices)
FH-1 Hunter – 40 percent off (Buy It Now & Trade Prices)
Benny's Upgrades – 40 percent off (cost to Upgrade)
Vehicle Armor – 30 percent off
Nightclub Warehouse Staff, Equipment & Security Upgrades – 30 percent off
Hangars – 40 percent off
Hangar Workshop – 40 percent off
Executive Offices – 50 percent off
Executive Office Garages – 30 percent off (Custom Auto Shop not included)
Bunkers – 40 percent off
MC Clubhouses – 50 percent off
So what do you think? Are you excited to try the remixed Trading Places mode? What other modes would you like to see remixed in a future update? Let us know your thoughts in the comments section below.