'GTA Online' Update Adds Declasse Tulip, Double GTA$ Opportunities
GTA Online continues has another update with new content this week, with a new muscle car now available alongside plenty of new opportunities to earn double the GTA$ and RP rewards. As usual, another batch of vehicles, properties and more is also on sale for the week.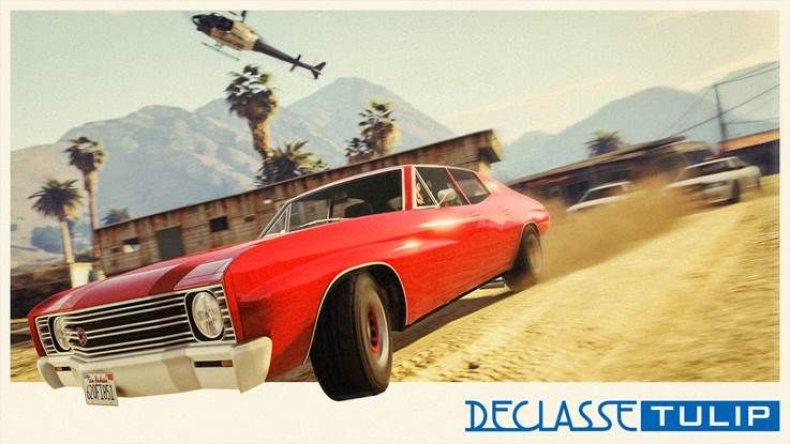 The new vehicle in GTA Online is the Declasse Tulip. This muscle car is packed with 70s style, which means it should be prime for some sweet customizations. The Declasse Tulip is available right now at Southern San Andreas Super Autos.
If you need the extra cash to buy a Tulip, there are plenty of ways to earn bonus GTA$. All Smuggler's Run Cargo Sale missions earn players double the GTA$ rewards. Playing the Tiny Racers, Dawn Raid, Overtime Rumble and Power Mad Adversary modes also rewards players with double GTA$ along with double the RP rewards as well. All of these game modes are offering bonus rewards through January 21.
Tiny Racers brings the nostalgia, with the game camera pulling back into an overhead position reminiscent of the original Grand Theft Auto games. Dawn Raid cuts the lights, forcing players to use night vision and thermal goggles. Overtime Rumble puts you in a car racing towards a massive jump with a target off in the distance as other competitors interfere. Power Mad is a take on King of the Hill, with players fighting for a powerful Juggernaut upgrade. The team that secures the upgrade must score a point, or risk losing the upgrade to the opposing team.
If you're looking to save some cash with your purchases, the new batch of items for sale through January 21 is as follows:
Hangars - 40 percent off
B-11 Strikeforce - 25 percent off
Nagasaki Havok - 35 percent off
LF-22 Starling - 35 percent off
HVY Menacer - 25 percent off
Pegassi Tezeract - 30 percent off
Overflod Autarch - 35 percent off
Ocelot Swinger - 30 percent off
Enus Stafford - 30 percent off
If you want the joy of new items without having to pay for them, you're in luck this week. Simply logging into GTA Online from now through January 21 unlocks the Declasse Girl T-Shirt for free. The shirt is delivered to your character's clothing inventory automatically once you have signed in.
So what do you think? Are you excited to cruise around Los Santos in the Declasse Tulip? What would you like to see added in the next GTA Online update? Let us know your thoughts in the comments section below.