At Park Avenue Armory, Guantanamo Bay Writ Large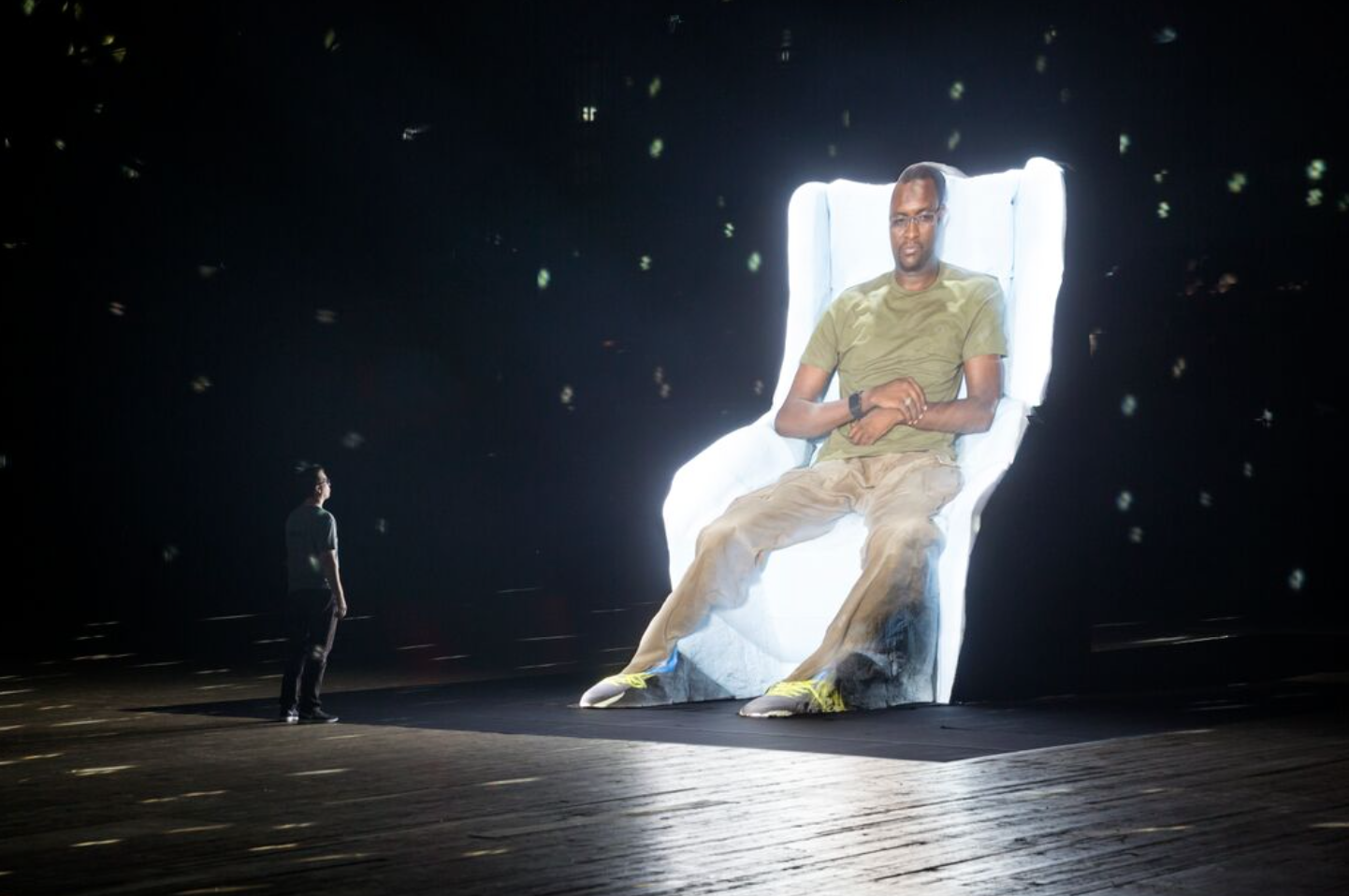 On view in the Park Avenue Armory on New York's affluent Upper East Side this weekend is one of the most poignant meditations to date on the legacy of Guantanamo Bay. The iconic performance artist Laurie Anderson, in an installation titled Habeus Corpus, provides a lens through which to explore what is human, true and just.
A single step into the massive hall feels like a leap into another realm. Guitar reverberations fill the room, which is completely dark save for swirling specks of light reflecting off a slowly spinning disco ball overhead. The elements serve to dizzy and disorient as attendees walk toward a large illumination in the distance: a sculpture similar to the Lincoln Memorial in both shape and size. It's not a former U.S. president being depicted, though: It's the real-time image of Mohammed el Gharani, a former Guantanamo Bay prisoner, that is beaming onto the statue's facade. And the detail is astonishing.
Gharani remains still and silent during the exhibition, but because his likeness is so magnified, spectators can see his lips purse, brow furrow and fingers flinch. And, in a subtle commentary on modern day surveillance, Gharani is viewer as well as being viewed: From his house in West Africa he has a wide view of the crowd, and is able to zoom in on certain onlookers. About once every hour, when he takes a break, Gharani's pre-recorded voice is broadcast in the armory, telling a story from his seven years at the remote prison facility.
Now 29, Gharani was one of Guantanamo Bay's youngest detainees. Chadian by birth and Saudi Arabian by upbringing, he moved to Pakistan in 2001 in search of a better education. Pakistani forces arrested the 14-year-old while he was praying in a mosque and handed him over to the U.S., which sent him to Guantanamo in 2002. Though he was just a child, the government thought Gharani was a member of a London-based Al-Qaeda cell and that he fought U.S. forces pursuing Osama bin Laden in Tora Bora, classified Defense Department notes obtained by WikiLeaks show. In 2009, a federal judge rejected the claims, saying the government's story relied almost exclusively on the statements of two detainees with questionable credibility. He was released to Chad later that year.
Words are a way we relate to reality. And in the case of the 779 people who've been imprisoned at Guantanamo Bay, there's an abundance of words. But government documents and prisoner testimonies present conflicting narratives. Confessions, the detainees say, were often extracted through torture. The government, however, claims the inmates' accounts are false; complete fabrications or possibly memories dulled by time. While the armory installation is literally a platform for Gharani, much of his story is absent.
"It was horrendous what he told me," Anderson tells Newsweek. "So I decided not to pass that on and not to make that a big part of the program...it's very neutral what is going on here."
What speaks louder than his words, however, is his presence. Not only are few images of former detainees accessible to Americans, but face-to-face meetings are even further out of reach—those who have been released from Guantanamo are barred from entering the U.S. By virtually bringing Gharani to New York, Anderson's larger-than-life installation magnifies his humanity and creates an unprecedented intimacy, despite the physical distance.
Habeas corpus—meaning, "you should have the body"— is a writ that allows prisoners to challenge incarceration. As the installation's title, the symbolism is apt and abundant.
During the Civil War, Lincoln became the first American president to suspend habeus corpus, citing the conflict's exigencies. In 2006, as a necessity in the so-called War on Terror, President George W. Bush followed Lincoln's lead; he prohibited courts from hearing Guantanamo detainees' cases. The dissolution of this right not only helps to explain Gharani's prolonged detention, but is something Anderson takes issue with.
"The one argument that I can't do is the 'greater good' argument, that people had to suffer for our freedom," Anderson says. "I am unable to do that, I can't say that my life is worth more than this guy's life."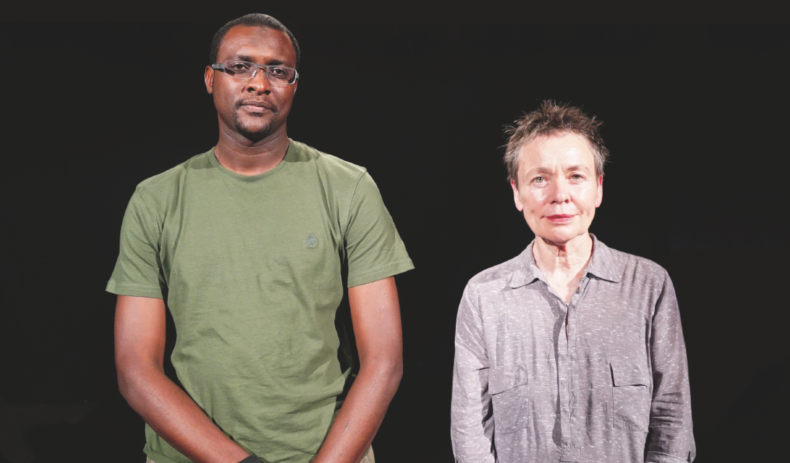 By superimposing Gharani's image onto a structure that mimics the Lincoln Memorial—a monument that represents the former president's belief in the freedom and dignity of all people—Anderson's installation both represents and is a means of liberation.
Though Gharani is free from the largely hollowed halls of Guantanamo Bay, where 114 prisoners remain, and is now able to fill the enormous hall at the Park Avenue Armory, he is not entirely unencumbered by the prison's legacy. Because he was never charged, Gharani was never exonerated and the stigma now covers him like a thick film.
When Anderson and Gharani began working together, she asked him his motivation for participating. "He wanted to help his brothers at Guantanamo," Anderson says. "I said, 'I can't tell you that this is going to help your brothers. Really, I can't. This is artwork.'" She next asked Gharani, "What is justice for you?" He responded: "An apology."
The installation is showing October 2-4, 12 p.m. to 7 p.m. In the evenings, starting at 8 p.m., the space will transform into a celebration, with performances by Syrian singer Omar Souleyman, Merrill Garbus of tUnE-yArDs, multi-instrumentalist Shahzad Ismaily, guitarist Stewart Hurwood and Anderson herself.