Guantánamo Inmates to Demand Trial or Release in U.S. Court Hearing
Eleven of the 40 inmates still held without charge at Guantánamo Bay prison will have a hearing in a Washington, D.C., District Court Wednesday.
In January, lawyers filed a motion to grant habeas corpus to the prisoners, challenging that their continued detainment without charge violates the 2001 Authorization for Use of Military Force—which uses "all necessary and appropriate force against those individuals or groups responsible for the September 11, 2001 attacks"—and are driven by President Donald Trump's anti-Muslim sentiments.
The court filing says that the AUMF does not authorize "perpetual detention, disconnected from any legitimate purpose, of the kind Petitioners now endure." While campaigning for office, Trump said he would "load [Guantánamo] up with some bad dudes." Earlier this year, he filed an executive order to keep the prison open.
"None of the men Reprieve represents has ever been charged with a crime, and two have been cleared for transfer, but they remain stuck in Guantánamo, apparently indefinitely," Shelby Sullivan-Bennis, senior attorney at Reprieve, an advocacy organization that represents seven Guantánamo prisoners, told The Guardian. All of the men mentioned in the legal petition have been detained without charge for more than a decade.
The prisoners were not permitted to travel to Washington, D.C., to be present at their hearing, and they were also not allowed to listen to the proceedings in real time. "The government's reason for denying our clients a live stream was that there effectively weren't enough chains and holes in the ground to chain them. They essentially argued it was too difficult functionally based on the guard force," Sullivan-Bennis told Newsweek.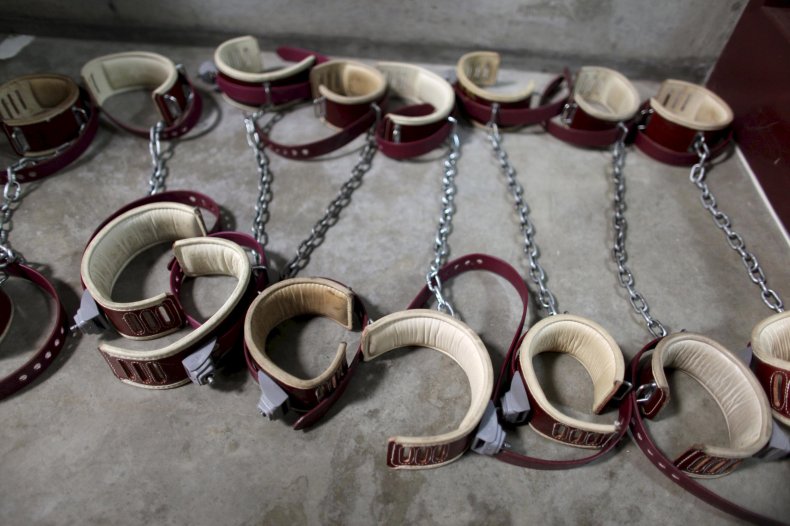 Detainee Ahmed Rabbani, who is named in the filing, wrote an opinion piece about the hearing in the New York Daily News Tuesday. "I still have faith, even after all this time, that a judge will see through this stupidity and understand what is really going on: This president has no plan for us. When he has a problem, he tries to ignore it until it goes away," he wrote. "The better solution would be to save the American taxpayer the $11 million per year it costs to keep me here. I may be nobody to him, but I am a very expensive nobody."
The American Civil Liberties Union reported that the cost to house one detainee at Guantánamo reached approximately $11 million each year, while The Guardian found that the camp has cost taxpayers an estimated $6 billion since it was opened in 2002. Three inmates were convicted at Guantánamo while a fourth one was convicted in federal U.S. court, the newspaper indicated.
In 2009 on his second day in office, then-President Barack Obama issued an executive order to close Guantánamo, and he transferred 200 detainees to other nations. To date, 41 still remain behind bars.