Guardians of America Freedom Medal: Military Dogs and Their Handlers May Be Getting Award of Their Own
New Jersey Democratic Senator Bob Menendez announced on August 7, which happened to be Purple Heart Day, that Congress passed his bill to establish a military medal for K-9s and their handlers, and it's on its way to be signed by President Donald Trump.
During a press conference at the United States War Dogs Memorial in New Jersey, Menendez explained that it will become the first official commendation medal recognizing the service and sacrifice of K-9s and their handlers in the United States military.
The senator first introduced the Guardians of America Freedom Medal Act in 2016 and explained that in their own way, military working dogs are also American heroes that have unique abilities to help keep both service members and the country safe.
"We should commend them, on the record, and give them the respect and recognition they have earned and deserve," he said on his website at the time. He added that if the nation can "strap a Kevlar vest on a dog and send it into battle," the country should also be able to "pin a medal to its collar."
On Tuesday, Menendez called it the least the country can do to honor military working dogs, which he referred to as "indispensable" to society. The senator shared a story about Sergeant Stubby, a bull terrier mix that served in the United States 102nd Infantry during World War I.
"Sergeant Stubby is credited with capturing a German spy, comforting wounded soldiers and saving countless lives by sniffing out poison gas and barking warnings to the men in the trenches," Menendez explained.
The senator also told attendees about World War II working dogs, which were the first to be specifically trained for a variety of roles. Chips, a shepherd-collie-husky mix, was even awarded the Silver Star, the military's third-highest medal for bravery in combat, though the award was taken away after people complained dogs shouldn't be awarded the same medals as humans, according to The Washington Post. Chips was trained to respond to his handler so well that when he met General Dwight Eisenhower, Chips nipped at the future president when he tried to pet him.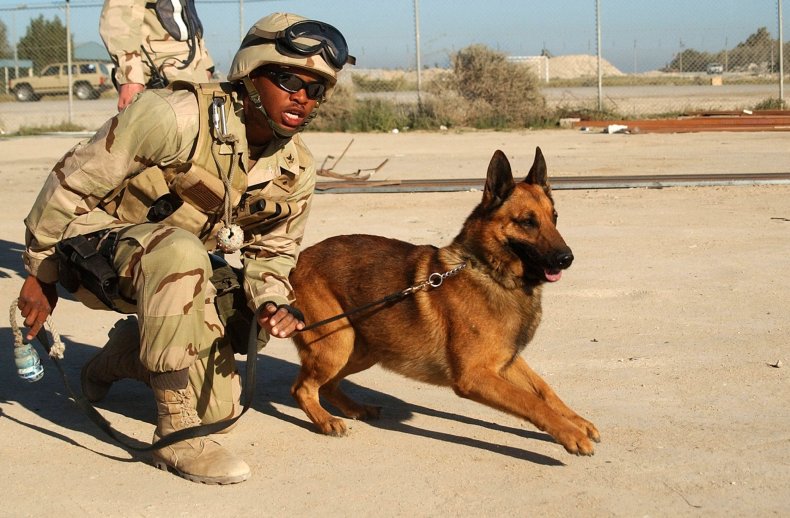 Menendez pointed out that by the time of the Vietnam War, working dogs were critical for the success of the Army, Air Force, Marine Corps and Navy.
"Today, military working dogs are on the ground with our service members in posts across the world," the senator said. "Their expert handlers train them to be part of a team in some of the highest-stake situations you can imagine."
Cairo the dog served along the Navy's elite SEAL Team 6 during the Osama bin Laden raid. Menendez explained that Cairo helped secure the perimeter so his human team could pursue one of America's top enemies.
Navy Petty Officer Ashley Scully, who has partnered with nine military service dogs, told WBGO that she believes the four-legged service members deserve the same amount of honor and gratitude given to any human who has fought to defend America's freedom and rights.