'Guardians of the Galaxy Vol. 3': The Internet Reaction to Will Poulter as Adam Warlock
Will Poulter will play the classic Marvel character Adam Warlock in the next Guardians of the Galaxy movie, and the internet has had its say on the casting choice.
Poulter will join Chris Pratt, Zoe Saldana, Dave Bautista, Bradley Cooper and Pom Klementieff in the next movie in the franchise, which is titled Guardians of the Galaxy Vol. 3. It's currently scheduled for release on May 5, 2023. Before that there will be a Guardians of the Galaxy Holiday Special on Disney+ in December 2022.
James Gunn, writer and director of the Guardians movies, announced the casting on his social media channels, and instantly his comment sections were full of people reacting to the news.
The verdict on Will Poulter cast as Adam Warlock
Gunn wrote on Twitter, before sharing the same on Instagram: "Welcome to the Guardians family, Will Poulter. He's an amazing actor and wonderful guy. See you in a couple weeks. #AdamWarlock #GotGVol3."
Responding to comments, Gunn went on to say that "he [Poulter] really is something incredible."
Poulter replied to his new director's announcement, saying: "Thank you, James. It's a genuine honor to play this role and to work with you. I'm very excited to get to work."
MCU mainstay Clark Gregg was one of the first to excitedly reply, writing "FINALLY!!!! (squeeeeee)" on Twitter. @Jack Howard put two and two together and wrote, "Saw him recently and was like "whoa he got HENCH" and now I know why. Very exciting."
On Instagram @Mikala wrote "Great actor how exciting!" while many others in the comment section made references to Poulter's previous work.
Many referred to a famous line from We're the Millers where Poulter played the socially awkward teenager Kenny Rossmore. Many of the comments riffed on his classic line: "Wait, you guys are getting paid?"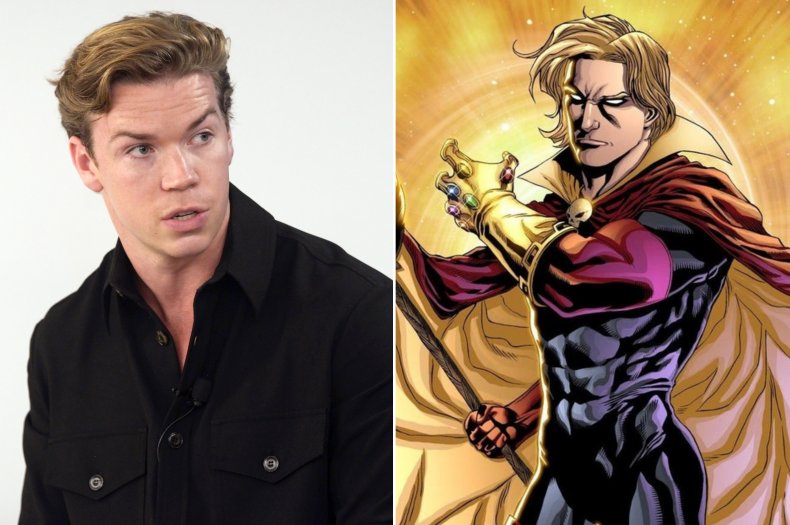 Journalist Brandon Davis tweeted his approval, writing: "Will Poulter can play silly & fun and can also play an arrogant dick, and everything in between from what I've seen. This is great casting."
What else has Will Poulter been in?
Known across the internet at one point as "the eyebrows kid," British actor Poulter has starred in a number of high-profile movies and TV shows.
He's worked with Leonardo DiCaprio in The Revenant, Jennifer Aniston in We're The Millers, Brad Pitt in War Machine, John Boyega in Detroit and Florence Pugh in Midsommar, to name just a few.
He also appeared in The Maze Runner films and had a starring role as an 80s game developer in the Netflix interactive special Black Mirror: Bandersnatch.
Poulter's next role will be in the Hulu miniseries Dopesick alongside Michael Keaton, Rosario Dawson and Peter Sarsgaard. It'll air on Disney+ in his native UK.
His character in Guardians of the Galaxy Vol. 3, Adam Warlock, had his arrival in the MCU teased in a post credits scene of the last movie, Guardians of the Galaxy Vol. 2. Within the MCU, Adam Warlock seems to have been created by the golden High Priestess (Elizabeth Debicki), the leader of the sovereign people.
Article updated on 11/09/2021 to correct Dopesick networks.