Guatemala Fuego Volcano Eruption: Deaths Reported, People Missing Amid Lava Flows
At least six people were dead after Guatemala's Fuego volcano erupted Sunday, authorities said. At least 20 others were wounded and still more were missing. Authorities said they feared the death toll could rise in the coming hours and days.
The volcano exploded shortly before noon. Photos from the scene showed massive plumes of black smoke in the air. A massive stream of lava could also be seen running through the region. Ash blanketed cars and homes nearby.
"It's a river of lava that overflowed its banks and affected the Rodeo village," said Sergio Cabanas, the general secretary of Guatemala's Conred disaster agency, according to Reuters. "There are injured, burned and dead people. We are evacuating and rescuing people and have reports of 20 wounded six dead and disappeared."
At least one of the people killed was a disaster agency official, according to CBS News. A search was underway for the missing, though first responders efforts were hindered by the lava flow, officials said. Guatemala's nearby airport, La Aurora International, shut down due to the eruption.
"Not everyone was able to get out," Consuelo Hernandez, a resident of the village of El Rodeo, told local newspaper Diario de Centroamerica, according to the Associated Press. "I think they ended up buried."
Evacuations were taking place in surrounding towns and villages. At least 3,100 people had evacuated, while the nearby areas are host to some 1.7 million people, CBS News reported. Those who were not expected to have to evacuate were urged to wear masks to protect themselves from ash in the air.
The volcano erupted previously this year, in February. Fuego is one of three active volcanos in Guatemala.
Guatemala Fuego Volcano: Pictures Show the Eruption's Devastating Impact
This is a developing story and will be updated as more information becomes available.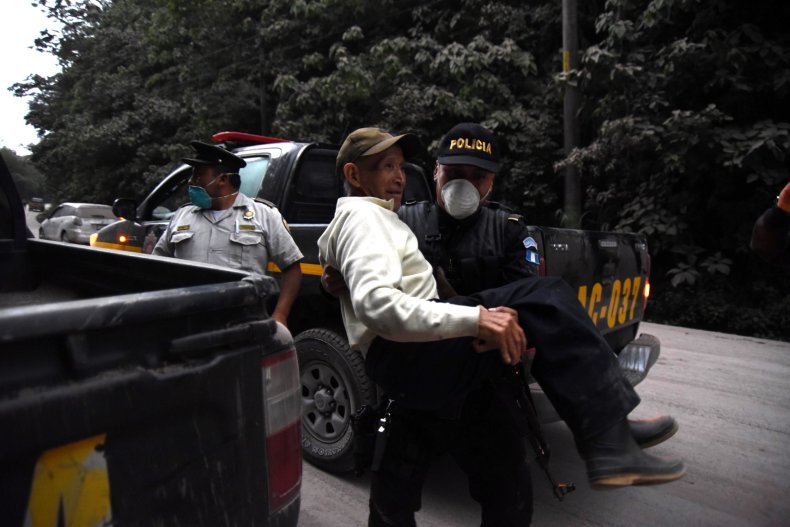 SaveSave