Guatemala Fuego Volcano: Pictures Show the Eruption's Devastating Impact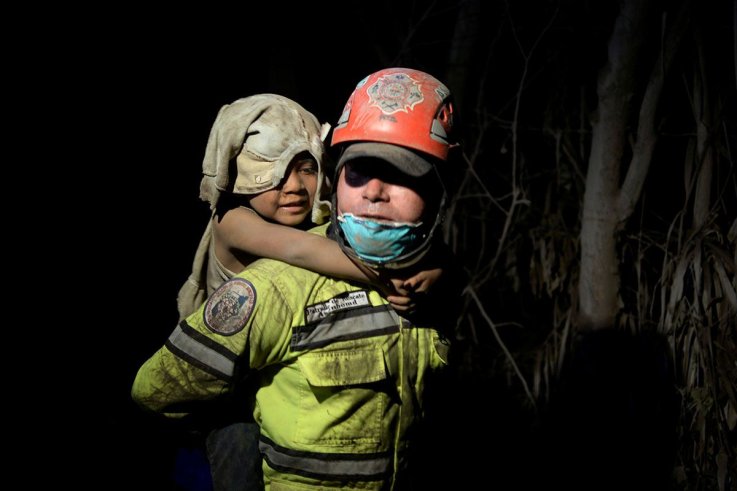 The most violent eruption of Guatemala's Fuego volcano in more than four decades has left dozens killed and hundreds injured, according to officials.
Volcan de Fuego, whose name means "Volcano of Fire," spewed a five-mile stream of red hot lava and belched a thick plume of black smoke and ash that rained onto the capital, Guatemala City, and other regions.
It was the 12,346-feet volcano's second eruption this year. Photos from the area show ash-covered residents fleeing the eruption, with some being treated for serious burns.
"It's a river of lava that overflowed its banks and affected the El Rodeo village. There are injured, burned and dead people," Sergio Cabanas, said the general secretary of Guatemala's CONRED national disaster management agency.
CONRED said the number of deaths had risen to 25, from an earlier estimate of seven, including a CONRED employee. Some 3,100 people have been evacuated from the area.
Officials said the fatalities were so far concentrated in three towns: El Rodeo, Alotenango and San Miguel los Lotes.
Rescue operations were suspended due to dangerous conditions and bad weather, said Cecilio Chacaj, a spokesman for the municipal firefighters department.
Dozens of videos appeared on social media and Guatemalan TV showing the extent of the devastation.
One video published by news outlet Telediario, purportedly taken in the El Rodeo village, showed three bodies strewn atop the remnants of the flow as rescuers arrived to attend to an elderly man caked from head to toe in ash and mud.
"Unfortunately El Rodeo was buried and we haven't been able to reach the La Libertad village because of the lava and maybe there are people that died there too," said CONRED's Cabanas.
The volcano is some 25 miles southwest of the capital, Guatemala City, and is close to the colonial city of Antigua. The death toll from the disaster is expected to rise.
Reuters contributed to this report.