Guatemala Places Limit on U.S. Deportations Because of COVID-19 Spread
Guatemala will only accept 100 deportees from the U.S. per week due to the potential of the spread of coronavirus, a spokesperson for the Guatemalan foreign ministry said Tuesday.
Before the limits were set in May, Guatemala was accepting approximately 4,000 individuals from the U.S. into the country. While the U.S. agreed only to send deportees who had tested negative for the virus back to the country, Guatemalan health officials have found that some carriers have returned to the country.
"Due to current restrictions and to not overrun the country's capacity, there are currently only two weekly flights with a total of 50 passengers each," Guatemala Foreign Ministry Spokesperson Ana Patricia Letona told the Miami Herald on Tuesday. "This way, we can monitor and track each person before they are sent to their communities."
Because of the limit on Guatemalan nationals that can be returned to the country per week, individuals detained in the U.S. by Immigration and Customs Enforcement (ICE) must wait longer to return home.
Newsweek reached out to ICE for comment. This story will be updated with any response.
According, to recent data, Guatemala has reported 18,096 positive cases of coronavirus with 773 deaths attributable to the infection.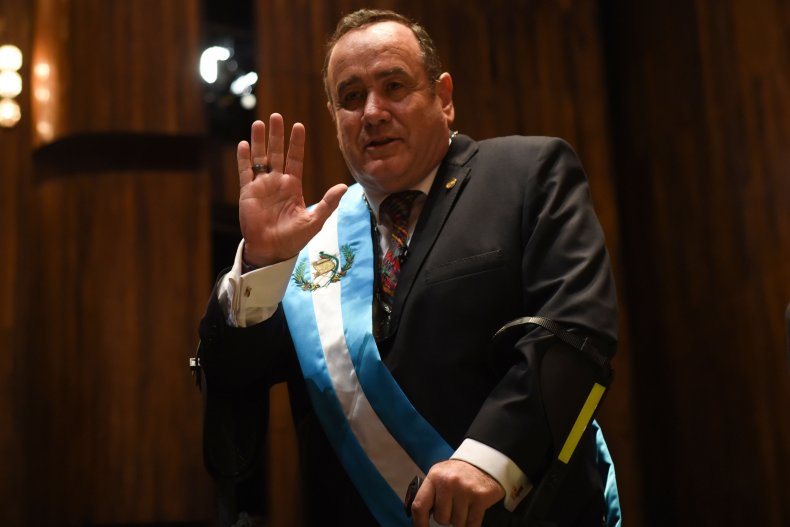 Guatemala attempt to pause deportation flights from the U.S. in April after deportees were found be infected with the virus. Health officials voiced concern because many recent arrivals quickly returned to their hometowns.
President Donald Trump's administration threatened to levy visa sanctions against Guatemala in April for refusing to accept deportees from the U.S. In an interview on Fox News, acting Deputy Secretary of the Department of Homeland Security said his agency would "keep enforcing all the laws on the books, including deporting people who are here illegally."
In May, Guatemalan President Alejandro Giammattei said that 100 individuals repatriated to Guatemala from the U.S. had recently tested positive for coronavirus, adding the country's difficulty in mitigation protocols. "We understand that the United States wants to deport people," Giammattei told the Atlantic Council in Washington, "but what we don't understand is that they send us contaminated flights." After nearly a month-long pause on accepting deportees, Guatemala began accepting returning flights from the U.S. again in June.
According to the ICE website, individuals placed on a flight back to their home country are given a "visual screening."
"Any ICE detainee who fails to pass screening by a flight medical provider and/or is suspected of having a health-risk condition potentially contagious to other detainees, staff and/or third parties, will be denied boarding," the website continued.
Although testing of deportees is not standard procedure, Executive Associate Director of ICE's Removal and Enforcement Unit Henry Lucero told the Senate Judiciary Committee in June that the agency has not intentionally repatriated an infected individual.
"We are aware of reports that after they are returned to their home countries that some countries have tested individuals that were positive," Lucero said. "But there were no known positives that were removed actively with COVID-19."