Guatemala Seeks to Stem Migration to U.S. with Farmer Education, Family Farm Aid
The number of migrants traveling to the U.S. from the Northern Triangle countries of Guatemala, Honduras and El Salvador has increased in recent years. Customs and Border Patrol agents have already intercepted more of them in 2021 than they did in all of 2020, according to the Congressional Research Service.
But many of the migrants don't want to leave their country. They go because they have no choice—it's "leave or die." But a number of organizations are hard at work trying to make it possible for them to stay, and to survive. One of their key strategies is "farmer field schools."
One of the nonprofits pursuing this strategy in Guatemala is World Neighbors, an international nonprofit currently operating in 13 countries, which has assisted rural farmers in 45 countries since its founding in 1951.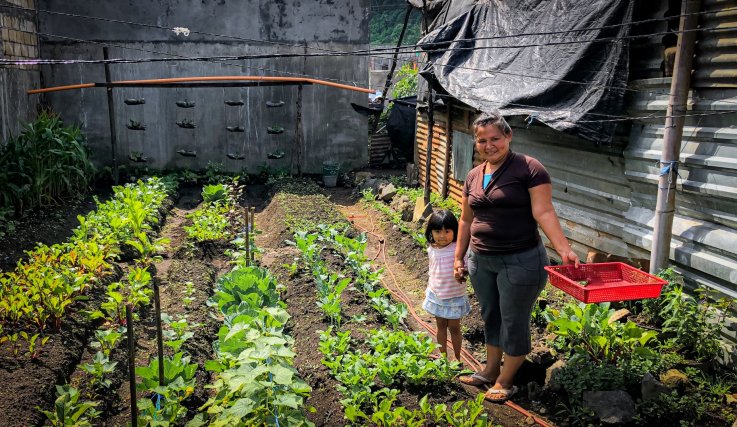 "People don't want to leave—they have more reasons to stay than to leave," World Neighbors CEO Kate Schecter said of families struggling to make ends meet in Guatemala. Though U.S.-bound migration has increased in recent years with many migrants traveling from Guatemala and its neighboring countries, organizations like World Neighbors are working with Guatemalan farmers to help them survive and thrive in their local communities.
World Neighbors
According to World Neighbors CEO Kate Schecter, farmer field schools help families in rural areas invest in their local communities and give them reasons, and the ability, to stay.
"People don't want to leave—they have more reasons to stay than to leave," Schecter told Newsweek. "What we found is this investment in your community, in your own enterprises, is all key to keeping people there. They don't think that they're going to do better by migrating with nothing on the other end."
The farmer field schools World Neighbors supports place an emphasis on neighbors helping neighbors. The organization, which Schecter said has a "really good retention rate," identifies local farmers who are able and willing to show other farmers within their communities how to grow new crops, care for small broods of chickens and plant their own kitchen gardens.
The strategy shows farming families in Guatemala, many of whom rely primarily on coffee bean production, how diversifying their crops and setting up irrigation systems to make the most of the rainfall that comes can improve their chances of agricultural success during especially dry or rainy seasons, Schecter said.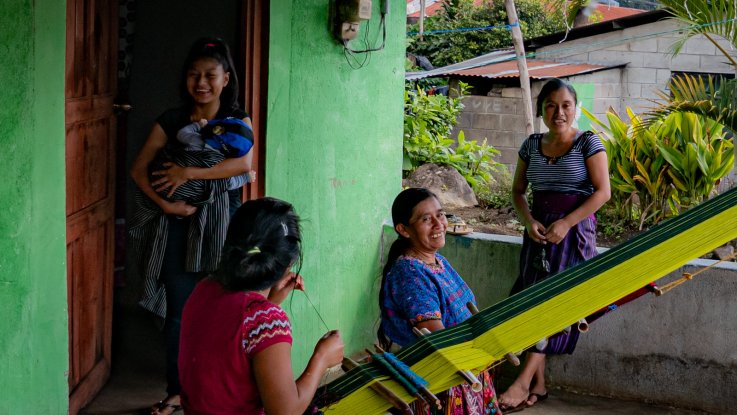 In addition to cultivating crops, farmer field schools encourage crafts like weaving, which can provide additional sources of income for families in Guatemala.
World Neighbors
"The farmer field schools are essentially demonstration farms," Schecter said. "They are places where experienced farmers who've learned a lot of new techniques are training other farmers on how to improve their yields, how to retain water for irrigation and how to diversify their crops so they're not dependent on one."
Schecter said the process can take years due to the time required for training and for cultivating new crops. But some of the side projects World Neighbors encourages—including crafting and kitchen garden development—can also help families grow their own food and make extra money by selling the crafts and excess food they don't use.
"These kitchen gardens go from being little kitchen gardens to being a key component of the family's income because they're selling so much," Schecter said.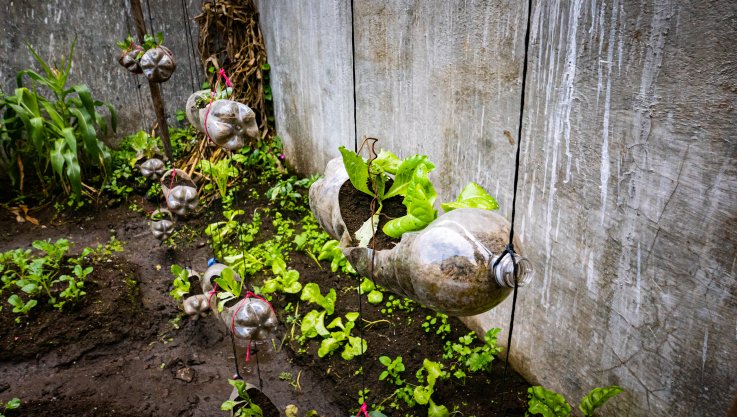 Farmer field schools in Guatemala encourage women to cultivate their own small kitchen gardens, which can grow to become "a key component of the family's income," according to World Neighbors CEO Kate Schecter.
World Neighbors
World Neighbors places an emphasis on including women in the farmer field school process, a trend that the FAO reports is common. Women often take the lead in growing kitchen gardens and caring for chicken broods, Schecter said, while the men spend their days out in the fields. Women are "a key component of retaining these communities in their own countries," Schecter told Newsweek.
"We have to keep thinking about ways in which we can help these women to start their own businesses and improve the quality of the water and the food that they're eating," Schecter said.
Those efforts are "all part and parcel of what we're trying to do so that they're healthy, their children are healthy, their husbands can stay home and not have to travel to the cities or go to the United States to send home remittances," she added.
A farmer field school analysis the FAO published in 2018 also recognized women as "fundamental to food-security and poverty-reduction strategies."
"We basically know that if the mother is healthy and the mother is doing well, the whole family does well," Schecter said. "Allowing them to talk to their neighbors, to share information, to share positive experiences—that probably has as important an effect on retaining people in these countries as anything else."
While World Neighbors places an emphasis on women, the United Nations' World Food Programme (WFP) focuses its efforts on children as a way to encourage investment in local communities. The WFP works with Guatemala's Ministry of Education to connect local farmers—including those involved in farmer field schools—with education centers that supply schoolchildren with daily meals.
The setup can provide farmers with a source of stable income that "increases their resilience, which incentivizes them to keep investing in developing their own community," said Lena Schubmann, a policy and program officer at WFP Guatemala.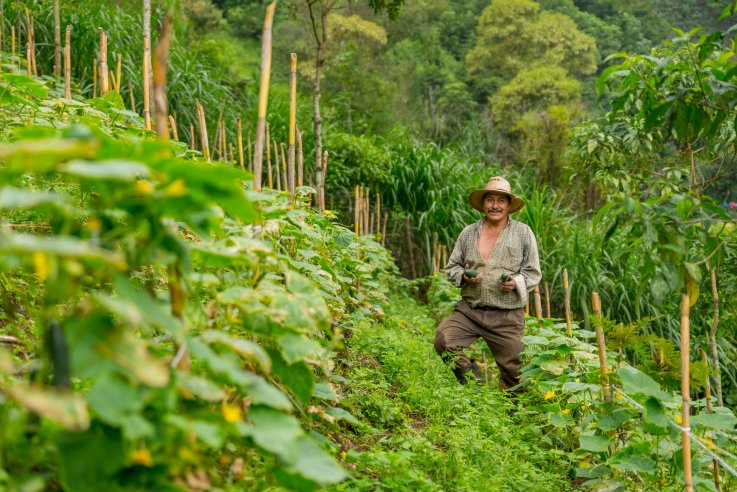 Farmer Enrique Samayoa is photographed surrounded by crops in La Libertad, a town located in Huehuetenango, Guatemala.
World Neighbors
"It's really an investment in human capital and community development," Schubmann told Newsweek.
Some farmers have been hesitant to get involved in the school feeding program due to concerns regarding where they would sell excess crops and how weather events might impact their crop yields, Schubmann said.
"These are the two main risks perceived by farmers, which often leads them to invest less or not invest—which then affects their resilience and food security in the medium- and long-term," Schubmann said.
The first of those concerns has been alleviated in part due to a 2017 law passed by the Guatemalan government, which requires at least 50% of the food purchased by schools to come from family farms.
According to Karen Kestler, the activity manager for the WFP's school feeding program, that 50% threshold was designed to simultaneously procure healthy food for students and provide local farmers with a dependable source of income. The strategy thus recycles money schools spend on crops grown by family farms back into those farmers' local communities, Kestler added.
Figuring out how to connect enough farmers with schools to meet that 50% threshold is another piece of the puzzle the WFP is focused on, according to Schubmann. Though the coronavirus pandemic put a strain on the school feeding program last year, it ultimately pushed the WFP to develop a digital tool that streamlined the process. Schubmann said the tool attracted 28,000 users within the first few days and has helped "facilitate the link between demand and supply."
After seeing the way Guatemalans embraced that new digital tool, Kestler told Newsweek it could be developed further to connect other segments of the population similarly struggling with food security.
"We know that the school is the center of a community, so we can make a lot of things using this tool to achieve nutrition security in the community," Kestler said.
Increasingly relying on local farmers for schoolchildren's meals is a "huge opportunity" for Guatemalan farmers, Schubmann said. The community-based approach also offers an alternative to investments from countries overseas, which Schecter said don't always work the way they're intended.
Schecter told Newsweek World Neighbors has obtained some grants through the U.S. Agency for International Development that support their efforts in other countries. Those grants have been very helpful, she said, but the added funding also brings increased operational demands and expectations for her organization.
Schecter said she is "hopeful" that interest is deepening to work with local communities in addressing the factors that drive migration from countries like Guatemala.
"I think there's more of an awareness about needing to work with local communities and not so much bringing in teams from outside," Schecter said. "That's part of the reason why a lot of development work has failed—because there is this expectation that there's going to be a lot of money spent quickly, and that's going to change everything. We have learned over the years that change, especially in these very rural areas, happens slowly."