Guatemala Volcano Eruption Map: Rescuers Continue Search Effort in Hazardous Conditions
The devastating volcanic eruption at the Volcan de Fuego in Guatemala has killed dozens of people and displaced thousands more. The official government death toll is at least 69, with more missing and thought to be buried under the ash.
Fuego erupted Sunday, about 30 miles from Guatemala City, the capital city of the small Central American nation. The destructive 16-hour eruption sent pyroclastic flows, or fast-moving mixtures of volcanic matter and hot gas, into the villages below and ash, rock and gas miles into the sky.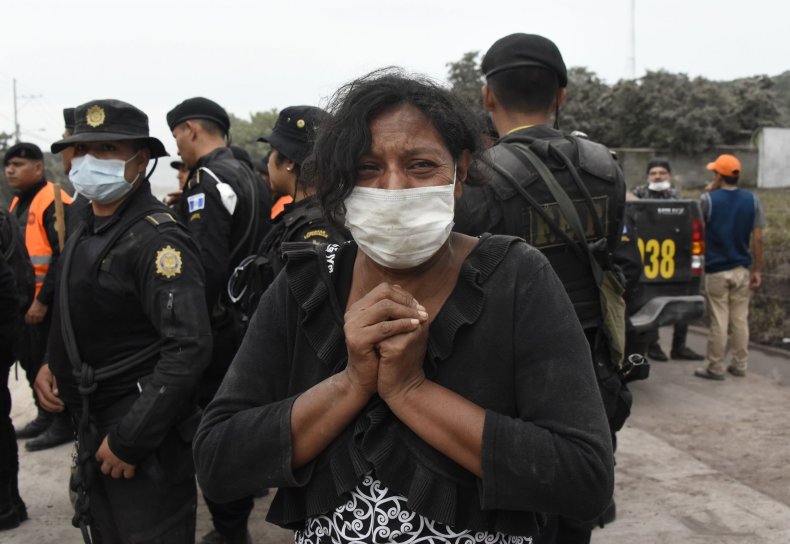 The town of El Rodeo was reportedly "buried" during the eruption, Sergio Cabañas, head of Guatemala's National Disaster Management Agency (CONRED) said. According to the BBC, the towns of Alotenango and San Miguel Los Lotes have also been affected.
Video from Reuters shows recovery workers and families hugging in front of caskets of some of the victims in Alotenango. On Monday, hundreds gathered in the town a few miles east of Volcan de Fuego as caskets were carried in a funeral procession, CNN reported.
Volcan de Fuego, or volcano of fire, is among the most active volcanoes in Central America, according to Smithsonian magazine. The stratovolcano erupted over half a dozen times in 2017 and has erupted a total of 79 recorded times since 1580.
The volcano is part of the deadly Pacific Ring of Fire, a 25,000 mile zone along the rim of the Pacific Ocean that is seismically and volcanically active. According to NBC News, the Volcan de Fuego is located on a subduction zone where the Cocos Plate is diving under the Caribbean Plate.
Insivumeh, the country's national institute for volcanology, warned residents and tourists to remain far away from the volcano due to continued explosive activity. Guatemalan President Jimmy Morales declared three days of national mourning, the BBC reported.
Temporary shelters for around 3,000 residents who were evacuated have been set up. Residents had just mere minutes to escape from the deadly eruption, according to CBS News. An estimated 1.7 million people have been affected in four regions of the country.
In the days after Sunday's eruption, rescue workers continue to have difficulties reaching remote areas surrounding the volcano. Search and rescue teams have had issues with the hazardous breathing conditions and the intense heat from the ground. Some rescue workers have claimed the ground is so hot that the soles of their shoes have melted off.