Guatemala's Volcán de Fuego, or Volcano of Fire, erupted in June, bringing chaos and lava flows to the towns around it. Now the volcano is erupting again, and some of those who evacuated just months ago are deciding whether to leave once again.
Ten communities with a combined total of at least 2,000 residents were asked to evacuate for their safety, NBC News reported. The volcano was exhibiting explosions and ash plumes in early November, and that activity was continuing through the month.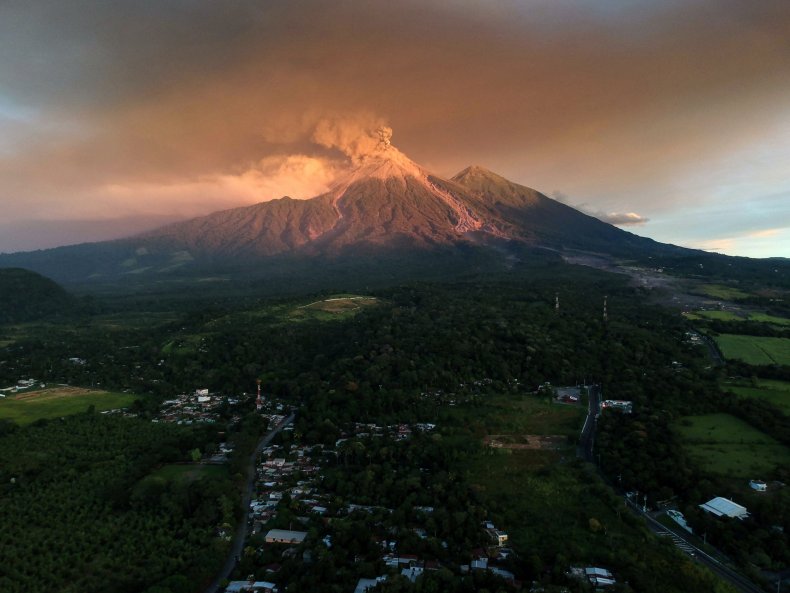 Fuego sits west-southwest of Guatemala City, between the departments of Escuintla and Mazatenango. It has a peak elevation of 12,346 feet and precipitous mountainous sides. The eruptions earlier this year devastated the areas around the volcano and killed more than 100 people. Hundreds were missing after the eruptions, and millions were affected, according to the Red Cross.
During the June eruptions, the ash from the flows contaminated water across the country and compromised the air quality as well. Parts of the country where crops and livestock were prevalent were also affected by the eruptions, the Red Cross said.
On Monday, the flows from the volcano were visible from Escuintla, and a red alert for the area went into effect.
Volcán del Fuego is particularly dangerous for people to be around because of the way it erupts. It is a stratovolcano, meaning it has such steep sides. It billows extremely explosive magma known as pyroclastic flows. There's gas in the magma that's made up of hot gas and other volcanic matter, including ash and rock.
Those flows are far different from the sometimes slow-flowing liquid rock other volcanos exhibit, and they can move very quickly when an eruption begins. Data and webcams of the volcano are available online from the Volcano Discovery site, which showed Volcán del Fuego surrounded by clouds and hazy weather on Monday.
The volcano is one of the largest in Central America, and while the current eruptions haven't killed anyone, the eruptions that happened in June are a reminder of the sheer power the volcano has to destroy towns and lives in an instant.