Guatemala Volcano: Satellite Photos Show Ash-covered Villages Before and After Fuego Eruption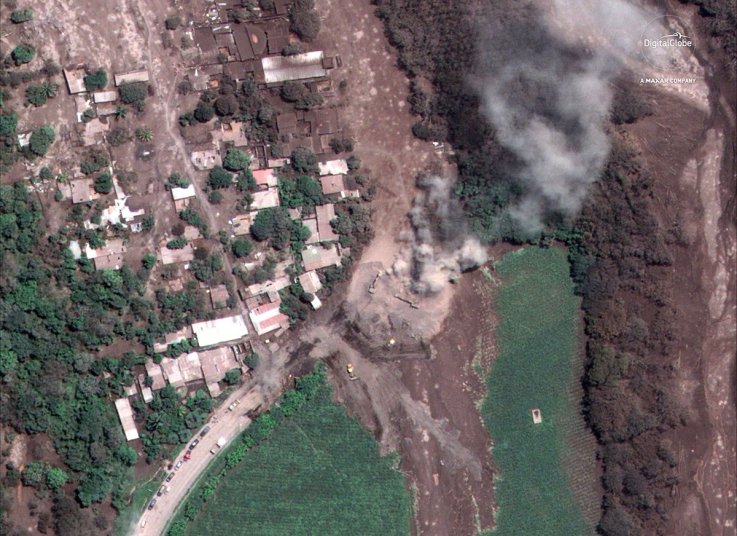 Rescuers are still searching for bodies and survivors in the lava- and ash-ravaged landscape of Guatemala, following the devastating eruption of the Fuego volcano.
Volcan de Fuego, which means "Volcano of Fire," shot thick plumes of ash miles into the sky when it erupted on Sunday (June 3). The ash then rained down on the surrounding area, while rapid pyroclastic flows rushed through nearby towns.
A thick smoldering layer of ash and volcanic rock blankets local villages, such as the tiny hamlet of San Miguel Los Lotes, with only the roofs of some homes sticking out.
The extent of the devastation was widespread. Satellite photos show villages and surrounding areas before and after the eruption. Homes, roads and a golf course have been obliterated, covered in a deep layer of volcanic material.
At least 99 people were killed by the eruption, with about 200 people still missing. Guatemala's national disaster management agency, CONRED, said 1.7 million people have been affected by the volcanic eruption and over 12,000 have been evacuated.
Experts warned that heavy rains in the area could trigger superheated avalanches due to the large flows of volcanic mud, which have been hardened by the rainfall. It is estimated that the temperature below the surface is as high as 750 to 1,200 degrees Fahrenheit.
Rescue workers are digging in the quickly hardening ash using pickaxes, risking their own lives in search of victims or a miracle survivor.
"We can only work in places where we can stand on the roofs of houses ... because the ash is very hot. There are places where you stick the pickaxe or rod in and we see a lot of smoke coming out and fire and it's impossible to keep digging because we could die," 25-year-old rescuer Diego Lorenzana told Reuters.
Elsewhere, rescuers plunged metal rods into the volcanic material covering what was previously a roadway in a desperate search for trapped vehicles, a video by local TV station Televisiete showed.
The 12,346ft Volcan de Fuego is one of several active volcanoes among 34 in the Central American country. It lies near the colonial city of Antigua, a UNESCO world heritage site that has survived several major eruptions.
— Reuters contributed to this report.