A Guatemalan man who was deported from the U.S. on Thursday has tested positive for coronavirus days after landing back in his home country, the Guatemalan government has reportedly confirmed.
On Sunday evening, a spokesperson for the Guatemalan Health Ministry confirmed to both Al Jazeera and BuzzFeed News that a 29-year-old man from Momostenango, Totonicapán, had tested positive for the virus just days after the deportation flight on March 26.
While the man had not shown signs of the virus upon arrival in Guatemala, it is believed to take several days for symptoms of COVID-19 to develop, which means it is possible that he caught the virus while still in the U.S.
He reportedly began showing symptoms two days after arriving in his home country, according to BuzzFeed reporter Adolfo Flores.
The other roughly 40 people who were on board the same March 26 deportation flight, which reportedly also included children, have been in quarantine.
It is unclear whether that same deportation flight was used to bring U.S. citizens living abroad back home.
In recent days, the U.S. Immigration and Customs Enforcement agency has been working with the State Department to bring Americans back home from Central American countries on returning deportation flights. Newsweek has contacted the agency for comment on whether the March 26 flight was used to repatriate U.S. citizens.
Prior to boarding the deportation flight, the 29-year-old man had reportedly been held at a U.S. Immigration and Customs Enforcement detention facility in Arizona. Newsweek has contacted ICE for more information on his detention.
So far, ICE has not reported any cases of detainees or workers at any locations in Arizona testing positive for coronavirus.
As of Monday morning, ICE had only reported two detainees testing positive for COVID-19, with one detainee having been held at the Bergen County Jail in Hackensack, New Jersey, while the other had been held at Essex County Correctional Facility in Newark, New Jersey.
Meanwhile, ICE has reported five confirmed cases of COVID-19 among ICE employees and personnel working in detention facilities, with two workers at the Aurora Contract Detention Facility in Aurora, Colorado, testing positive, in addition to one worker at the Elizabeth Contract Detention Facility, one at the Houston Contract Detention Facility in Houston, Texas and another at the Hudson County Jail in Kearny, New Jersey.
It is important to note that ICE does not include inmates who have tested positive for COVID-19 at jails where immigration detainees are being held in its reports.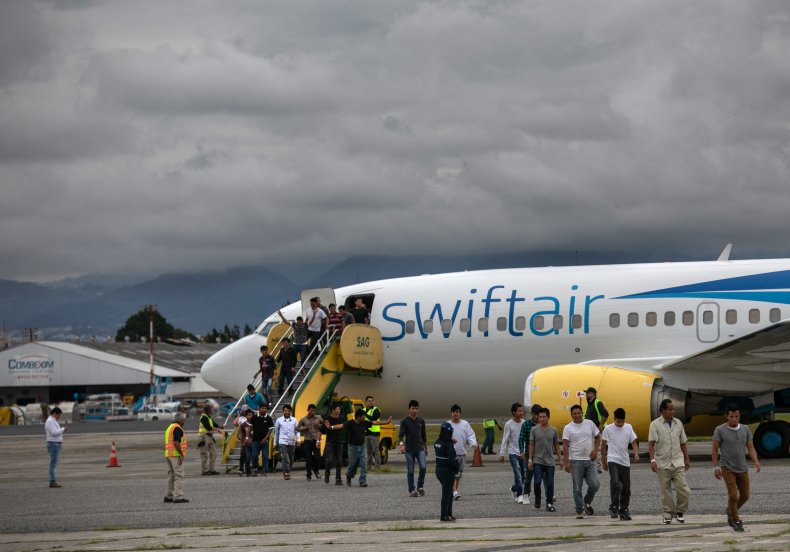 In addition to the five cases of ICE employees working in detention facilities testing positive for coronavirus, the agency has also seen another 19 workers who do not work in such facilities test positive for the virus.
It is unclear what those 19 workers do or whether any of them may have been involved in the transportation of detainees. Newsweek has also requested more information from ICE on this.
Earlier this month, on March 17, the Guatemalan government temporarily suspended deportation flights from the U.S. to help prevent the spread of coronavirus.
However, deportation flights resumed days later after officials came to an agreement on safety measures being implemented in response to the COVID-19 outbreak.
Newsweek has contacted the Guatemalan health ministry for comment.