Gucci Mane Book Review: 12 Revelations From the Rapper's New Autobiography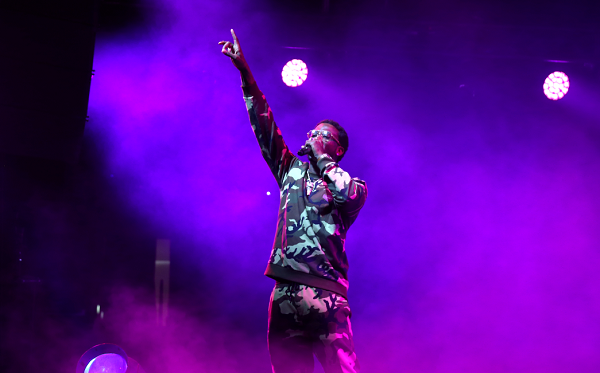 I became a fan of the Atlanta-based rapper Gucci Mane my junior year of high school, after my kinda-sorta boyfriend introduced me to his 2005 Trap House album. By the time I got to college in '06, Hard to Kill, his second album, was in heavy rotation in my dorm room; by the summer of 2008, his Mr. Perfect and Gucci Sosa mixtapes had nearly blown out my car speakers.
Often referred to as Guwop by his fans, Mane is the originator of trap-music, a gritty subgenre of hip hop heavily influenced by drug culture in the south. Drug dealers have long referred to the house or apartment in which they operate out of as the "trap," but it was Mane who brought the idea of a trap house to the mainstream.
His nasally voice and excessive use of ad-libs made him an instant hit among hip-hop fans but it was his authenticity that really generated his cult-like following. Whereas so many rappers had become famous for rapping about the luxuries drug money commanded, Mane was actually using his music to discuss the perils of the street and the dangerous lifestyle that came with it.
And if his lyrics couldn't prove how acquainted he was with the streets, his rap sheet could. Mane has gone to prison or jail on seven different occasions. By the time he released his debut single, "So Icey," in 2005, he'd already been arrested and jailed twice.
This would be the cycle for the next eight years. The rapper would release new music only to get arrested and spend months behind bars. His final arrest in 2013, for possessing a firearm as a felon, would result in his longest prison sentence—nearly three years.
As described in his new book, The Autobiography of Gucci Mane (written in prison with the help of former XXL editor Neil Martinez-Belkin) that last stint in prison seems to have been a turning point. Better than any urban novella, the book, released Tuesday, is an exemplary account of the life and times of Radric Davis from Bessemer, Alabama—otherwise known as Gucci Mane—and it details his numerous run-ins with the law and sudden disappearance from the music scene.
Check out the top 12 biggest revelations in The Autobiography of Gucci Mane below:
1. His birth name, Radric, is a combination of his mother's name, Vicky Davis, and the first name of his father, Ralph Everett Dudley. Ralph was the first Gucci Mane, and Radric was "Lil Gucci" or "Gucci's son" when he was growing up. With the release of his first mixtape, Gucci Mane La Flare , in 2001, he adopted his dad's nickname.
2. His brother, Victor Davis, got him selling marijuana as a kid. By the time he entered the eighth grade, Mane was selling harder drugs like crack cocaine. He decided to upgrade his supply in an effort to buy a pair of Jordan sneakers and a Starter jacket before returning to school from Christmas break. His mother couldn't afford his wish-list items, and instead gave him $50 to buy himself something. "Frustrated, I took the money and left the apartment walking toward the other side of Mountain Park. I knew that's where the dope man stayed. I handed him the money and he handed me two tightly wrapped $50 slabs of crack cocaine."
3. He graduated from high school with a 3.0 grade point average in 1998 and was offered a scholarship to Georgia Perimeter College. He took some time off before enrolling in the school in 2000. By April 2001, his first arrest—for selling cocaine—ended his college days. However, he wasn't very interested in higher education at the time, writing: "When I first enrolled I worked the school out of like eighteen hundred dollars for textbooks. I took every dollar of that money and put it towards getting myself a bigger bomb [of cocaine]. That's how serious I was about my studies."
4. The first time he tried lean—a codeine cocktail—he was rushed to the hospital. A year later, he was officially hooked on lean mixed with soda. "It tasted like candy to me, and I loved the high," he wrote.
5. Inspired by music moguls Master P and Birdman, he initially wanted to make money behind the scenes. He even managed an aspiring 14-year-old rapper from Atlanta named Lil Buddy. But Zayoven, a producer Mane met shortly after serving a 90-day jail sentence for his 2001 arrest, convinced him he should be the one rapping.
6. T.I.'s record label, Grand Hustle, was the first to offer him a deal after the success of his single "So Icey." They offered him a 50-50 partnership and said they would pay for production and promotion of his music. But they weren't offering any money upfront, so he turned it down.
7. Just months before "So Icey" blew up the charts, he got tricked out of a verse by rapper Juvenile. Mane had originally paid Juvenile $7,500 to appear on a song, but when he met Juvenile on a tour bus in Florida, the New Orleans rapper suddenly changed his mind and decided he was only going to produce a beat and a hook for Mane. A verbal exchange ensued and Mane was kicked off of the tour bus, and he didn't get his money back.
8. He was high on ecstasy throughout the production of the Chicken Talk mixtape, which, he writes, "captured my state of mind during the time I was making it."
9. Mane first saw fiancée Keyshia Ka'Oir in a music video during his third prison stint in 2009. He finally met her when he booked her for his "911 Emergency" video in 2010. He fell in love, writing, "I may have first fell for her beauty, ogling her pictures while I was sitting in the clink, but I quickly began to appreciate her as a person." They are getting married in October; Gucci's third album since leaving prison, Mr. Davis , will be released a few days before the wedding.
10. He suffers from symptoms of PSTD, which he blames, in part, on his excessive drug use. Although he would go through phases of sobriety, the stress of his career often caused him to resort to using marijuana, codeine and pills, which would inevitably result in him getting in trouble with the law. "Some stressful situation would arise and I would turn to drugs to cope… that would lead to more problems, more stress and more drugs. A cycle with no end. No good one at least," he wrote.
11. The triple-scoop ice cream cone tattooed on the side of his face was his way of broadcasting that he "didn't give a fuck what anyone said or thought" about him. "Tired of running away from my reputation, tired of trying to convince people I wasn't a bad person. I wanted to embrace being the villain," he wrote.
12. He calls his final stint in prison in 2013 his most humbling experience. He said he used that time to reflect on the relationships that mattered the most, like his soon-to-be wife, his son, Bam, and the fans who were still listening to his music. Quoting an old phrase from his father, "If you keep lookin' back you gon' trip going forward," the rapper vowed to make the changes needed to stay straight. "To start a new chapter you've got to turn the page on the last one. Still, every now and then I do think it's okay to stop and look back, just for a moment, before continuing on your way. Especially when it's a hell of a story," he wrote.