Gucci Mane Leaves His Label, Calls Atlantic Records 'Polite Racist'
Recording artist Gucci Mane announced via Twitter on Thursday his intention to leave the Atlantic Records record label, writing, "Leaving #AtlanticRecords July 3rd these crackers polite racist #SoIcySummer." The tweet contained a black-colored heart emoji followed by a pair of black hands praying and an emoji of a cold-blue face frosted over with icicles.
In another, now-deleted, tweet published on Thursday, Mane wrote, "All artists let's go on strike f*ck these racist *ss labels burn them down too #BlackLivesMatter #BlackExecMatter f*ck these crackers????" The tweet contained a black-colored heart emoji followed by several money bag emojis.
Newsweek reached out to Gucci Mane's representation for further information. This story will be updated with any response.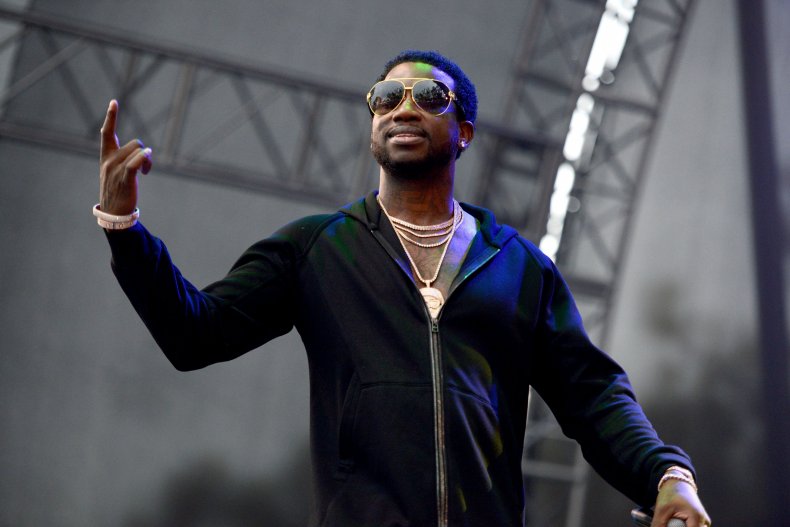 This isn't the first time Mane has caused an uproar by speaking his mind on Twitter.
On September 9, 2013, Mane announced his willingness to sell off the recording contracts of musicians who had produced music under his 1017 Brick Squad Records record label. At the time, this included artists like Waka Flocka Flame and Young Thug.
Shortly thereafter, he published a series of tweets insulting other rap artists like Nicki Minaj, Drake, Rick Ross and many others. The following day he released a new diss track entitled "Stealing" and a mixtape entitled Diary of a Trap God.
He then claimed that his former manager Coach K had hacked his Twitter account and held it for a $5,000 ransom. He later deleted his Twitter account. Nearly 13 days later, he admitted to publishing all the tweets himself while on a codeine and promethazine binge. He apologized to the artists and fans before pledging to go to rehab for substance abuse issues.
Mane, whose birth name is Radric Davis, is a pioneer of the trap music hip-hop subgenre. He has released 16 studio music albums and been nominated for several BET Hip Hop Awards and MTV Video Music Awards.
In his 2017 memoir, The Autobiography of Gucci Mane, which he wrote in prison with the help of former XXL editor Neil Martinez-Belkin, he discusses his upbringing in Bessemer, Alabama and details his numerous run-ins with police and his struggles in the music scene.
Mane says he suffers from symptoms of PTSD caused partly by his upbringing and drug use. Though the rapper occasionally goes on sober stints, work stress sometimes compels him to use cannabis, codeine and pills. His actions during insobriety, he says, have gotten him in trouble with the police.