Is This Gucci Sweater Blackface? Company Apologizes, Pulls Item From Stores After Social Media Backlash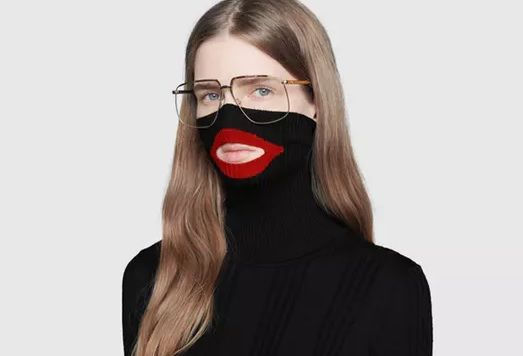 Gucci has apologized and withdrawn a top from sale following complaints it resembled blackface.
The luxury clothing brand was heavily criticized for its black "balaclava top" after social media users suggested the wool sweater, which pulls up over the lower part of the face and has a thick red outline around the lips, resembles a racist stereotype.
In a statement, Gucci said the company "deeply apologizes" for the offense caused by the top and confirmed that the item has been removed online from all their physical stores.
"We consider diversity to be a fundamental value to be fully upheld, respected, and at the forefront of every decision we make," the statement added.
"We are fully committed to increasing diversity throughout our organization and turning this incident into a powerful learning moment for the Gucci team and beyond."
The balaclava top is still available to purchase via shopping website Spring for $890. The description says the item formed part of the Fall Winter 2018 runway show, which "reflected the stark environment of an operating room, emulating the theme of the collection where reconstructing materials and fabrics created a new identity."
"Inspired by vintage ski masks, multicolored knitted balaclavas walked the runway, adding a mysterious feel to this collection," the description adds.
The controversial item was heavily condemned online prior to Gucci withdrawing it from sale, with some questioning why the company did not have the foresight to see the top could be perceived as racist.
"One day I am going to deliver a prolific dissertation on how it feels to live in a continuous cycle of disrespect as a black man," tweeted @MichaelBonner. "Gigantic brands like Gucci create offensive 'fashion', quickly apologize, and then state 'We did not know'. I don't care. This is unacceptable."
"It's 2019, when are we going to stop using stereotypes etc as marketing tactics?" asked @Miamohill. "As a Marketer/advertiser, there is a team responsible for checking stuff like this. But the problem is: if no one sees a problem with it on the team."
In December 2018, fellow luxury brand Prada recalled a number of items from its "Pradamalia" line of collectibles following complaints some of the monkey toys and keys chains evoked blackface imagery.
"Group abhors racist imagery. The Pradamalia are fantasy charms composed of elements of the Prada oeuvre. They are imaginary creatures not intended to have any reference to the real world and certainly not blackface," the company tweeted in a statement.