Guest Backed for Complaint Over 'Ridiculous Tradition' That Ruined Wedding
A guest complaining about a "ridiculous tradition" they say has ruined numerous weddings has received widespread support online.
A Mumsnet user posting under the name CraggyIslandTouristBoard fumed over the time the main meal was served at two different weddings.
In the U.K., where the ceremonies are thought to have taken place, the average cost of the big day was £17,300 ($21,019), according to a 2021 survey by Hitched.
They broke down how much each factor cost, citing £65 per head on catering.
They noted: "Catering spend is also on the up—in 2019, couples spent a total of £3,887 on their wedding catering, however our survey revealed that in 2021, couples spent an average of £65 per head on catering, with 72 guests on average attending—that's a total spend of £4,680."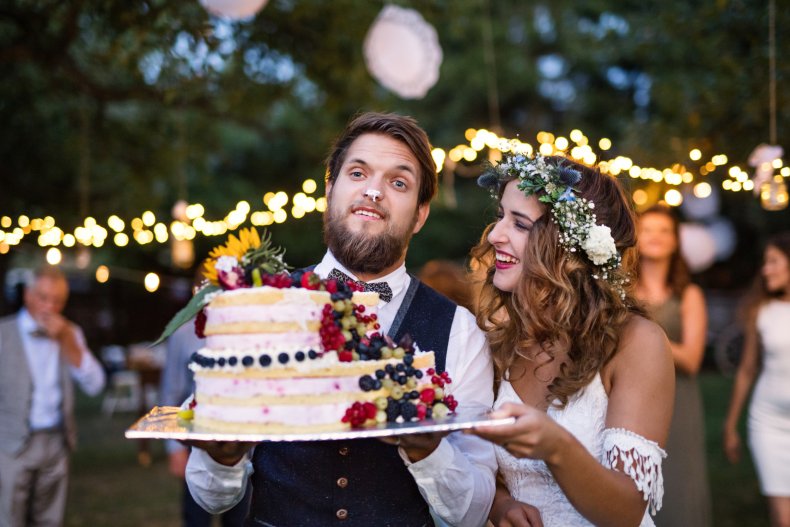 Online wedding planning tool The Knot has said those figures are set to rise next year due to inflation.
Some 40 percent of wedding vendors said their prices would be increasing by 6 percent, according to The Knot survey conducted in April.
That would see the 2021 average catering spend of £4,680 jump by £280.
The original Mumsnet post, which can be read here, has amassed more than 350 responses since being shared on Sunday.
The guest wrote: "Wedding starts 11am. Canapes at 1pm EXCEPT we only got served 1 single canape. That was it. And we were on the lookout for them, and moved to stand near the kitchen when we saw they were being served but hadn't reached us. (Quite a lot of alcohol though but really not much fun drinking it because we're starting to get effing hungry.)
"Wedding 'breakfast' scheduled for 4pm, starters actually not served until 4:20ish, main course after 5pm by which point we're beyond hangry/fainting with hunger. 8pm cake, followed by evening buffet. Which only gets picked at because we ate lunch so late."
Wedding website Hitched explained the term "wedding breakfast" dates back to the 17th century.
While traditionally the bride and groom would be literally "breaking" their "fast," in England the term has lived on as "the breakfast is the first meal you have after the ceremony and the first meal you eat together as a couple."
They noted the usual running order for a British wedding is ceremony, drinks reception—often including canapes—and "after a couple of hours of drinking and munching" it's finally time for the main meal.
The Mumsnet poster highlighted another wedding, saying they again ate a regular breakfast in a hotel at 8.30 a.m.
They got there at 11 a.m. for a 12.20 p.m. start, continuing: "Canapes served about 2pm. On that occasion we got offered a total of 3 canapes."
They claimed conversation with other guests centred around people saying they're "pretty hungry actually!"
The guest continued: "'Breakfast' Lunch officially 4pm but everything seemingly running late, we were on the very last table to be served and got starter about 5pm and main just before 6pm. Dessert 7:30pm. Pizza from 9pm, plus wedding cake. FFS we only finished dinner an hour and a half ago!!!!"
And they recounted other horror stories saying: "At another wedding I remember something similar happening and people heading to the nearby pub to stock up on crisps to keep them going.
"What is with this ridiculous tradition of serving a meal so late in the day with guests having effectively nothing to eat in the meantime?!
"These were relatively lavish weddings, I don't expect to be fed constantly /repeatedly/anything particularly fancy and would be quite happy with a decent meal at lunchtime and then just some cake (or a cheeseboard or pizza or an evening buffet if the wedding couple is so inclined)."
As a side note, they claimed the weddings cost "a fortune," yet "at each of them it was clear people were just too hungry for most of the afternoon to really enjoy it."
The Mumsnetter resigned themselves to bringing a picnic in future to keep themselves going.
The chart below, provided by Statista, shows the cost of an American wedding.
Commenting on the post, OhMaria2 said: "I agree, it's rude to leave guests so hungry.
"I chose a late ceremony with dinner straight after to avoid this, I hate being hungry and bored at weddings!"
WhippedSoap wrote: "I agree OP. You can plan the best/ most exciting wedding, but if you leave people bored and hungry for hours in the middle that's all they will remember."
While RampantIvy added: "It isn't unreasonable to expect to be fed and watered at a wedding at appropriate times. A wedding reception is a party and the bride and groom are the hosts. A host looks after their guests by providing food and drink."
Has a wedding come between your relationship with a loved one? Let us know via life@newsweek.com. We can ask experts for advice, and your story could be featured on Newsweek.