A Guide to '30 Rock' References in 'Unbreakable Kimmy Schmidt'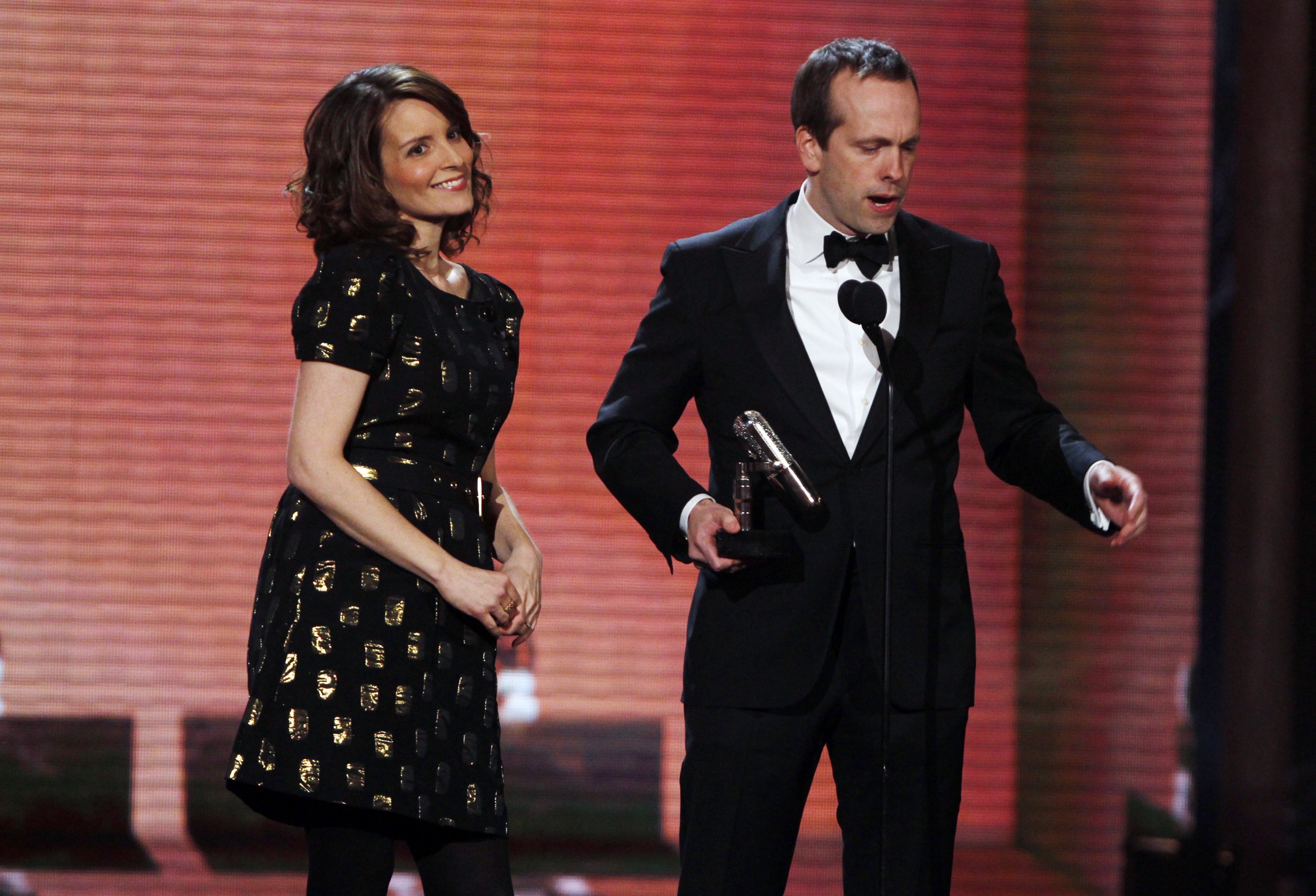 Tina Fey's latest comedic breakthrough, Unbreakable Kimmy Schmidt, is likely the most engaging and empowering show you'll binge-watch this year, all zippy one-liners and positive outlook on life, even if it's bred from trauma. Originally slated for NBC, the show, about a woman who experiences life again after being caught in a bunker for 15 years by a Charles Manson-esque cult leader and preacher, was dropped and claimed by Netflix, where it's been picked up for another season.
While it's not exactly like Fey's comedic hit 30 Rock, it is a sort of spiritual sequel to that ingenious, punchy show. Sometimes, Unbreakable's heroine, Kimmy (Ellie Kemper), sounds and acts almost like a mouthpiece for Liz Lemon--the abrasive, unlucky-in-love protagonist from 30 Rock played by Fey. While they're not intended to be the same character, Unbreakable's Kimmy is taking important points raised on 30 Rock through Liz and her compatriots—about liberalism, race and beyond—one step further. In an interview with Entertainment Weekly, Fey and Unbreakable co-creator Robert Carlock said they modeled the overall tone of Unbreakable to resemble the 30 Rock episode "TGS Hates Women," in which Liz Lemon contends with challenging her own feminism and actor Alec Baldwin dresses like Moby Dick's Captain Ahab.
Unbreakable stars Tituss Burgess, who had a recurring role in 30 Rock as D'Fwan, and Jane Krakowski, who starred as 30 Rock's Jenna Maroney. But attentive fans will notice, too, that the parallels between the two shows run deeper than the actors, the scoring selections and the use of flashbacks. A generous smattering of jokes in Unbreakable Kimmy Schmidt directly reference plot points on 30 Rock, are subtle nods to past conversations between its characters or are themes pulled from the show. Here, we've compiled a non-exhaustive list of 30 Rock references, phrases or homages we caught while watching Unbreakable.
(Note: there are probably a few we missed, as Fey's genius works in subtle ways, and there are a few spoilers below. Be advised, in case you haven't seen the entire series.)
Nervous Banter
In the episode "Kimmy Goes on a Date!," Kimmy gets set up on a blind date with a wealthy older man at the behest of her employer, the narcissistic and vulnerable Jacqueline (Krakowski). When she divulges the date to Charles, the nanny also employed by Jacqueline, he comments: "Well, I guess we're not all cute enough to get set up on a date with Jacqueline." She beams and immediately becomes jittery, and nervously says: "Who is? What, me is? Shut up. Hello?" and pretends to take a call. This exchange is almost identical to one featuring Liz Lemon on the 30 Rock episode "Cougars," when the foxy coffee guy, Jamie, starts flirting with her. When he calls her a "sexy librarian," her face gets immediately flushed and she blurts out: "Who, sexy? You are. Shut up."
Feet
"Feet are the new butts, Kimmy," says Jacqueline while the two are sitting in the plastic surgeon's office in the series's third episode, "Kimmy Goes to the Doctor!" Jacqueline is there to get some work done on her toes, in part to feel more confident around her husband, Julian, who is unashamed to talk openly about his foot fetish. Feet are a frequently recurring plot point on 30 Rock, beginning with Liz expressing her refusal to show her feet in any way, to hating flip-flops, to alluding to a horrible condition she suffers from. Cue the foot jokes in Unbreakable.
Construction Worker Catcalls/Revelations
This was a sly one: In the episode "When It Rains, It Pours," Liz Lemon is taken aback when a construction worker catcalls her, and has an epiphany about the self-confidence she didn't realize she was projecting. "Disgusting, sir! Would you talk to your mother like that, or your daughter, or your surgeon?" she asks. Said construction worker, played by Mike Carlsen, takes on the very same role in Unbreakable Kimmy Schmidt, and almost continues the same conversation he had with Lemon. When Kimmy's walking by a construction site, he hollers at her, "Hey red, you're making me wish I was those jeans!" Kimmy—who, remember, had been trapped in a bunker by a religious cult leader for 15 years—fires back in part by complimenting his hard hat, completely disarming him. He has a necessary realization: "I say these things to women even though I got a mother that I love and three beautiful sisters. Why do I talk to women like that?"
The Greeks
Fey's affinity for her Greek heritage runs in a small but noticeable thread throughout Unbreakable. First off, Xanthippe, Jacqueline's angsty and challenging Daria-esque stepdaughter, is named for the ancient Greek character described to be antagonist. Kimmy is distraught when her friend Cyndee, a fellow bunker survivor, comes to visit her in New York along with her boyfriend Brandon. As the Burgess character Titus informs her, Brandon is putting on a front for his true sexuality. Cyndee discloses that she knew Brandon was gay, partially because of how often he spoke of the Greeks' mentor-student relationships. This resembles an episode of 30 Rock in which Devon Banks, Jack Donaghy's arch-nemesis, is in denial of his homosexuality. When he's pinned to the ground by a man in a friendly wrestling match, he exclaims: "It's just like the Greeks!"
Stress Eating/Watching People Eat
A favorite trait for powerful characters written by Fey? They have a weakness for stress eating. Jacqueline, after finally going through her divorce, calls Kimmy into her home one day and confesses that the divorce "is making me want to stress eat. So if you could do it for me while I watch, that would be so thank you," and she places a burger in front of Kimmy. Skeptical but affable, she takes a bite as Jacqueline watches, in a scene that's not creepy at all. "Excellent. Eat your shame," she says, projecting unto herself. This scene is a direct nod to an episode of 30 Rock in which Jack Donaghy, shortly after he suffers a heart attack, calls Liz into his office and hands her a pricey, huge cut of flank steak. "I would like you to eat this for me. Right now," he says. And that she does, in record Liz Lemon time.
The Olsen Twins
Fey must have some kind of fascination with the Olsen twins, because they pop up as minor conversational points on both of her shows. In the 30 Rock episode in which Jenna (Krakowski) is exploring liposuction options, her quack doctor, played by the hysterical Chris Parnell, asks: "Have you heard of the Bradshaw clinic?" Jenna ecstatically replies" "Have I? That's where the Olsens were separated!" This joke makes an appearance on the episode "Kimmy is Bad at Math!" in which there's speculation the Olsens are quadruplets, not twins, in conversations Kimmy has with a woman in her GED class and with Jacqueline, who murmurs that the Olsen "quadruplets" are paying her to keep her mouth shut. Mary-Kate and Ashley Olsen have some explaining to do, it seems.
Werewolves
One of the most beloved musical sequences in 30 Rock is the one-off novelty party song that the affable, loony actor Tracy Jordan (Tracy Morgan) flashes back to, titled "Werewolf Bar Mitzvah," in which he dresses and dances as a sort of Thriller-era Michael Jackson. Titus Andromedon (Burgess) snags a gig as a werewolf at a novelty restaurant in Times Square, and comes to the alarming conclusion that he receives better treatment from people as a werewolf than he does in his everyday life, as a gay African-American man.
Who Has ___ Thumbs and ___
Liz Lemon has many a memorable one-liner, but if one were to sum up her character entirely it would be: "Who's got two thumbs, speaks limited French and hasn't cried once today? This moi!" Fey's character on Unbreakable Kimmy Schmidt, Marcia Clark, also has an affinity for thumb analogies in conversation, it seems: "Hey, he's in jail now," she says to Kimmy. "So who has four thumbs and loosened that jelly jar?" she gestures to herself and her partner, Chris (Jerry Minor).
Insults
Kimmy and Liz have similar comebacks and insults. One of these is, "Yeah, burnt!," an expression equivalent to The Office's "Boom, roasted!" or its frattier cousin, "Sick burn!" Both Jenna and Liz use this phrase liberally throughout 30 Rock, and Kimmy does as well when she argues with Xanthippe during a party. "I've been watching you, Kimmy," Xan says with a scowl. "I know, that's why I picked my nose earlier, to gross you out. Yeah, burnt!" she exclaims. Burnt indeed.
Another term peppered throughout both shows is "jagweed." According to Vulture's handy-dandy 30 Rock glossary, we have a solid definition for "jagweed" for the uninitiated: It's a synonym of the word jerk, a favorite term of Liz Lemon's for someone unsavory. In Unbreakable, none other than Fey appears in a cameo that plays up her resemblance to Marcia Clark—half of the OJ Simpson prosecution team—down to hairstyle, actions and dress. ("We're Marcia and Chris, not the most incompetent prosecutors in California," her compatriot says at one point.) "Nice work, jagweed," Fey's character says after Kimmy trips up on the witness stand, in an especially meta turn on the show.