It's Christmas morning 1984, and two brothers, 8 and 10, impatiently tear at the wrapping paper on a large box. Inside? A Quasar video camera and VHS player deck. From then on, every weekend was dedicated to making movies. They copied the ones they loved—Rambo, The Road Warrior, Excalibur—and slowly developed a voice of their own.
That story belongs to filmmakers David and Nathan Zellner (aka the Zellner Brothers), whose new film, the darkly satirical Western Damsel, starring Mia Wasikowska and Robert Pattinson, opens June 22. But the story is not unique: In the past decade, sibling filmmaking has exploded, with Mark and Jay Duplass (Safety Not Guaranteed, The One I Love), Anthony and Joe Russo (Avengers: Infinity War), Matt and Ross Duffer (Stranger Things) and John and Drew Dowdle (Waco).
The trend began in 1984, with Joel and Ethan Coen's Blood Simple. "Seeing their work," says David, "made us think, 'Yeah, that's doable.'" The Coens were influential tonally as well; each of the subsequent sibling pairs tends to paint outside the lines, with varying degrees of eccentricity. The Coens' 1987 comedy, Raising Arizona, in particular, was a major influence on the Dowdles, and Jay Duplass calls it "the most inspired movie I've ever seen."
Still, it took another 15 years before a second set of sibs, Larry and Andy Wachowski—now Lana and Lilly, the only notable sister act so far—broke out with 1999's The Matrix. But then the floodgates opened. The Zellners speculate it has something to do with video cameras' arrival, essentially providing a lifetime to hone filmmaking skills. After making home movies, most of the sibs ended up studying film; David knew Jay Duplass at the University of Texas, Austin.
Predictably, in each partnership, the older brother plays the dominant role—the energetic yang to the younger's more reflective yin. For example, though the Zellners share the directing credit for Damsel, David is the writer and director; Nathan's duties are more technical, with a heavier hand in producing.
The younger pack tends to act as well. The Zellners have appeared in all their films, including Damsel (David plays a befuddled parson; Nathan is Wasikowska's brutish brother-in-law). "It goes back to the old days when it was just the two of us," says Nathan. "One would be in front of the camera; the other would hit Record, then run in front of the tripod."
While there's no official club for moviemaking kin per se, they "do hang out with others at festivals," says Nathan. "You don't think about it, but you have that instant connection." For those who can't instantly distinguish between Hollywood's siblings, here's our helpful tip sheet.
Coen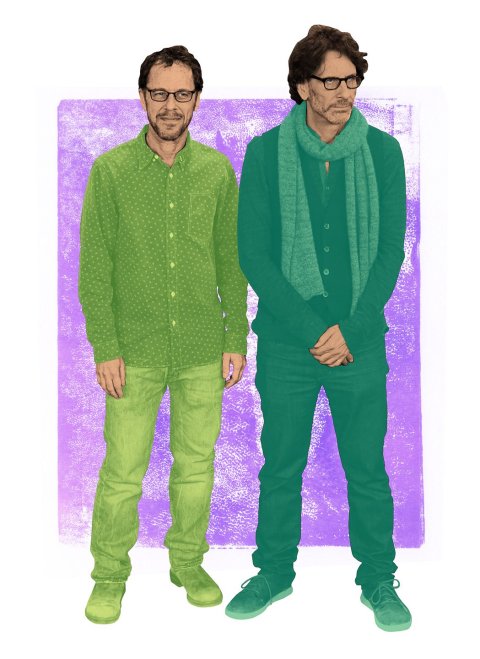 Ethan 60 // Joel 63
From: Minneapolis, Minnesota
Biggest hits: Raising Arizona (1987), Fargo (1996), The Big Lebowski (1998), No Country for Old Men (2007), True Grit (2010).
Famous for: Violent, darkly witty thrillers, like Fargo, and deranged, fast-paced comedies, such as Arizona.
Awards: Lots, including four Oscars, for best original screenplay (Fargo) and best adapted screenplay, best director and best picture for No Country. Total Academy Award nominations: 15.
Pseudonym: Their two-time Oscar-nominated editor, Roderick Jaynes, is, in fact, them.
Favorite collaborators: Steve Buscemi, John Goodman, George Clooney, Frances McDormand (helpfully, she's married to Joel).
Wachowski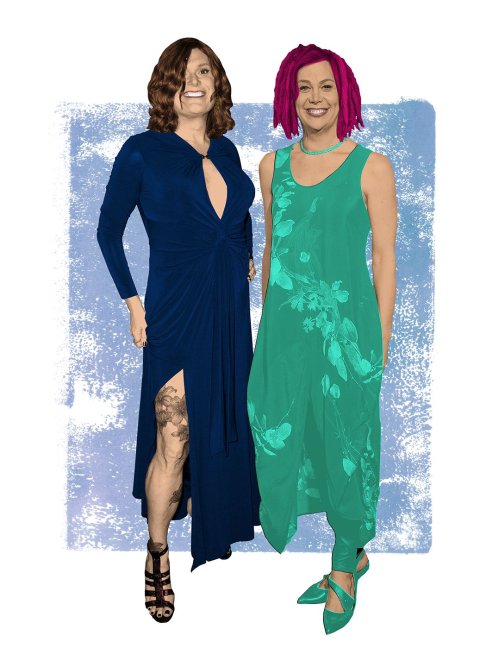 Lilly 50 // Lana 52
From: Chicago, Illinois
Biggest hits: The Matrix franchise1999 to 2003); the second, Matrix Reloaded, was the highest grossing R-rated film for over a decade; Netflix series Sense8.
Famous for: Revolutionizing American sci-fi action films with "bullet time," Hong Kong–influenced choreographed fights; serialized, multipart plots; coming out as transgender (Lana in 2012, Lilly in 2016).
Awards: Both won the Saturn Award for best directing for The Matrix .
Favorite collaborators: Keanu Reeves, James D'Arcy (Cloud Atlas; Jupiter Ascending); the duo have a family-style approach to filmmaking, hiring the same crew for virtually every project.
Russo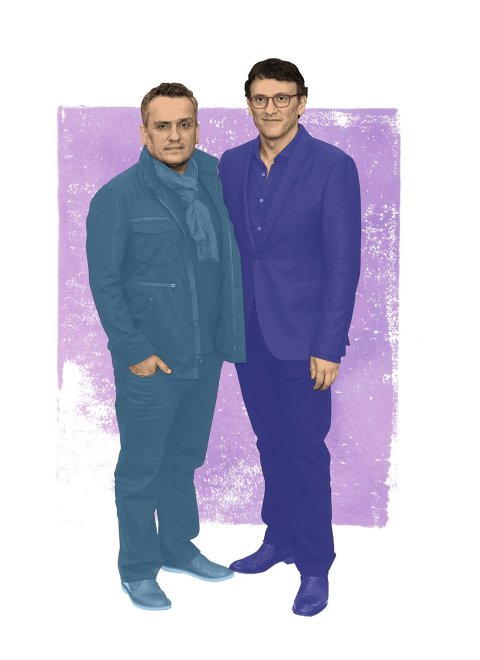 Joe 46 // Anthony 48
From: Cleveland, Ohio
Biggest hits: Captain America: The Winter Soldier (2014); Captain America: Civil War (2016); Avengers: Infinity War (2018).
Famous for: Juggling a buttload of A-list stars in Infinity War, which has passed $1 billion in the worldwide box office. They are the only brothers to have done so, and it's just their fifth film.
Awards: An Emmy for their work on the TV comedy Arrested Development (they were executive producers on Community too).
Pseudonym: Gozie Agbo, the name Joe uses for acting; he's had small parts in the Captain America films, as well as the Russo comedy You, Me and Dupree (2006).
Favorite collaborator: Chris Evans (Captain America).
Duplass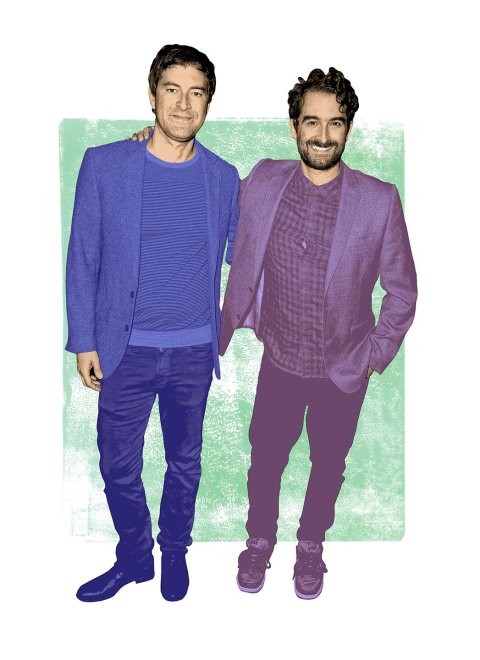 Mark 41 // Jay 45
From: New Orleans, Louisiana
Biggest hit: Depends on how you define hit; 2010's Cyrus made the most money: $9.9 million. They are more influential than hugely profitable.
Famous for: Smart, thoughtful romantic comedies made with DIY frugality; running their own indie production empire (among other projects, they produced Sean Baker's award-winning iPhone film Tangerine ); and writing a memoir, 2018's Like Brothers.
Awards: South by Southwest Audience Award for their breakout first feature, The Puffy Chair (2005).
Acting: Mark has starred in multiple films and TV shows (including the Duplass' HBO show Togetherness ); Jay made his featured acting debut on the Amazon series Transparent.
Favorite collaborator: Steve Zissis.
Dowdle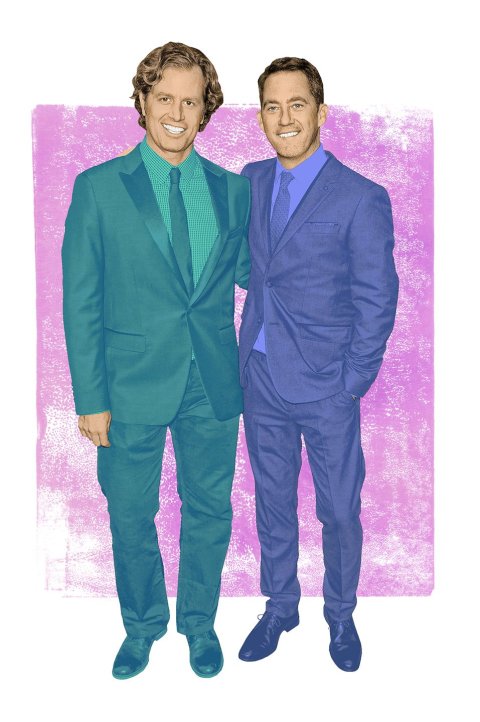 John Erick 45 // Drew 43
From: Minneapolis, Minnesota
Biggest hit: Paramount Network's critically acclaimed six-part series Waco (2018).
Famous for: The micro-budget, indie horror/faux documentaryThe Poughkeepsie Tapes.
Acting: None.
Awards: Jury Award nomination at 2005 Slamdance Film Festival for The Dry Spell.
Favorite collaborator: Waco star Michael Shannon (whom they call Mikey).
Zellner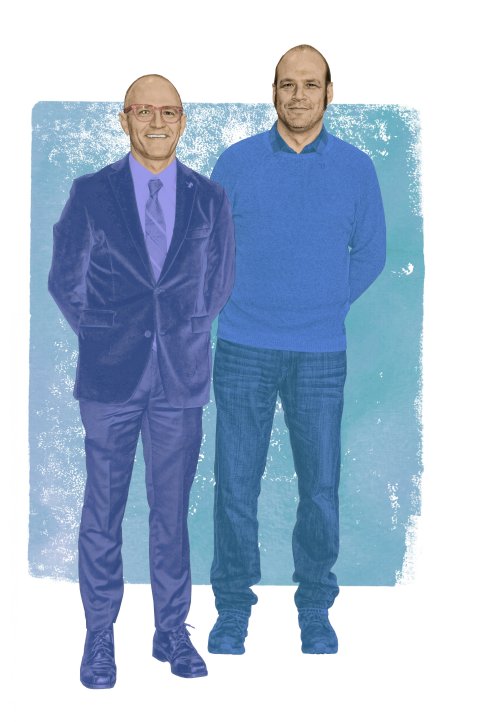 David 44 // Nathan 42
From: Greeley, Colorado
Biggest hit: Kumiko, the Treasure Hunter (2014). In a Guardian review of Kumiko, critic Jonathan Romney wrote, "One day, the Coens will make movies inspired by them."
Famous for: Charming, downbeat eccentricity and pushing genre boundaries (like Westerns, with the darkly nutty Damsel).
Awards: Multiple film festival wins for Kumiko.
Acting: David has 34 credits, Nathan 26. Nathan, who used to work for Rooster Teeth, voiced Andy the Bomb in "Red vs. Blue," a sci-fi parody and the second longest-running web series of all time.
Favorite collaborator: Quirky, Austin, Texas-based indie rock band the Octopus Project.
Duffer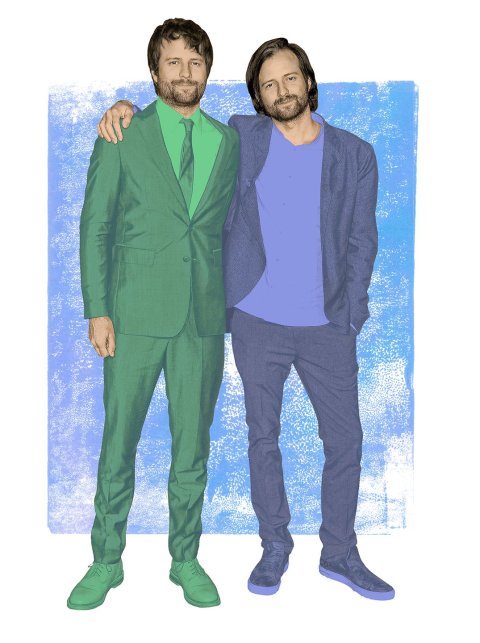 Ross 34 // Matt 34
From: Durham, North Carolina
Biggest hit: Netflix's Stranger Things (2016 to present).
Famous for: Deep mining of mainstream '80s pop culture, particularly the film Goonies. More dubiously: multiple accusations of verbal abuse on set and a plagiarism lawsuit, filed in April.
Acting: None.
Awards: Multiple nominations (including three Emmy nods); no wins.
​