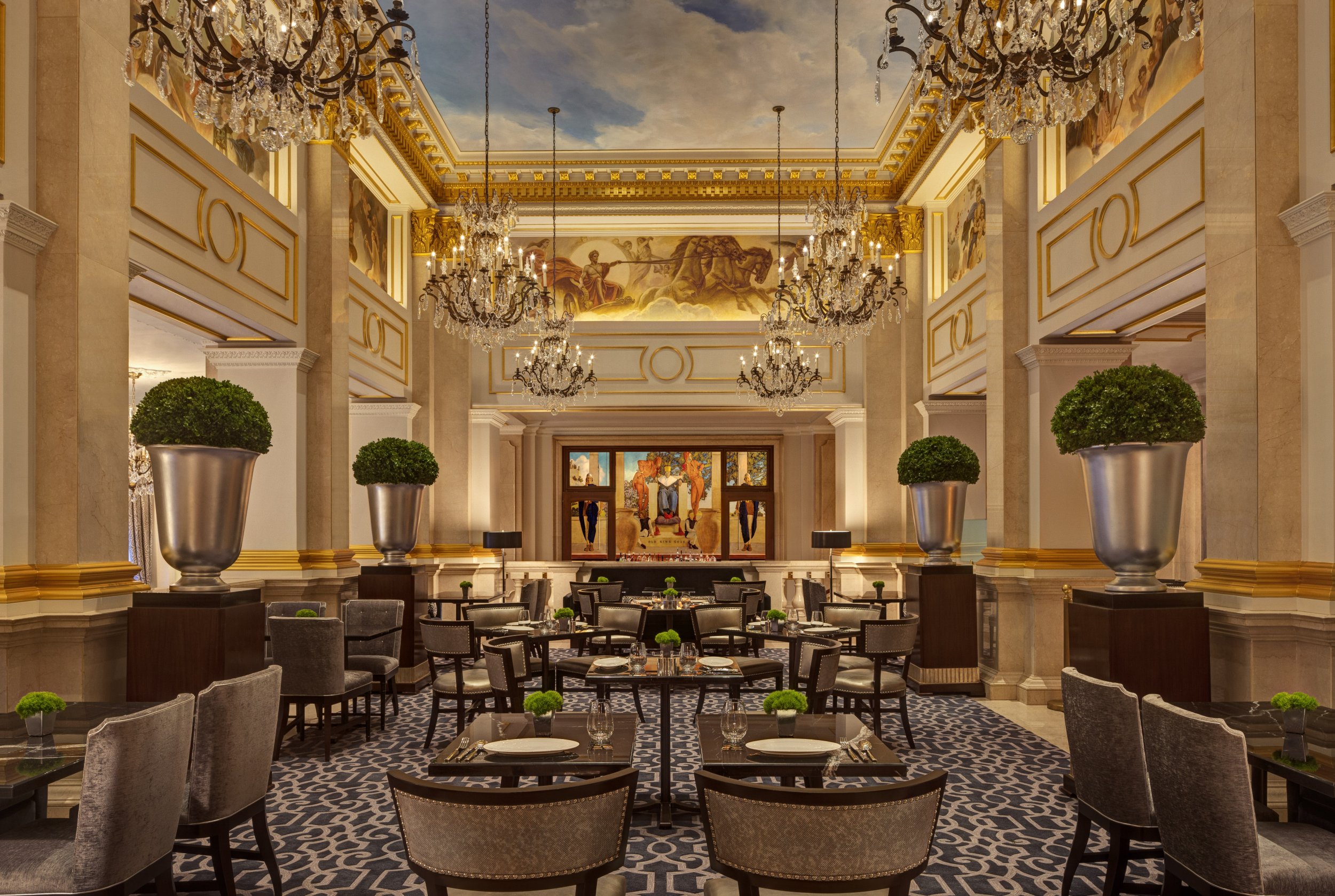 The hotel bar is a truly democratic institution; it has no natural constituency, nobody to question whether you belong.
Plan a visit to some of the finest hotel bars in New York City, with their mix of history and elegance. Have any suggestions of your own? Tweet @Newsweek with your tips.
King Cole Bar and Salon, The St. Regis
2 E. 55th Street – Midtown East
Home to the famous Maxfield Parrish mural, a 30-foot-long ode to flatulence that hangs above the bar. Supposedly, the bloody mary was invented here.
Bemelmans Bar, The Carlyle
35 E. 76th Street – Upper East Side
Ludwig Bemelmans (creator of the Madeline series of books) painted the interior of this bar, making for an experience at once whimsical and posh.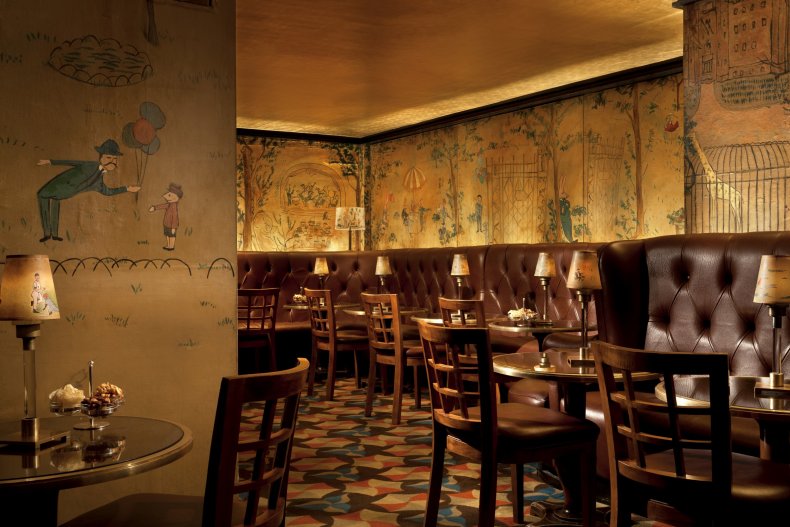 Peacock Alley, Waldorf Astoria
301 Park Avenue – Midtown East
Sip a drink in the lobby of one of the grandest hotels in the world, where every president since Herbert Hoover has stayed.
Bull & Bear, Waldorf Astoria
540 Lexington Avenue – Midtown East
Once known as "The Men's Bar," this is the wood-and-leather counterpoint to Peacock Alley.
The Blue Bar, The Algonquin Hotel
59 West 44th Street – Midtown
The Blue Bar is not exactly where the Algonquin Round Table met, but it's pretty close. The blue lighting makes for a less than literary drinking experience, however. The televisions don't improve the mood.
Jane Ballroom, The Jane
113 Jane Street - Meatpacking District
Come early, before the crowds, to drink in the baroque splendor of the Jane, which once housed survivors of the Titanic.
The Oak Room, Plaza Hotel
10 Central Park South - Midtown
Closed, for now, after complaints about loud "brunch parties." Widely regarded as one of the most regal establishments in the city.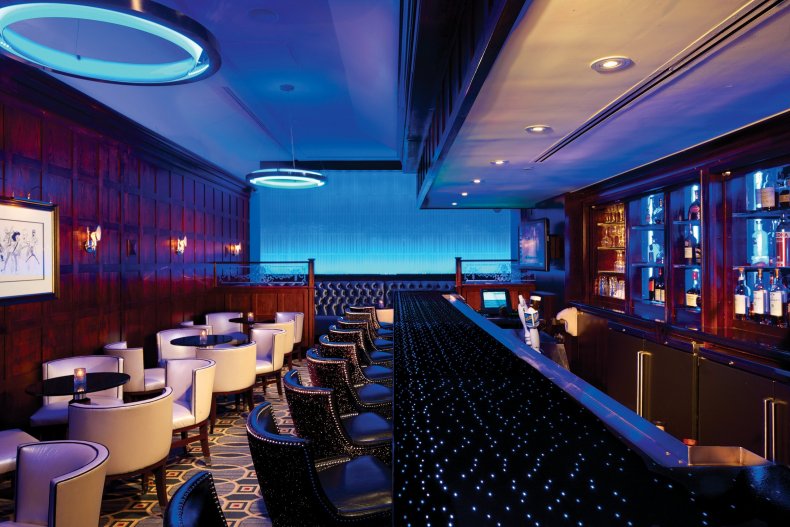 The Breslin Bar & Dining Room, Ace Hotel
16 W. 29th Street – Flatiron District
A serious eating and drinking establishment from the team behind the West Village's vaunted gastropub the Spotted Pig.
The Library, NoMad
1170 Broadway – Flatiron District
Ever wonder what a Ivy League library crossed with a Manhattan cocktail lounge would look like? Your answer is here.
Biergarten, The Standard
848 Washington Street – Chelsea
This beer garden under the High Line can get crowded and rowdy. But isn't that kind of the point of a beer garden?
St. Cloud, The Knickerbocker
6 Times Square – Midtown
Recently restored, the Knickerbocker gleams anew. Its rooftop bar, the St. Cloud, is reason enough to visit Times Square. Really.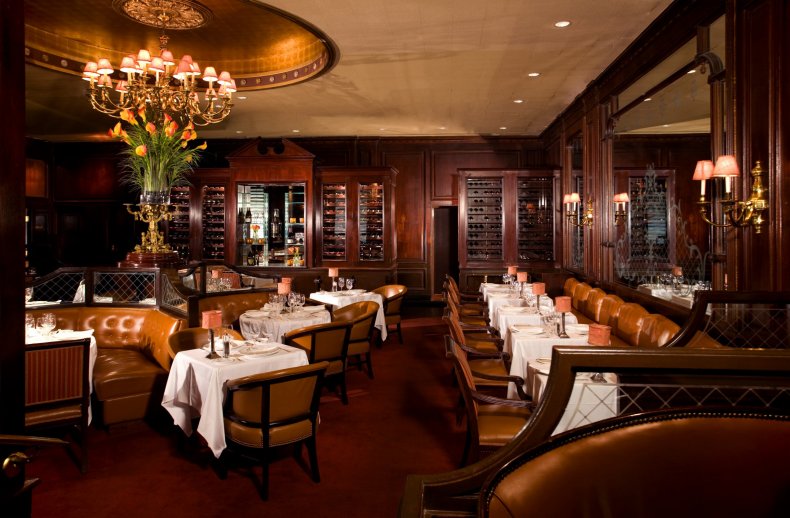 The Ides Bar, The Wythe
80 Wythe Avenue – Williamsburg
Stunning views of the East River and Manhattan, from the heart of très cool Brooklyn.
Z Roof, Z Hotel
1101 43rd Avenue – Long Island City
This hotel at the foot of the Queensboro Bridge makes for the perfect evening drink in view of the Manhattan skyline, which seems close enough to touch.