What Is Guillain Barre Syndrome? Cowboys' Travis Frederick Diagnosed With Autoimmune Disease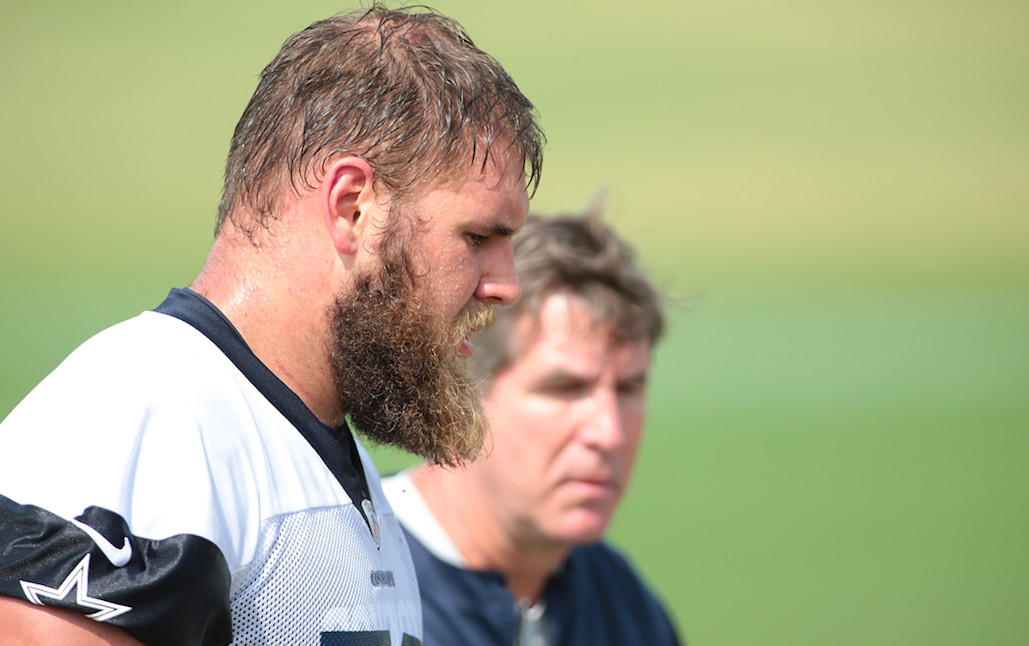 Cowboys offensive lineman Travis Frederick revealed he was diagnosed with the rare autoimmune disease Guillain Barre Syndrome Wednesday. The NFL star did not reveal when he would return to the field but said he was receiving treatment for his illness. He previously described the ailment has having stingers in his neck.
There is not a known cure for Guillain Barre Syndrome, according to the Mayo Clinic, but it can be treated. It's not known was causes it, but it could be triggered by a form of bacteria that is often found in undercooked poultry. Men and young adults have a slighter greater risk of getting Guillain Barre Syndrome, but it can affect all ages.
The first signs are fatigue and prickling in the extremities. The feeling can then spread to the body and paralyze the body. Having difficulty with facial movements— like eating, chewing, or swallowing—are also symptoms. Increased heart rate, difficulty breathing, low or high blood pressure, cramping, pain and difficulty with bowel or bladder function are also associated with Guillain Barre Syndrome.
Frederick, 27, was optimistic about his diagnosis. His full statement read:
"After a very extensive examination and discovery process over the past few weeks, I have been diagnosed with having Guillain Barre Syndrome, which is an autoimmune disease. In the last 48 hours, I have received two treatments that address my condition and I am feeling much better from an overall strength perspective. I will continue these treatments over the next few days. I am very optimistic about my condition and the immediate future, as I have been told that the illness was detected at a fairly early stage. My doctors have told me that it is not possible to determine a timetable for a return to the field right now, but I am hopeful that I will be able to play as soon as possible.

"I am deeply grateful for all of the people who have expressed concern for me throughout the past four weeks, and my teammates and the Cowboys organization have provided me and my family with tremendous support."