In Guilty Plea, Capitol Rioter Brad Rukstales Says He Was 'Careful' When He Threw Chair
More details of Bradley Rukstales' behavior during the January 6 insurrection came to light as he entered a guilty plea on Tuesday, including an instance when he threw a chair inside the U.S. Capitol.
Rukstales, a former CEO of a data analytics company, pleaded guilty during a video conference before U.S. District Judge Carl J. Nichols to one misdemeanor count of parading, demonstrating or picketing in a Capitol building.
Assistant U.S. Attorney Susan Lehr noted in the hearing that Rukstales traveled from Illinois to Washington D.C. to attend the "Save America" rally. Lehr also said the 53-year-old tossed a chair toward U.S. Capitol Police officers before being dragged away from the scene by police and arrested.
Rukstales told the judge that he was "careful" when he threw the chair, according to the Chicago Sun-Times.
"I was very careful when I was with the chair to make sure there was nobody within any striking distance and did not purposely throw it at any individual at the time," he said.
The Sun-Times reported that Rukstales is the first Illinois native to plead guilty in the January 6 riot. His sentencing hearing is scheduled for November 12. He faces up to six months in prison and has agreed to pay $500 in restitution.
The day after the riot, Rukstales posted a lengthy statement on Twitter calling his attendance the "single worst decision of my life." He was fired from the company Cogensia after storming the Capitol.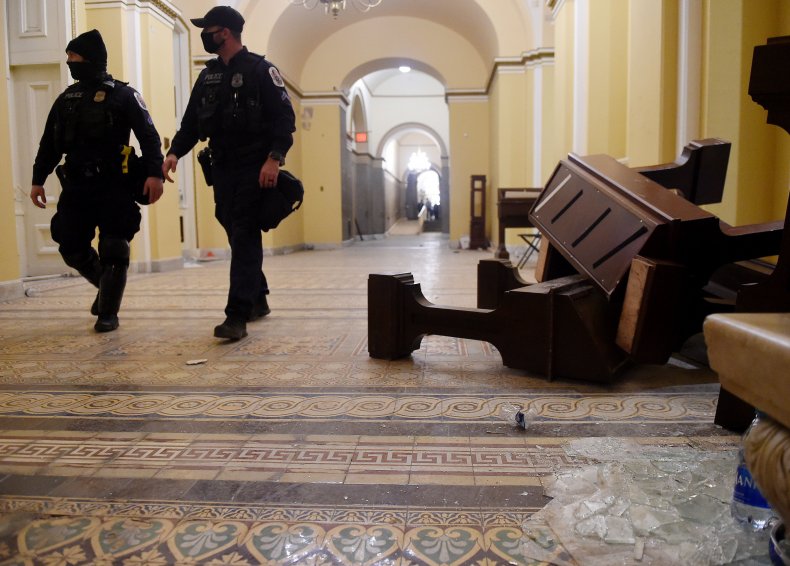 "In a moment of extremely poor judgment following the Jan. 6 rally in Washington, I followed hundreds of others through an open set of doors to the Capitol building to see what was taking place inside. I was arrested for the first time in my life and charged with unlawful entry," his statement read.
He continued, "I offer my sincere apologies for my indiscretion, and I deeply regret that my actions have brought embarrassment to my family, colleagues, friends and fellow countrymen."
More than 500 people have been arrested so far in connection with the Capitol attack. In June, Attorney General Merrick Garland vowed the Justice Department would "continue to follow the facts in this case and charge what the evidence supports to hold all January 6 perpetrators accountable."
A subcommittee was established in the House of Representatives to investigate the January 6 riot. Last week, the panel demanded records from 15 social media companies and several federal agencies in relation to its ongoing probe.
Newsweek reached out to Rukstales for comment but did not receive a response before publication.