Guinea Becomes Second Country to Pull Team From Olympics Due to COVID Concerns
Guinea pulled its Olympic team from the 2020 Tokoyo Games on Wednesday over COVID-19 concerns.
Minister of Sports Sanoussy Bantama Sow wrote a letter to the president of the Guinean Olympic committee making the announcement. Sow cited the rising number of COVID-19 cases in Japan as the reason for their withdrawal.
"Due to the resurgence of COVID variants, the government, concerned with preserving the health of Guinean athletes, has decided with regret to cancel Guinea's participation in the 32nd Olympics scheduled for Tokyo," the statement said, via the Associated Press.
The Guinean Olympic team consisted of five athletes: runner Aissata Deen Conte, swimmers Fatoumata Lamarana Toure and Mamadou Tahirou Bah, freestyle wrestler Fatoumata Yarie Camara and judo martial artist Mamadou Samba Bah.
"The question I ask myself is why has Guinea decided not to participate in the Olympic Games on the grounds of coronavirus when the organizing country like Japan hasn't canceled these Games because of this sickness," Camara told the AP. "Why? That's what I ask myself and I still can't find an answer."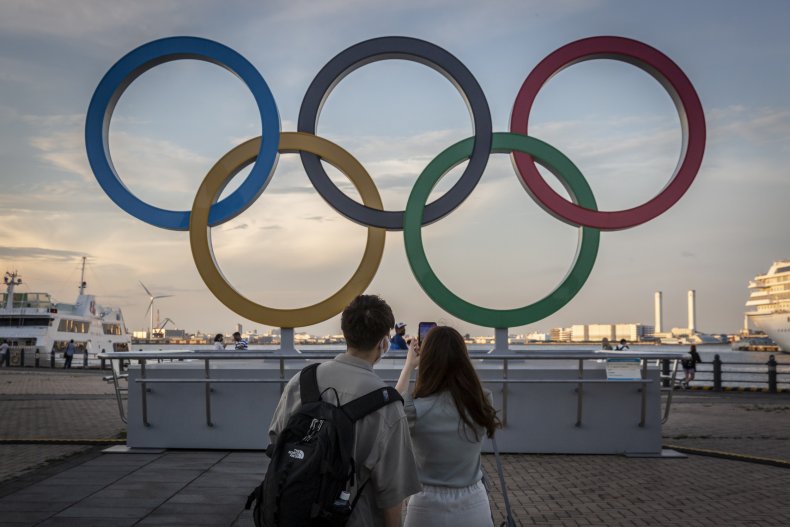 The announcement made Guinea the second country to pull out of the Olympics over the coronavirus. North Korea decided to not participate in the Games in early April.
Guinea has participated in the last 11 Olympic Games, but the western African country has never won a medal.
Guinean Olympic committee secretary general Ben Daouda Nassoko spoke to the AP a few days ago saying the team's funding was set for them to go to Tokyo.
Data released Tuesday by Olympic organizers showed 71 people associated with the Olympics have tested positive for COVID-19. Cases across the country have also climbed in the weeks leading up to the event.
Most of the cases are from event staff, but a number of athletes-including U.S. men's beach volleyball player Taylor Crabb, U.S. women's gymnastics team alternate Kara Eaker and U.S. women's tennis player Coco Gauff-have tested positive.
The Japanese Ministry of Health reported Thursday 4,933 new COVID-19 cases in the country, up over 1,000 new infections compared to the previous day.
International Olympic Committee (IOC) president Thomas Bach said Tuesday that canceling the Games was "never an option."
That same day, the head of the Tokyo 2020 organizing committee Toshiro Muto said he would not rule out canceling the Games last minute if the number of COVID cases spiked.
"We will continue discussions if there is a spike in cases," Muto said at a press conference. "At this point, the coronavirus cases may rise or fall, so we will think about what we should do when the situation arises."
Newsweek reached out to the IOC but did not hear back by publication time.
Update - 7/22/21- 11:50 a.m. - This story has been updated with additional information.