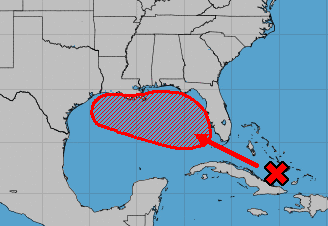 The Gulf Coast is at increased risk for a tropical depression or tropical storm that will likely develop in the Gulf of Mexico by Tuesday or Wednesday of next week, taking a path north. The system is expected to impact south Florida first by Labor Day as a tropical wave, according to the latest forecasts, with heavy rainfall.
The National Hurricane Center gives this system an 80 percent of development in the next five days, according to the 8 p.m. forecast update Sunday from the National Hurricane Center. Wind shear has kept the storm, currently disorganized thunderstorms over the Bahamas, from developing. Wind shear is expected to continue impacting the storm the next couple of days but that will likely end after Labor Day, once it slips into the quite-warm waters of the Gulf of Mexico.
That's when Gulf Coast states including Texas, Louisiana, Mississippi, Alabama, and Florida will likely be placed on alert since the wave could become a tropical depression or a tropical storm with significant flooding potential.
"This weather system is expected to move west-northwestward across the remainder of the Bahamas, southern Florida, and the Florida Keys during the next day or so and little, if any, development is expected during that time due to strong upper-level winds," the National Hurricane Center said Sunday. "However, the current unfavorable upper-level wind pattern is expected to gradually change and become more conducive for a tropical depression to form over the eastern and central Gulf of Mexico by Tuesday or Wednesday."
Once the storm gets into the Gulf, warm waters will be conducive to development but it may not have enough room to form into a hurricane before encountering land. Still, rainfall potential could be impacting.
"There are some uncertainties in forecast guidance, including how much wind shear may be in place over the Gulf of Mexico early this week," The Weather Channel reported. "That will be one factor determining if this system can organize into a tropical depression or tropical storm before running out of ocean space as it approaches the northern Gulf Coast.
"However, a factor favoring development is the warm water in the Gulf of Mexico, with sea-surface temperatures above average and ample heat content."
Meanwhile, the National Hurricane Center is watching Tropical Storm Florence, far out in the Atlantic. But that storm's forecast path is not expected to impact land. Florence is forecast to turn north, on a track that takes it to see, not coming close to the United States.
"By day 3, a west-northwest to northwest motion is forecast to begin, as the aforementioned mid- to upper-level trough influences the track of the tropical storm," the National Hurricane Center said. "While all of the global models show this general scenario, the extent to which Florence will gain latitude is less certain. A stronger Florence will likely turn more toward the northwest…"