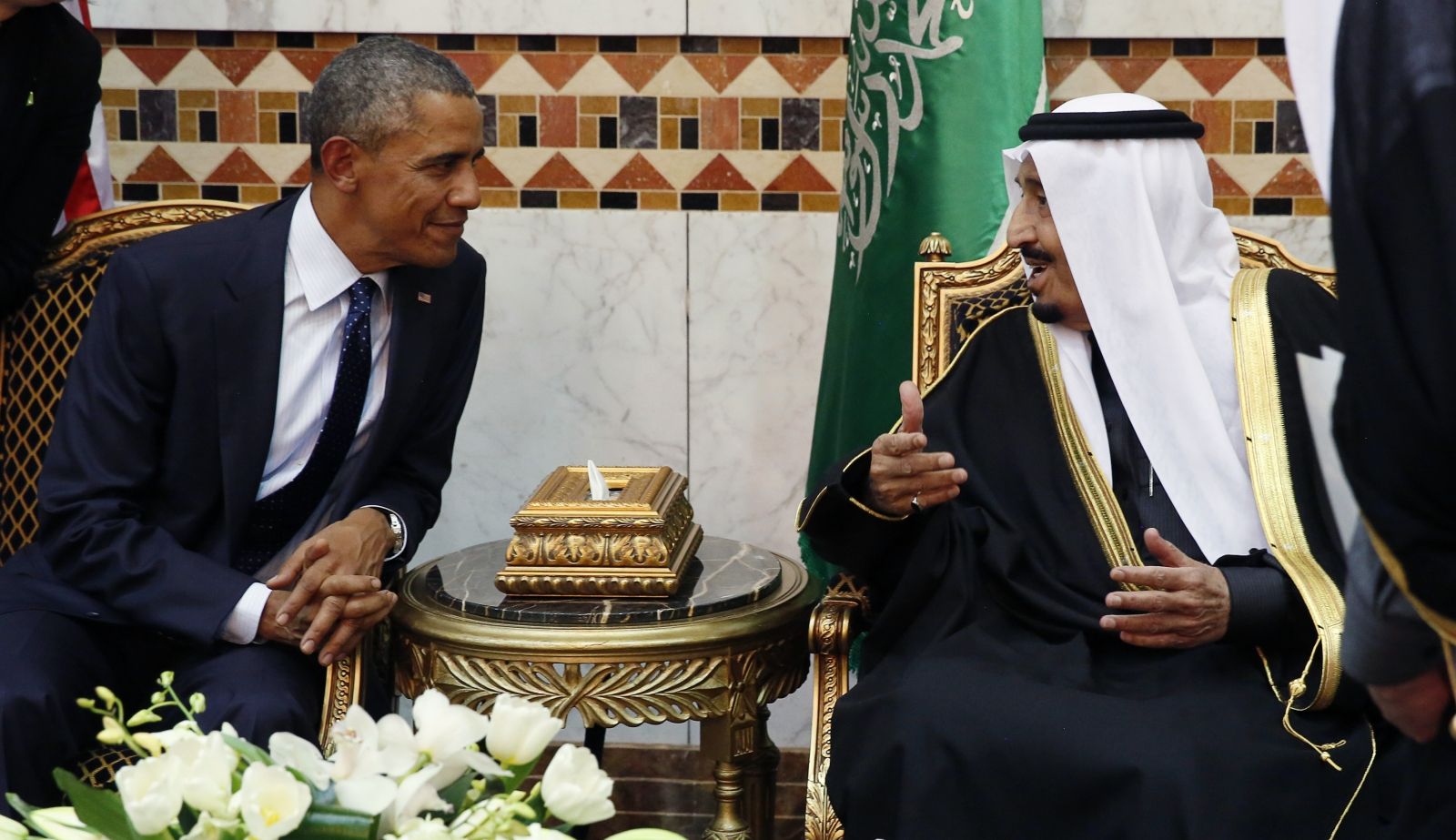 The ongoing conflict in Syria and halting Iran's expansionism are likely to be top of the agenda when a depleted set of Arab leaders meet with president Barack Obama and the US administration tomorrow, according to experts.
Officials from Gulf states including Saudi Arabia are travelling to Camp David in the US, where they are expected to demand a tougher line on president Bashar al-Assad's Syrian administration and reassurances over Obama's perceived increasing links with Iran.
Analysts warn that regional leaders are growing increasingly anxious over Iranian intervention in countries such as Syria, Iraq and Yemen.
These fears have been heightened by US cooperation with Iranian-backed Shia militias in the fight against ISIS in Iraq and negotiations with Iran over a nuclear enrichment programme which have threatened the long-standing alliance between the US and Gulf states.
Saudi king Salman unexpectedly dropped out of the conference on Sunday, with the state-run press agency citing a need to stay in Riyadh to oversee the five-day ceasefire in Yemen which is due to begin tonight.
The US administration was keen to dispel speculation that King Salman's non-attendance was due to Saudi Arabia's grievances over US nuclear negotiations with Iran.
A White House spokesman said the king had called Obama to express his regret about not being able to travel and rejected suggestions that the decision had been taken to "send a message" to America.
Salman is instead sending crown prince Mohammed bin Nayef and the king's son and defence minister, Mohammad bin Salman, who are second and third in line to the Saudi throne.
The heads of state of Oman and the United Arab Emirates are not attending due to poor health, while the Bahraini king also pulled out without explanation, with all three states sending high-level representatives instead.
According to Dina Esfandiary, a research fellow in the War Studies department at King's College London, Iran's spreading influence in the Middle East and programme of interventionism in various countries means the Arab leaders will be seeking concrete resolutions from president Obama.
"They're going to discuss the areas where Iran has influence in the region. Syria, Lebanon, Iraq and Yemen will all feature," says Esfandiary. "They'll be pushing for ways to guarantee a rollback on Iran's intervention in Syria, which will be difficult because Iran is dead-set on its programme in Syria."
Tehran has backed the Assad regime with billions of dollars in liquidity and investment since the start of the Syrian civil war. The Syrian defence minister recently visited Iran to seek advice on combating "terrorist" groups opposing government forces in the war-torn country.
The US has spearheaded negotiations with Iran during recent months over its nuclear enrichment programme. The negotiations have been heavily criticised by the Saudis, who have said it could lead to a Middle East nuclear arms race and have threatened to increase their own nuclear programme in response.
"The conference is all about Iran. The Gulf states are extremely worried about Iran's actions in the region, while for Obama it's about trying to explain the virtues of a nuclear deal," says Salman Shaikh, director of the Brookings Doha Center, a Qatar-based security thinktank.
Shaikh also believes it is significant that Syria and Iran will be high on the list of priorities for John Kerry in his meeting today with Vladimir Putin in Moscow. He says that the US is seeking to reassure its Gulf partners that it is not softening its stance on Iran.