Atlantic Storm: National Hurricane Center Monitoring Possible Tropical Cyclone
While Hurricane Bud churns in the Pacific, experts at the National Hurricane Center are also watching a cluster of storms in the Gulf of Mexico that have the potential to turn into a tropical cyclone.
The NHC posted an outlook Tuesday morning that called the storm a large area of disorganized showers and thunderstorms associated with an area of low pressure. The system was sitting in the western Caribbean in the Gulf close to Central America and the Yucatan Peninsula.
Over the coming days, it was expected to move west in the direction of land. Over that time it could either get stronger or weaker depending on the conditions. The forecast predicted that as the storm moves into the southwestern portion of the Gulf it could encounter more conducive conditions.
The chance of the system developing into a tropical cyclone was about 10 percent over the next 48 hours and 20 percent over the next five days.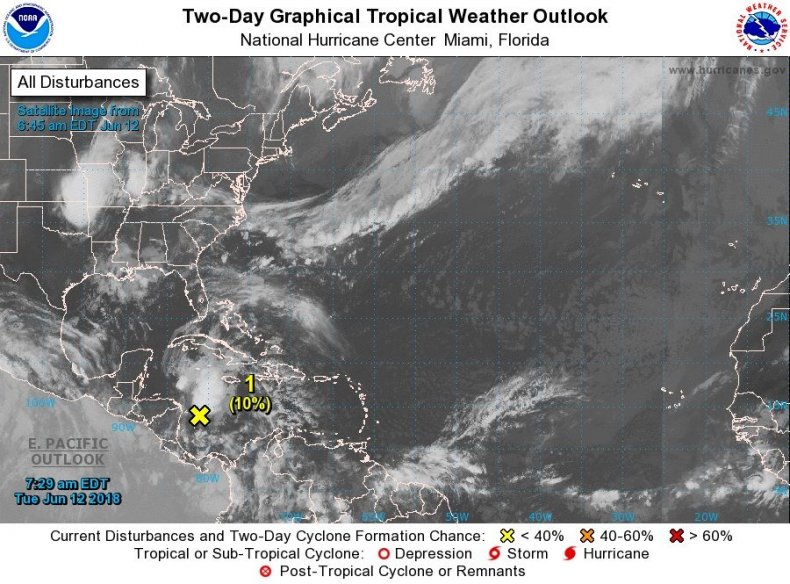 The storm isn't named because it isn't large enough yet, but it will bring heavy rainfall in many areas in Central America and possibly travel northward, according to the NHC.
A storm has to have maximum sustained wind speeds of 38 miles per hour or less for it to be called a tropical depression, if the wind speeds reach 39 mph, then it's a tropical storm.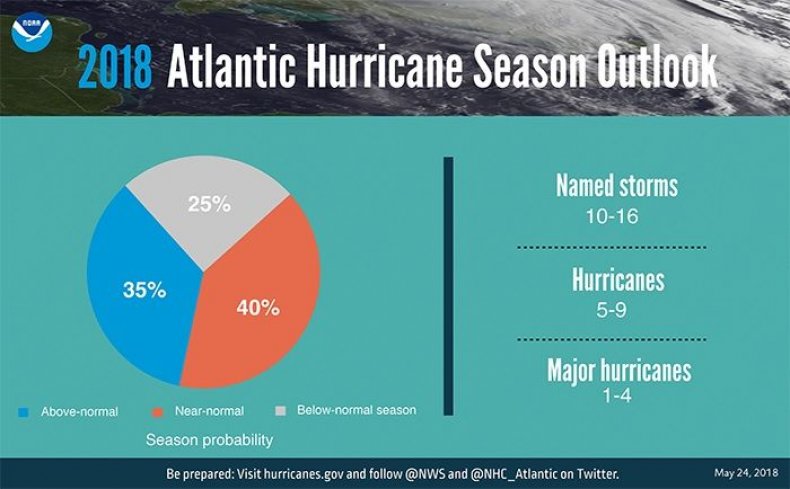 On the other side of Mexico, Hurricane Bud was already a category four hurricane but Tuesday, meaning it had winds between 130 and 156 mph. These storms typically bring "catastrophic damage," according to the Saffir-Simpson scale.
That means well built-framed homes hit by the hurricane could end up severely damaged and possibly lose most of their roofs and some exterior walls. The damage caused by a storm of this strength can cause snapped trees and make areas uninhabitable for weeks, according to the NHC.
Bud was still over the ocean Tuesday, and the earliest the NHC predicted those on land would feel the effects of the storm was Wednesday evening or Thursday morning.
The National Oceanic and Atmospheric Administration predicted the 2018 Atlantic hurricane season would bring anywhere from 10 to 16 named storms, and that five to nine of those would actually become hurricanes. Should the prediction come to pass, the season would be on, or slightly above, average from others in the past.
SaveSave