Gun Activist John Lott Accused During Congressional Hearing of Inventing Persona to Praise Own Work
During a joint economic hearing on gun violence in America Wednesday, political commentator and gun rights advocate John Lott was accused by Senator Martin Heinrich (D-NM) of frequently impersonating a woman online to bolster his reputation as a beloved professor.
Heinrich cited a 2003 Washington Post article by Richard Morin to back up his claims, using the story to question Lott's general judgement in matters of gun violence.
"Does it show good judgement for a researcher to comment that way with regard to your own research under a name that is clearly not transparent?" Heinrich asked the committee.
Lott claims in the cited article that he had tried to use his own name when commenting online, "but you just get into really emotional things with people. You also run into other problems."
Newsweek subscription offers >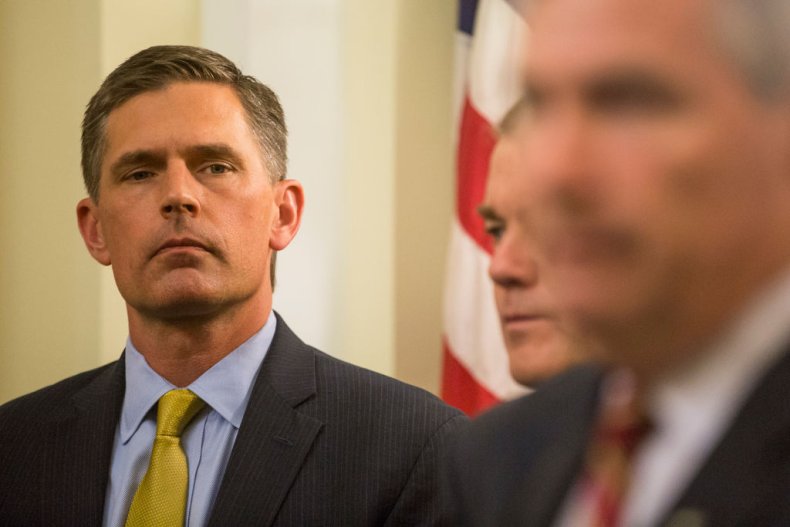 In the article, Morin accused Lott of impersonating Mary Roch, a student in his class in empirical methods at Pennsylvania University. Morin also examined the IP addresses of Roch's posts which point back to Lott.
Eventually, Morin read Lott's comment back to him over the phone, and Lott confirmed that the positive mention came from him. Lott also admitted he uses the name "Mary Roch" to defend himself in online debates on various internet forums and in various comment sections.
Morin then reveals that Lott's thirteen year old son, with Lott's permission, posted a positive review of one of Lott's books to Amazon under the Mary Rosh moniker. Lott replied to the accusation by saying his wife and son left the review without his expressed previous permission.
"They told me they had done it. They showed it to me. I wasn't going to tell them not to do it. Should I have?" Lott asked.
Under questioning by the reporter, Lott eventually admits, "I probably shouldn't have done it — I know I shouldn't have done it — but it's hard to think of any big advantage I got except to be able to comment fictitiously."
There were no further gestures of conciliation from Lott at today's hearing.
He replied to Heinrich, "I did not write that. It was a family account and there was somebody else in my family who was responding to attacks that were on me, OK? So I don't police everybody in my family when they go and do things like that and I had members of my family who wrote a couple of review on my books and other things like that."
Replied Heinrich, "you're quoted in this article as saying, "I probably shouldn't have done it."
Gun Activist John Lott Accused During Congressional Hearing of Inventing Persona to Praise Own Work | Politics