Gun Background Checks Reach All-Time High in Wake of Trump's Election Loss
Firearm background checks in December were higher than they've been in any month for the past 21 years, an appropriate culmination of a year filled with elevated firearm background checks.
Before 2020, the previous record was set in December 2015 at 3,314,594 background checks for the month, but that was broken first in March, followed by another record in June. In December, there were 3,937,066 checks, a 34 percent increase from December 2019 that's likely attributable at least in part to President Donald Trump's election loss.
The December spike isn't entirely surprising, as background checks often skew upward at the end of the year. Since 1998, when the National Instant Criminal Background Check System (NICS) was put in place, December has had the highest number of background checks except in three instances—2013, 2014 and 2018—according to data from the FBI.
Although background checks can be indicative of firearm sale trends, the data doesn't represent a one-to-one correlation because of differing state laws and purchase scenarios.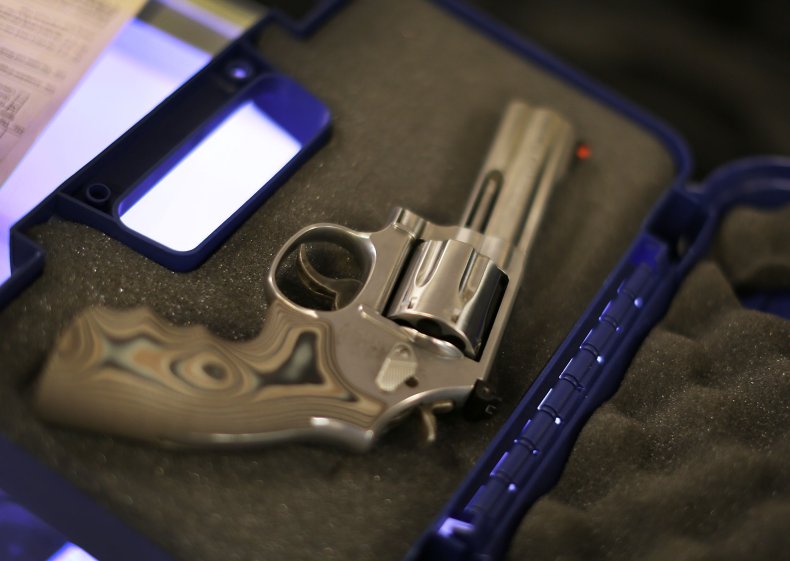 Firearm background checks were up about 40 percent from 2019 for the year, the same increase seen in November and December when compared to the previous year. In October, Amy Hunter, director of media relations for the National Rifle Association, told Newsweek the pandemic coupled with a looming election were "major contributing factors" to the "historic rise" in gun ownership.
"This year, Americans watched as politicians used the pandemic to restrict their rights, close firearm stores, and furlough prisoners. Then, we watched riots and unrest erupt on American streets amid calls to defund the police," Hunter said. "Americans often buy more firearms before an election because they're worried an anti-gun politician will soon take office."
Five of the top 10 highest days for background checks occurred in 2020, including four days in March, indicating that the start of the pandemic may have boosted interest in firearm ownership. The holidays are also known to boost firearm sales, and six of the top 10 days for background checks fell each year on Black Friday from 2015 to 2020.
When looking at the top 10 highest weeks for NICS firearm background checks ever, dates in 2020 take nine of the top 10 spots, according to the FBI. The third highest week for firearm background checks was the week following the Sandy Hook Elementary School shooting in 2012.
In contrast with the NRA's endorsement of President Donald Trump's re-election bid, the organization gave President-elect Joe Biden an "F" rating. As president, Biden announced plans to restrict people to only one firearm purchase a month and re-enact a ban on assault weapons and high-capacity magazines.
Gun sales dropped after Trump won the 2016 election, but with Biden taking office in January, stores are seeing an uptick in interest. Kory Krause, owner of Frontiersman in St. Louis Park, Minnesota, told WCCO he can't fulfill the demand of his customers, in part because supply chains haven't recovered fully from disruptions caused by the pandemic.
"Business is as good as it can be," Krause said. "The struggle we have is that we have probably less than 20-percent than what we'd have normally in our inventory. And it's not for a lack of trying. If we had all the inventory we could get in here, I'd be retired by now. We're limited because we don't have anything to sell."