Gun Battle Erupts at Pro-Russian Checkpoint in East Ukraine, at Least 2 Dead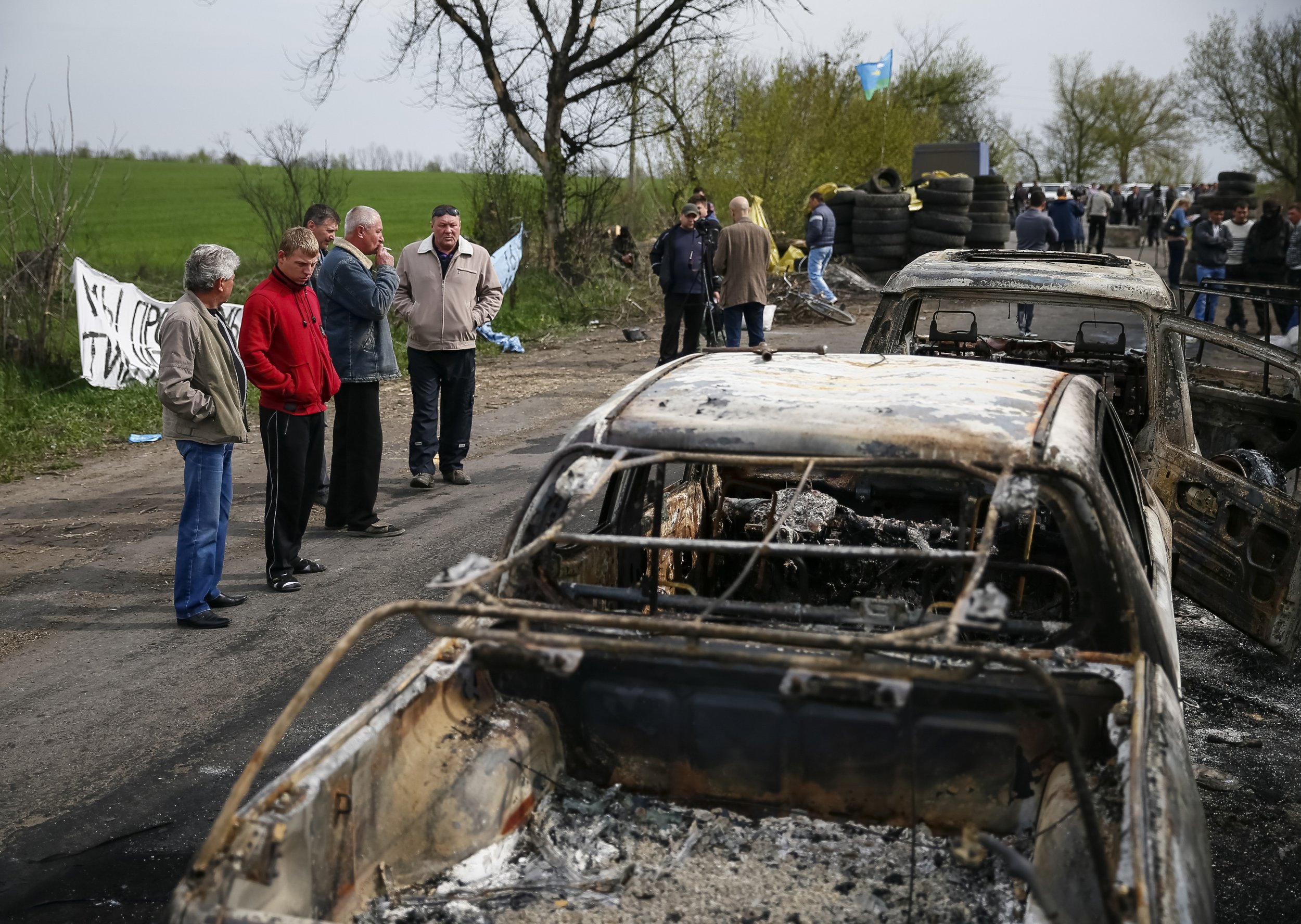 SLAVIANSK, Ukraine (Reuters) - At least two people were killed in a gunfight early on Sunday near a Ukrainian city controlled by pro-Russian separatists, shaking an already fragile international accord that was designed to avert a wider conflict.
After the deaths, Russia questioned whether Ukraine's Western-backed government was complying with the agreement, brokered last week in Geneva, to end a crisis that has made Russia's ties with the West more fraught than at any time since the Cold War.
The separatists said gunmen from Ukraine's Right Sector nationalist group had attacked them. The Right Sector denied any role, saying Russian special forces were behind the clash.
Failure of the Geneva agreement could bring more bloodshed in eastern Ukraine, but may also prompt the United States early next week to impose tougher sanctions on the Kremlin - with far-reaching potential consequences for many economies and for importers of Russian energy.
The deal signed in Geneva last week by the European Union, Russia, Ukraine and the United States agreed that illegal armed groups would go home.
So far, the pro-Russian militants have shown no signs of budging, though there was some hope of progress after Kiev said it would not move against the separatists over Easter, and international mediators headed to eastern Ukraine to try to persuade them to disarm.
But the shootings near Slaviansk - already a flashpoint for tensions between Ukraine's rival camps - are likely to make that task even harder, hardening the view of pro-Russian sections of society that they cannot trust Kiev.
"The Easter truce has been violated," the Russian foreign ministry said in a statement. "This provocation … testifies to the lack of will on the part of the Kiev authorities to rein in and disarm nationalists and extremists."
Right Sector spokesman Artem Skoropadsky said it was a "blasphemous provocation from Russia: blasphemous because it took place on a holy night for Christians, on Easter night. This was clearly carried out by Russian special forces."
Separatist militiamen near the eastern Ukrainian city of Slaviansk told Reuters a convoy of four vehicles had approached their checkpoint at around 2:00 a.m. (2200 GMT) and opened fire.
"We had three dead, four wounded," one of the separatist fighters, called Vladimir, told Reuters at the checkpoint, where there were two burned-out jeeps.
He said the separatists returned fire and killed two of the attackers, who he said were members of the nationalist movement which has its power base in the Ukrainian-speaking west of the country and is reviled by many in the Russian-speaking east.
A Reuters cameraman at the scene said he saw the bodies of two people, one with what appeared to be gunshot wounds to the head and face, loaded into the back of a truck.
One of the dead was dressed in camouflage fatigues, the other, identified by several bystanders as a local man, was in civilian clothes.
In Kiev, the Interior Ministry said one person had been killed and three injured in an armed clash. It said police were trying to establish more details of what happened.
The deaths were the first in armed clashes in eastern Ukraine since the Geneva accord was signed on Thursday.
NO WILL TO MOVE
The crisis in Ukraine began late last year when President Viktor Yanukovich turned his back on closer ties with Europe, prompting protests in the capital. They led to him fleeing Kiev, and a pro-Western interim administration taking over.
Soon after, Moscow used its military to back separatists in Ukraine's Crimea Peninsula, before Russian President Vladimir Putin signed a document annexing Crimea. The United States and European Union responded by slapping sanctions on Russian officials.
The crisis has now shifted to the east of Ukraine, where armed groups of pro-Russian separatists have seized public buildings, saying they reject Kiev's rule. Adding to the tension, Russia has deployed extra troops on the border with Ukraine.
Russia says it is not interfering in Ukraine, but that it has an obligation to protect the Russian-speaking community in the east from the rulers in Kiev, who it says are illegitimate, have ties to the far-right, and discriminate against ethnic Russians.
A senior mediator with the Organisation for Security and Cooperation in Europe (OSCE) set off for eastern Ukraine on Saturday to try to persuade pro-Russian groups to lay down their arms, in line with the Geneva accord.
After a meeting on Saturday in the Ukrainian capital, Swiss envoy Christian Schoenenberger, whose country is chair of the OSCE, said its monitors had spoken to several activists occupying public buildings.
"For the time being the political will is not there to move out," he said.
"That's the task of the monitors, to create this political will, inform the people, so eventually they will understand that the best option for them is to move out," he told reporters.
GOODWILL GESTURE
The Ukrainian foreign ministry had promised that, as a gesture of goodwill for the Easter holiday, it would suspend the active phase of an operation it had launched to re-assert its authority in the east of the country.
In another sign of reconciliation, the Interior Ministry issued an Easter message which asked members of the ministry's disbanded Berkut unit to help defend Ukraine's unity.
In the days when Yanukovich was clinging to power in Kiev, Berkut members are alleged to have been responsible for shooting dead dozens of protesters. Their unit was disbanded, and some of them have joined the pro-Russian separatists.
However, many people in eastern Ukraine, which has a large Russian-speaking population, feel deep suspicion of the new authorities in Kiev.
The separatists say they will not leave the buildings they have occupied until the pro-Kiev protest groups occupying Independence Square - scene of the months-long protests against Yanukovich, also go home.
They want guarantees that they will be given a large degree of autonomy from Kiev and that protections of their rights will be enshrined in a new constitution.
At Easter church services in Kiev and in Moscow, senior clergymen issued sharply contrasting appeals for peace.
"In these Easter days our prayers to God are for the people of Ukraine, for a reconciliation of enmity, for an end of violence, for people's love for each other, so that they should not be divided," Patriarch Krill, head of the Russian Orthodox Church, said in a recorded video message.
In his Easter message, Patriarch Filaret, head of Ukraine's Orthodox Church, condemned what he described as Russia's aggression against his country.
"God cannot be on the side of evil, so the enemy of the Ukrainian people is condemned to defeat," he said. "Lord, help us resurrect Ukraine."