Schumer Says He Doesn't 'Know of Any Other Democrat' Who Backs Beto O'Rourke on Assault Weapons Buyback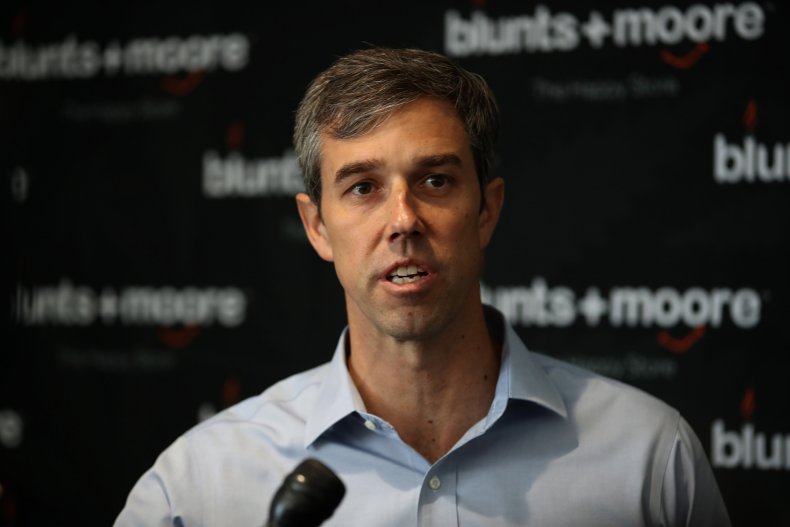 A top-ranking Democrat has joined a growing chorus of party members who have openly criticized Beto O'Rourke's mandatory assault weapons buyback proposal. Senate Minority Leader Chuck Schumer said on Wednesday that he didn't "know of any other Democrat who agrees with Beto O'Rourke" on the issue.
While isolating the former Texas congressman and 2020 presidential candidate with his comments, Schumer did add that he believed the perceived lack of support was "no excuse not to go forward."
Last week, Senator Chris Coons of Delaware, who has himself worked to achieve bipartisan reform on gun restrictions in Congress, came out with staunch criticism of O'Rourke's proposal in an interview on CNN.
"I'm a gun owner," he said. "My sons and I have gone skeet shooting and hunting and, frankly, I don't think having our presidential candidates, like Congressman O'Rourke did, say that we're going to try and take people's guns against their will isn't a wise either policy or political move."
At the most recent Democratic presidential debate in Houston, O'Rourke solidified his campaign's outspoken pledge to eliminate assault weapons from American society, declaring: "Hell yes, we're going to take your AR-15, your AK-47."
The newfound anti-assault weapons niche that he has carved out on the campaign trail was largely born of a mass shooting that wreaked havoc at a Walmart in El Paso, O'Rourke's hometown, in early August. The shooting, which was apparently committed with a semi-automatic rifle, leaving 22 people dead, renewed a national conversation around gun control and revived interest in some nascent bipartisan gun restrictions that are currently floating around Capitol Hill.
But the more moderate, tone-aware tack that O'Rourke's 2020 colleagues have taken around guns, emphasizing policies that have overwhelming support among the voting public, is not one that the former congressman is seeking to emulate.
"It's time for those in positions of public trust to stand up, tell the truth and offer bold solutions without fear of political ramifications so we can finally start making progress and saving lives," O'Rourke said about gun reform in August.
While supermajorities of Americans do back modest reforms to curtail the availability of guns or foster gun safety, the specific proposal O'Rourke is emphasizing divides the public's support. According to a Monmouth University poll released September 9, while a slim majority of U.S. adults supports banning future sales of assault rifles, an almost equal number oppose mandatory buyback programs like the one O'Rourke has called for.
Estimates vary, but generally around five to fifteen million assault rifles, such as AR-15s, are believed to be in circulation in the United States. AR-15-style rifles are now the most common rifles in America.
While gun buybacks may seem to be an attractive method of removing millions of weapons from circulation, the actual mechanics of these programs can prove difficult. When localities have attempted their own buybacks, in some cases the type of weapon that was returned was not of a comparable type as is generally seized by law enforcement when investigating crimes, suggesting that criminal-used weapons remained on the streets.
Furthermore, getting gun owners to comply with the program may present an insurmountable challenge of its own. Even policies requiring owners to simply register their assault weapons have proven unsuccessful in several trials.
In Connecticut, by February 2014 only 15 percent of assault rifle owners had registered their weapons as required by a law passed in April 2013. One 2016 estimate put New York's registration compliance rate at just 4 percent three years after the passage of the SAFE Act, and a gun-rights group estimated California's compliance rate with a similar law at 3 percent as of June 2018.
Beto O'Rourke's campaign did not immediately return a request for comment.