Gun Control Advocates Say 'Enough Is Enough' Following Boulder Shooting
"Enough is Enough" trended on Twitter in the wake of the Boulder, Colorado shooting, as gun control advocates called for tighter restrictions.
Ten people, including police officer Eric Talley, were shot and killed at King Soopers grocery store in the Table Mesa area of Boulder on Monday. One suspect is in police custody.
The shooting has renewed calls by Democrats for reform as gun control advocates took to Twitter to say "enough is enough."
Andrew Weinstein, chair of The Democrats' Lawyers Council, said: "The House just passed bipartisan gun safety reforms and the Senate is conducting hearings this week on the gun violence epidemic.
"They need to send a bill to the president's desk. It's long past time to get it done. #EnoughIsEnough #EndGunViolence"
Georgia Rep. Nikema Williams said: "10 people won't return home to their families tonight.
"We can work to #EndGunViolence through common sense measures but it will take all of us in power, on both sides of the aisle. #EnoughIsEnough"
Gabrielle Giffords, a politician and gun control advocate, said: "Today it's a tragedy in Boulder, Colorado. This past weekend it was a house party in Philadelphia. And last week it was an armed attack on Asian American women in the Atlanta area. It doesn't have to be this way. It's beyond time for our leaders to take action.
"My heart sinks for those waiting for news of their family and friends in Boulder. As we receive more information, we must remember that every victim has a name. They had hopes, dreams, and people who loved them. They are no longer with us because of preventable tragedies.
"This is an especially personal tragedy for me. I survived a shooting at a grocery store that devastated my beloved Tucson. It's been 10 years and countless communities have faced something similar. This is not normal. #EnoughIsEnough"
Colorado Rep. Diana DeGette said: "Our hearts go out to everyone in the Boulder area. We can't continue to live like this.
"We have to do more to protect our communities from the constant threat of gun violence. We have to find a way to come together and collectively declare: Enough is enough!"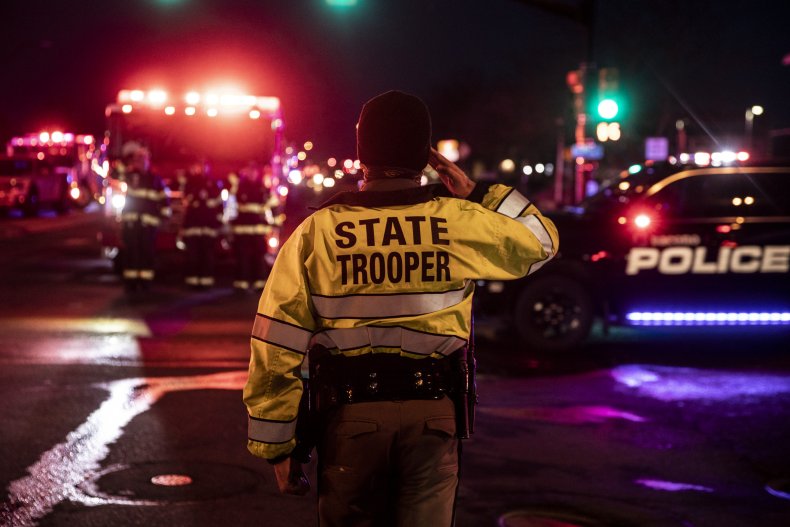 The Giffords Law Center, a group that advocates for tighter gun control, awarded Colorado a C+ on the Annual Gun Law Scorecard, placing the state in the top 16 for strict gun control measures. There are only 12 states that have earned a higher rating, with only California and New Jersey earning an A.
Colorado's current gun laws include universal background checks, a ban on large-capacity magazines, and a "red flag" law that allows weapons to be temporarily seized from those deemed an extreme risk.
Hours after the shooting, the National Rifle Association (NRA) said on Twitter: "A well-regulated militia, being necessary to the security of a free state, the right of the people to keep and bear arms, shall not be infringed," quoting the Amendment as a caption to a picture of the Bill of Rights.
The graphic below, from Statista, illustrates the number of mass shootings in the U.S. in recent years.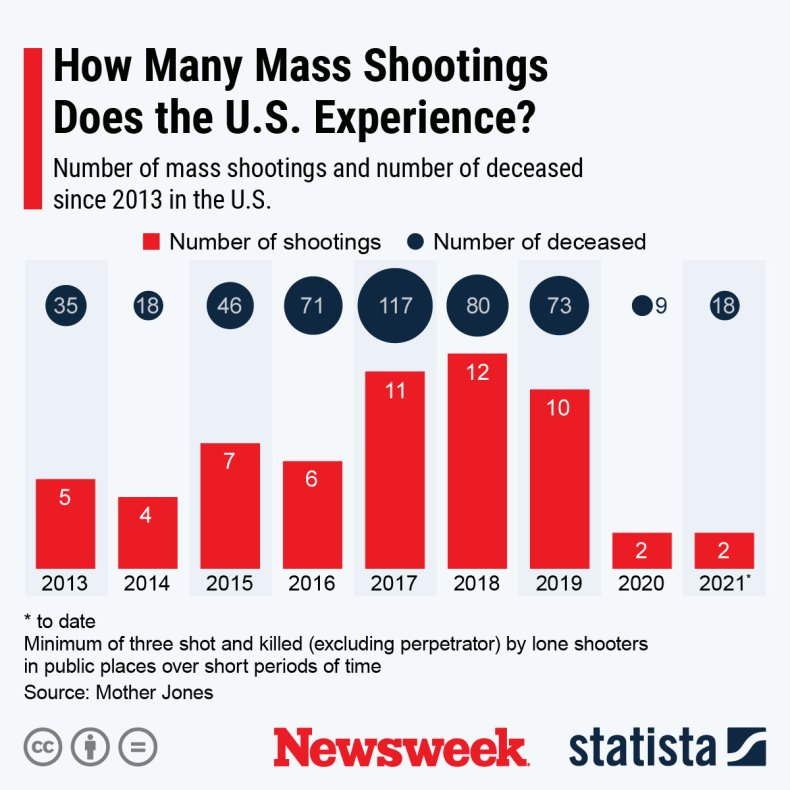 Update 3/23/21, 9:50 a.m. ET: This article was updated to include an infographic.