More Americans Unhappy With Gun Control Laws Than Last Year, Poll Finds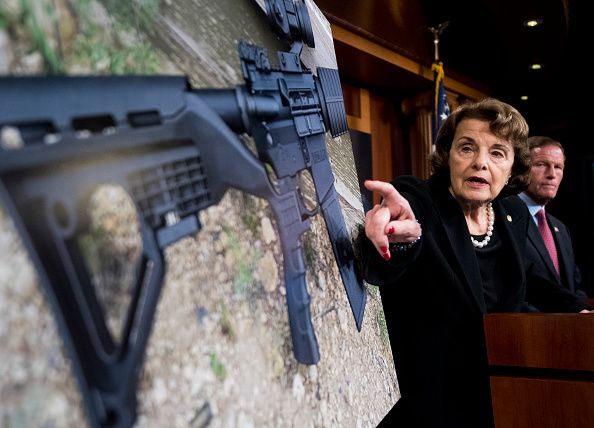 Fifty-nine percent of Americans are dissatisfied with current gun control laws in the U.S., the sixth consecutive year that a majority of those polled expressed a desire for change, according to Gallup poll data released Friday.
Thirty-nine percent of those polled reported being satisfied with the nation's gun control policies. The nearly six in ten who were dissatisfied was five percentage points higher than last year, when 54 percent were dissatisfied. The all-time high was in 2016, when 62 percent of those polled were unhappy with gun control laws.
The poll cited the school shooting in Newtown, Connecticut that occurred in 2012 as a major factor in American's opinions on gun control. Since then, the majority of Americans have reported being dissatisfied with policies, after years of a relatively even split. Between 2002 and 2012, about 50 percent were dissatisfied each year, with about 45 percent satisfied. The Gallup data also notes that the all-time high of dissatisfaction was recorded just one month after a major shooting that occurred in December 2015 in San Bernardino, California.
Feelings on gun laws are split down party lines. Sixty-nine percent of Republicans say they are satisfied with current laws, while 79 percent of Democrats are dissatisfied. Eighteen percent of Democrats are satisfied with current laws. Gallup researchers point out that the difference between views in opposing political parties is more drastic than before.
"This year's 51-point gap in satisfaction with gun laws between Republicans and Democrats is more than double the average of the readings from 2001 through 2017," reads the report. "[This reflects] the climate of increasing political polarization in the U.S."
The poll also questioned Americans on why they were dissatisfied—whether they would prefer stricter or less strict policies than what is currently in place. Among those who said they were dissatisfied, 46 percent would like to see stricter laws and 8 percent would like them to be less strict. The proportion of those polled who want stricter laws is an all-time high in the past 18 years that this poll has been conducted.